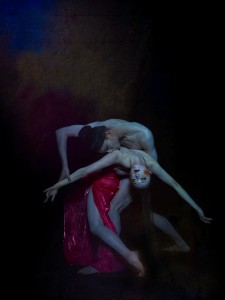 On a wintry afternoon in the waning days of December, we took a cab across town to Beijing's Olympic Badminton Center to see a rehearsal of the Beijing Dance Theater's (BJDT) latest production.Though we were late, there was little need to tiptoe: the room reverberated with clanging bells, crashing cymbals, and pounding drums.  Slender young dancers from BJDT shared the floor with weathered farmer-musicians from a rural area of Shaanxi Province.  Costumed in worn indigo robes and carrying handmade masks on wooden sticks, they shouted, whistled and leaped as a shadow puppet show went on behind a translucent screen.
The production under rehearsal was unusual not only for combining modern dance and qinqiang (an ancient form of folk opera), but because it was based on a play called "Of Mountains and Seas" by Gao Xingjian, winner of the Nobel Prize for Literature in 2000.  Gao is a French citizen who has not returned to China in almost 25 years; while not quite persona non grata, it is safe to say that he would not be welcomed back.  His works are not staged or sold in China and when he received the Nobel Prize, the Chinese Writer's Association denounced it as politically motivated interference in China's internal affairs.  What this means, of course, is that "Of Mountains and Seas" could not be mounted in mainland China – and yet it could be created there, using all Chinese talent, and performed in Hong Kong (where it was featured at the Hong Kong International Arts Festival from February 24-7).
So it was last year, when BJDT produced a dance version of the famed erotic novel "Jin Ping Mei" or "The Golden Lotus." Though considered the fifth great classic of Chinese fiction, "Jin Ping Mei" has been banned by successive Chinese governments since the Kangxi Emperor in 1687.  Only scholars are supposed to have access to the unexpurgated version; its first English translator, Clement Egerton, professed himself so embarrassed by the novel's 70 sex scenes that he rendered them in Latin.  But, prohibitions notwithstanding, BJDT produced their dance version of the story, gave an invitation-only "rehearsal" in a Beijing theater, and then performed to great acclaim at the 2011 Hong Kong International Arts Festival – and even reportedly had PRC government funding to help with airfare.
Complexity, you see, is a given in today's China. While artists are not protected by a "right" to free speech, they nonetheless have far more freedom and flexibility to navigate the system than might be imagined. Sometimes, they receive quiet support from the very officials who make the rules that require creative circumvention.  There is nothing new in this, or particular to Communism – indeed, even as the Kangxi Emperor banned "Jin Ping Mei," his brother devoted years of his life to translating it into Manchu, the official language of the Qing Dynasty.
For more, see:
Modern Dance Comes Into its Own in China
http://www.nytimes.com/2012/03/01/arts/01iht-chinadance01.html?scp=1&sq=Wang%20Yuanyuan%20and%20Sheila%20Melvin&st=cse
At Hong Kong Festival, A Nobel Laureate Returns
http://www.nytimes.com/2012/03/02/arts/02iht-gao02.html
Dancing Past the Censors
http://www.nytimes.com/2011/03/24/arts/24iht-dance24.html?scp=2&sq=Wang%20Yuanyuan%20and%20Sheila%20Melvin&st=cse