Artopia: April 2010 Archives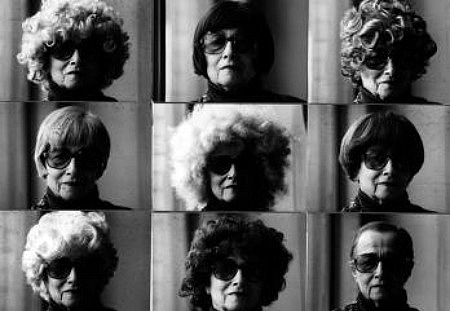 A Life That's Picardesque
If you wrote a novel or a play or a jazz opera about Lil Picard (1899-1994), who would believe it? She would pop up in various places in the 20th century, wearing different wigs. Very Brechtian, with music by Kurt Weill. If there were a movie, who would star? She herself had a brief appearance in E.A. Dupont's Variety (1925).
A cabaret performer during the Weimer Republic, she knew the Dadaists George Grosz, Hugo Ball, and Richard Heulsenbeck, who were antiestablishment and, unlike the Futurists, antiwar. When she became a journalist, her first article was "The Jazz of Life." She finally left Nazi Germany in 1936.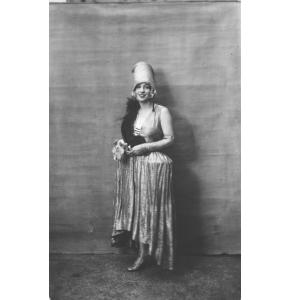 In cabaret costume, Berlin, c. 1920
In New York during World War II, she became a milliner and proprietor of "De Lil" (est. 1939) and then of "The Custom Hat Box" (est. 1942) at Bloomingdale's.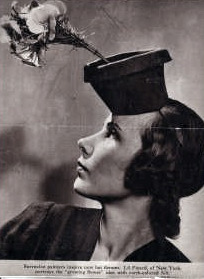 "Surrealist" hat by Picard, 1939
After meeting him by chance in a downtown art gallery in 1952, she began a 10-year relationship with mystical painter Alfred Jensen, who wouldn't let her go to Provincetown or the Cedar Bar and didn't want to share her with her husband -- "He [Jensen] didn't understand that I was a free spirit," proclaimed Picard. Later she had an affair with painter Ad Reinhardt.
In the '60s she wrote about art again -- for the East Village Other, various German art publications, and Andy Warhol's Interview. She played Andy's mother in one of his films. She was wearing wigs way before he produced his self-portraits wearing his notorious fright wig.
In the exclusively online catalog for "Lil Picard and Counterculture New York" (at NYU's Grey Art Gallery, to July 10) you can listen to two taped phone calls between Picard and Warhol, if you are interested in such. She is merely trying to arrange a meeting between Warhol and a German writer, but it is good to hear her voice.
Picard was an artist and writer. She was bicultural. After showing painted collages in various 10th Street galleries, years later she reappeared as a performance artist. She offered up her first "sociopolitical happening" in 1965 at the Café au Go Go in Greenwich Village, a basement venue for the likes of the Grateful Dead, Muddy Waters, and Lenny Bruce (who was arrested there for obscenity in 1964). Picard's piece, The Bed, was "performed from an electric bed, assisted by the dancer Meredith Monk," writes Kathleen Edwards, chief curator at the University of Iowa Museum of Art, in her online essay. "Punk" novelist Kathy Acker also helped Picard with another performance, Tasting and Spitting (1976). Lil knew everybody. For three decades she was even a friend of the novelist Patricia Highsmith.
Strangers on an Elevator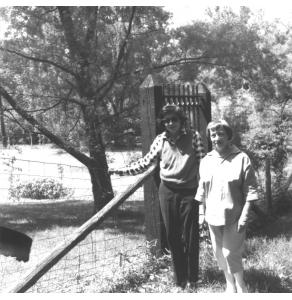 Photo: Picard and Highsmith, n.d.
According to biographer Joan Schenkar (The Talented Miss Highsmith: The Secret Life and Serious Art of Patricia Highsmith) Highsmith met Picard "in an elevator at a gay party in October 1947" [per Highsmith Diary, October 24, 1959.]. "Pat managed to suppress her desire to kiss Lil, but Lil's position as an older married woman with a husband, whom she seems to keep secrets from" enchanted Pat, and she began to visit Lil everyday."
For a 1975 publicity quote, Highsmith offered: "Lil Picard is fun. I have known her and her work for twenty-eight years and she is still fun. She is incapable of creating a boring drawing or painting."
This is from the author of the twisted Strangers on a Train and the creator of the amoral Tom Ripley.
Highsmith dedicated Those Who Walk Away (1988) to Lil Picard, "one of my most inspiring friends," even though they had stopped speaking in 1978 ---because of political disagreements, opines Schenkar.
Through another index search, we discover that Highsmith, alas, admired Margaret Thatcher and voted for George Bush and then Ross Perot. The dates don't add up. Why would Highsmith dedicate a book to someone she had not spoken to for ten years?
Note: Now wouldn't it be interesting if someone published or if there were easy access to the 900 or so Picard/Jensen letters sitting there in the Archives in the University of Iowa Libraries?
...the exchange between Lil Picard and Alfred Jensen must be noted. An uncommon instance in which the writings of both parties are extant in one place, the 360 letters from Lil Picard to Alfred Jensen and his nearly 400 letters to her, for a total of more than 3600 pages, constitute an indispensable document for the understanding of both artists, written over the period when one strives to assert herself as an artist and the other is developing the mature style on which rests his international reputation, sharing and illustrating in his letters the evolution of his thinking. Moreover, Jensen's part of the correspondence contains numerous and valuable insights and anecdotes regarding the art and artists of the period, recounting entire conversations with Mark Rothko or meetings at the Cedar Bar with Willem de Kooning, Franz Kline, George McNeil, and Robert Rauschenberg, among others.... Evaluation of Estate, Jean-Noel Herlin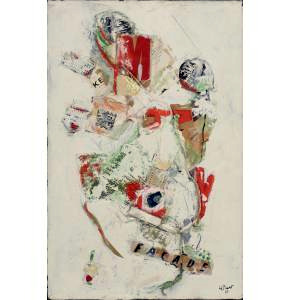 Picard, Facade, 1957. Oil on collage on canvas.
Life As Art
Picard's collage paintings, her assemblage, even a Streetwork she did in 1969 that involved handing out the junk mail she as an active art journalist routinely received, point to the fact that her art and her life were inseparable
This does not mean her intentions were any less complicated:
I work with the idea of destruction and construction, dematerialization and symbolic references to our society, to the political, sociological, environmental situation and I try through Art and Self-Performance to help to achieve CHANGE for values of humane and spiritual conditions in life.".....1974.
Lil Picard had nine lives. Yet each time, the spirit was the same: lively, generous, slightly wicked. And don't forget sardonic. When I met her (in the early '60s), she was welcoming, known to all as the crazy German journalist who never missed an art opening.
I struggle with genre. She pops up here; she pops up there. She is the chameleon, but her adventure is not, strictly speaking, picaresque. It is picardesque It is either, as they might say in German, a bildungsroman (a novel of education or coming of age like D.H. Lawrence's Sons and Lovers or Herman Melville's Pierre), or it is of the subcategory kunstlerroman -- an artist's life, like Voltaire's Candide or Joyce's Portrait of the Artist as a Young Man). Is Lil's life story Portrait of the Artist as an Old Lady? Or it is something else? I never thought of Lil as particularly elderly.

Lil Picard, Untitled (four paint-on-cardboard collage-paintings), 1958-59.
Her Art Comes Alive
Because of the online catalog to the Lil Picard exhibition now at the Grey Art Gallery, everyone has access to my timeless profile published in the Soho Weekly News in 1976, upon the occasion of her retrospective at Goethe House in New York.To enlarge text click on image.
I had already started writing about the Grey show when I discovered this chestnut of mine. It was a shock. I was about to reiterate what I had already iterated 34 years ago. Stop the presses. What could I add now to the Lil Picard Story? Well, interesting details, but otherwise....
Saying something about the art might be refreshing, for the art itself now looks quite good. In '76, I hardly mentioned it. It has improved with age, or I have, perhaps because time and distance are sometimes the best curators and editors.
Some say the market is. Normally I would beg to disagree, although at the end of a certain, recent artist-autobiography, a gaggle of unsold paintings are illustrated, ripe for the picking and in the artist's humble opinion some of the best he'd ever done. (He would also like to get rid of them, but that goes unstated.) Well, he's wrong. Whoever through the years gleaned his output, gleaned well. (This is poor James Rosenquist.)
On the other hand, Lil Picard, a mere woman and an older woman at that, was spared the eyes of dealers and collectors, for she never sold much. In point of fact, way back then, destruction/action/happening/performance environments, such as she began to produce when she hit her stride at age 66 (!), were totally off the commercial map.
The "relics" of these, assembled to hint at what the environments might have looked like (photos are better in this regard), can now stand alone -- not as period pieces or fragments, but as assemblage. Unlike many performances and/or environments, Picard's major works had conscious content: 1965-2065-2165 was a feminist attack on the cosmetic industry.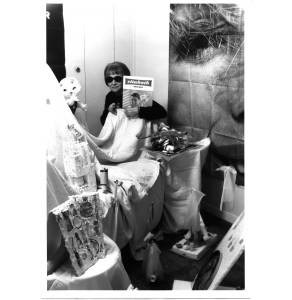 Construction-Destruction-Construction (1968) was pointedly antiwar: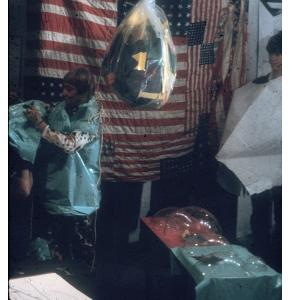 I should also point out that her collage paintings, using the corrugated part of corrugated cardboard, are splendid; her napkin "drawings", such as Socialite Napkin (1975) are poignant and witty: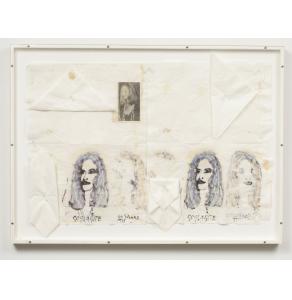 The burnt-tie piece (1968) alone should be considered a classic. Not only does it say something about penises and patriarchy, that they are her dead husband's ties adds much more. Yes, they belonged to "Dell" -- Hans Felix Jüdell, who changed his name to Henry Odell, her second husband, a German banker who convinced her that she had to escape Nazi Germany with him.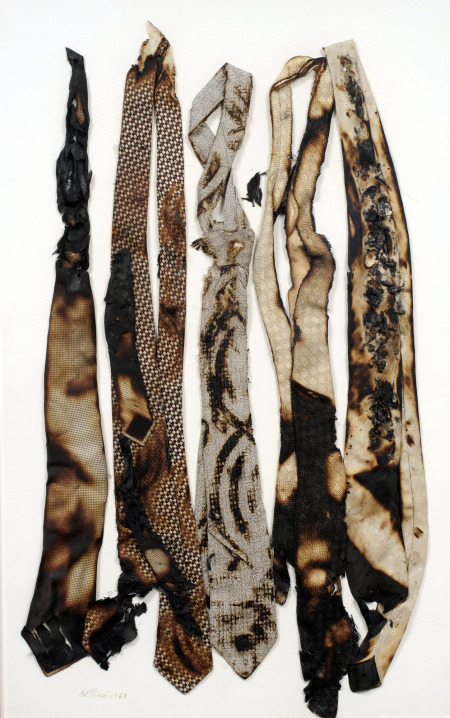 Does her life as an artist have a moral? What do stories or movies mean?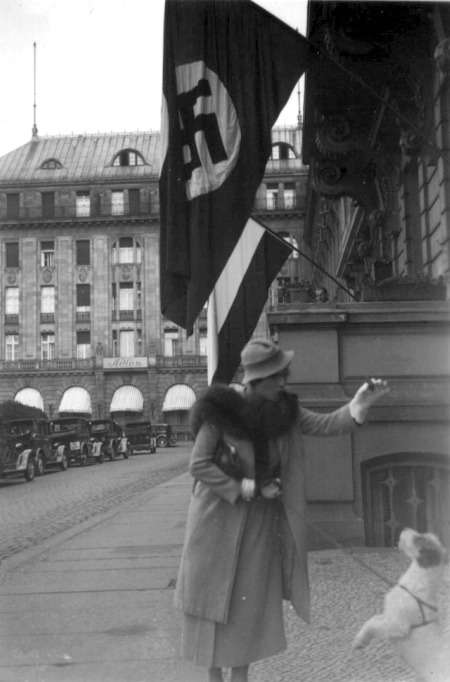 Lil Picard and her dog Carry in front of Hotel Adlon, Berlin, c. 1933.
Hamburger for Hitler
One of Picard's stories sticks in my mind like a scene from a movie. She lived in Berlin in the days of the Weimar Republic during the rise of Nazism. Every day, Lil used to walk her little dog, a Beddington terrier named Carry. One time, a Nazi stopped her rudely and said: When we take over, not only will we turn your little Jewish dog into hamburger, we will turn a Jewish girl like you into hamburger too.
I have told this story, which is what I thought was Lil's story, dozens of times, even to students, to introduce Germany between the wars and to vivify what had happened with the rise of Hitler.
Now, looking at the filmed interview by Silvianna Goldsmith that is part of the exhibition: I hear the story again, but as actually told by Lil. In her version -- at least the version she told when she was being filmed (c.1981), which might have been different from the one she told me years before, it was the elevator man in her building who suddenly appeared in a Nazi uniform and voiced a too hearty "Heil Hitler." But he threatened that only her little Jewish dog would be turned into hamburger, not her.
How different is this from my version of 1976, and why?
The full horror came home to her when a Nazi officer tired to pick her up on the streets of Berlin as she was walking her dog. When she rejected his advances -- she is Jewish -- he told her that her dog would make excellent Jewish hamburger. - "Lil Picard and the Jazz of Life," Soho Weekly News, March18, 1976
In my 2010 version (see above), I have a stranger stop her on the street. I picture him as a blond Hitler Youth in costume, or a storm trooper. Which is more frightening: a stranger, or to see your ordinary, everyday elevator man transmogrify into a Nazi? Which is better, turning your dog into hamburger or turning both the dog and you into hamburger?
After I had been to Berlin (for an exhibition of my own art), I began picturing the street as Unter den Linden, one of the great boulevards of the world. I stayed in a hotel there once, the same cheesy, modernist hotel that is in former-Berliner Billy Wilder's One,Two,Three(1961) , the film in which Coca-Cola executive Jimmy Cagney is involved in some East Berlin/West Berlin shenanigans. But the movie seemed to have been made by someone else, not the Wilder of Sunset Boulevard (1950), Ace in the Hole (1951), or Some Like It Hot (1959). It was also Cagney's Hollywood swan song. The beginning, however, is worth seeing for a glimpse of a still-divided Berlin.
How do movies affect the stories you tell yourself?
Which stopped-by-a-Nazi story is better? My most recent version, of course -which, I now realize, is "Little Red Riding Hood" made even more horrible by costuming and sets.
The content is something else: a self-confessed sophisticate like Picard, a vital participant in advanced Berlin art culture, admitted she did not understand the present danger of, so to speak, the wolf at her door.
Picard was personally menaced and even had her press credentials confiscated because she was Jewish. Yet she still did not want to leave her beloved Berlin. Hitler had become chancellor in 1932; she did not vacate until 1936. She told this story over and over again. Why? To paraphrase what she says in the Goldsmith interview: We did not believe that they could or would do all they said they were going to do when they came into power.
Will some far-out branch of the Tea Party announce plans so outrageous that no one will believe them until they are put into effect? What would it take for you to leave your country? Where would you go?




Picard, Self-Portrait Dematerializations, (detail, successive Xeroxes), 1974.
Life Is Not a Party, Nor Is Art
As someone who has been known to write fiction (I do not mean Artopia, I mean my book of short stories called Hotel Death and Other Tales), I am interested in how real-life events are changed into fiction, need to be so transformed, or are in the telling transmogrified. I am fascinated by unreliable narrators. Slight changes in dates, according to a footnote in the recent biography, make one suspect that Patricia Highsmith's diaries were at least partially fiction. That is why histories, including art history, are so slippery -- and why, in order to change art, you have to change the art-history story.
So you see that this is a very strange story indeed. Here is another mystery: Although in the Iowa City repository there are childhood "artworks" dating as far back as 1910 and most interestingly a photo in the online catalog tagged as "Lil Picard working at a table, c.1934," that could be her working at a collage, Picard herself (in the filmed interview) indicates she did not begin making art until she met Jensen.
It began with a lie.
When they first met in a downtown gallery, she was embarrassed when Jensen asked her what she did. Picard improvised on the spot that she was a painter. She had indeed taken drawing classes but had not yet studied with Hans Hofmann. So to give her the benefit of the doubt, let us say that only at the age of 52 -- when she met Jensen -- did she become serious about being an artist, at least in her own mind. In retrospect.
And then there is the role problem. As an artist/writer myself, I am particularly interested in that kind of difficulty. Her way of maintaining financial independence was to write about art. But, oh, she only imitates all the art she writes about. How many times had I heard that about Lil. Artists and others (dealers in particular, and art historians too) want to keep art-making within a particular guild. You can no longer paint in your living room like Edward Hopper or Alice Neel. You need a gigantic all-white loft. Show me your MFA. Competition from art critics and poets? Oh, they might be too clever or maybe not "visual" enough. Why can't you be both? Just because most artists limit themselves to one, and only one, calling -- turning it into a trade instead of a calling -- doesn't mean everyone has to. Picard had contempt for roles and boundaries.
Furthermore, we cannot untangle Picard's art from the prejudices women have had to face, or from the problems caused by the cult of youth: "The situation of a woman as a painter in New York (at my age) is not easy to handle. The Cedar Bar and The Club are run by cliques and only young and pretty girls are wanted round; it's a rat race and a racket of the worst sort" -- Picard, diary entry 4/23/1960.
Not only sexism, but age-ism as well. Anti-Semitism, sexism, ageism and possibly anti-avant-gardism. That's a full menu, isn't it? Nevertheless, Picard scoffed at narrow roles and rigid art categories, defying the commercialization of art. And the results now look pretty spectacular.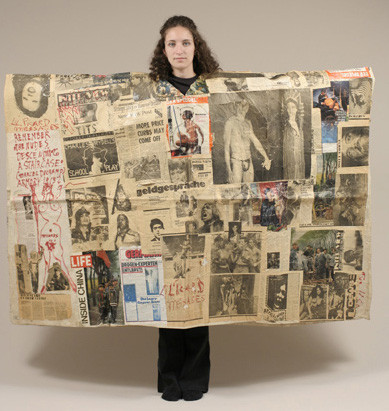 Picard, Messages (performance dress/poncho), 1971
FOR AN AUTOMATIC ARTOPIA ALERT contact: perreault@aol.com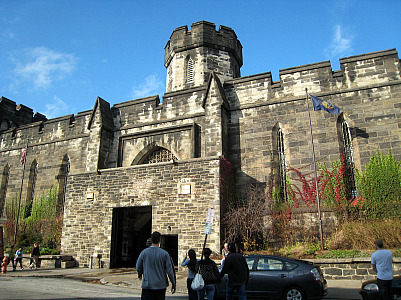 Jailbreak
I was recently in Philadelphia to check out some site-specific artworks curated by yours truly. They were part of that city's Clay Studio "Interactions" project, tied to this year's NCECA, the National Conference for Education on the Ceramic Arts.
Checked in at my Market Street hotel and immediately took a taxi to historic Eastern State Penitentiary. Here are a number of virtual tours on their website.
Enclosed by intentionally foreboding, fortresslike walls, this seven-armed star-of-penitence, opened in1829, grew by accrual or cellblock-implant over the years, until there were 15 arms or spikes of darkness radiating from the octagonal center, crowned by a surveillance tower.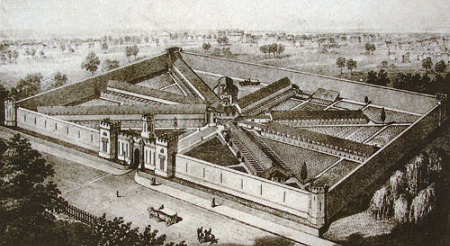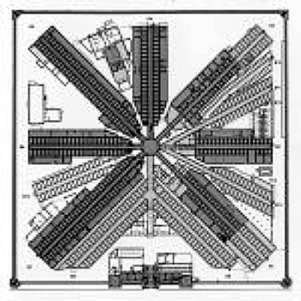 Shut down in 1971, the ESP made the World Monument Fund's list of 100 most endangered sites and was eventually deemed a National Historic Landmark. This was not because British-born John Haviland (1792-1892), now associated with New World Neoclassicism, was such a great architect. In fact, he never really got his penitentiary commission quite right, and it grew organically as it was being built. Need more cells? Just add a second story and forget the tiny - and individual -- walled exercise-yards. To be fair, nothing on this scale of terror had been attempted before.
Eastern State is now a stabilized ruin open to the public, with educational tours and temporary art exhibits throughout. By the way, cost-effective stabilization rather than restoration allows us to see a building embedded in time, not as an abstraction created by reduction to a judicious but artificial date. Buildings are like people. At what age would you be the personification of the "real" you?
The crime tomb looms over Philadelphia's Cherry Hill in the Fairmount District. Although not precisely a panopticon, it's a monument that Michel Foucault would have loved.
Can we think of prisons without being imprisoned by the metaphors created by everyone's favorite penologist? Foucault's writings are like looking through the Vaseline-coated window of a slowly moving train. If you think that the problem is bad French-to-English translation -- and/or you need a Foucault jailhouse refresher - click here for the prince of palaver in English!
Foucault's Discipline and Punish: The Birth of the Prison, although peppered with insights, is the evil template for gradspeak:
The panoptic modality of power--at the elementary, technical, merely physical level at which it is situated--is not under the immediate dependence or a direct extension of the great juridico-political structures of society; it is nonetheless not absolutely independent. Historically, the process by which the bourgeoisie became, in the course of the eighteenth century, the politically dominant class was masked by the establishment of an explicit, coded, and formally egalitarian juridical framework, made possible by the organization of a parliamentary, representative regime.
The first part of the initial compound sentence here is clearly, simply wrong -- so wrong that the reversal in the second part is nonsensical. One, therefore, distrusts the second sentence. In addition, it is difficult to see how a representative government and a - I guess, he means to say - democratic judiciary could have masked the bourgeoisie society that it expressed and that had created it.
You see that even outside attempts at explanation create further muddles.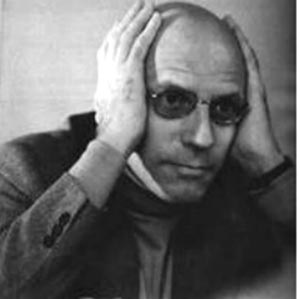 Michel Foucault (1916-1984), c. 1965?
Nevertheless, Foucault's mere mention of Jeremy Bentham's panopticon proposal (1787) turned the concept into an emblem of postmodern life. The cells in Bentham's British prison were to be so arranged that the isolated inhabitants could be watched at all times from a central point of surveillance.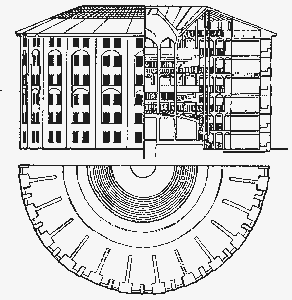 Practical Bentham asserted that as long as the prisoners thought they were watched, observers did not always have to be present, thus saving salaries. Cost-effectiveness was Bentham's main point, not torture or reform. The budgetary genesis of the panopticon seems to have eluded our French philosopher -- nor does Foucault bother much with the horrors of requisite, and absolute, solitary confinement.
The brutal presence of the ESP will see to that.
Sensory deprivation. Social engineering. Mind control.
Unlike Bentham's beehive, the ESP arrangement of cells is not circular. It is worse. Often referred to as the hub-and-spokes, wagon-wheel design (cribbed from English asylums for the insane), the Philadelphia star-of-doom was widely imitated. Unlike Bentham's roundhouse, the structure is easy to imagine. Once glimpsed, the surveillance hub of this wheel of misfortune is always in your mind -- a figment of your imagination more real than the tower itself. A diagram that sticks in your head can henceforth determine perception.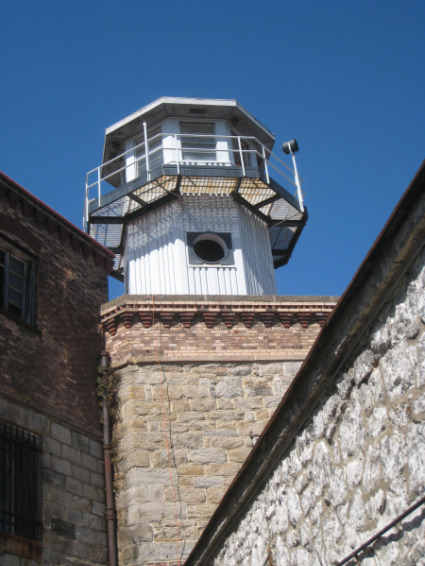 Because Eastern State Penitentiary in its earliest years was an attempt to create total solitary confinement, it can now be seen as the temple of social deprivation. On the theory that criminals would not want to be recognized in or out of jail, you were forced to wear masks when others, even guards, were present (until 1903).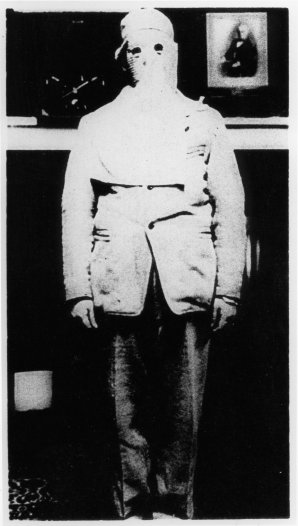 You were known only by a number, not a name. There was a reason. If you were number 34888, that meant you were the 34,888th sinner to be admitted to hell. Silence was leaden, and imposed.
Originally, food was delivered on a cart with leather-covered wheels, so the silence would not be disturbed.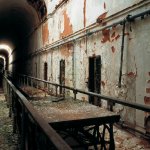 Keeping in touch was made totally impossible. How can you love a number? How can you plot escape? How can you exchange information with someone hidden inside an eyeless hood, closed at the neck by a drawstring?
Although central heating and flushing toilets were necessary innovations, the main engineering problem was how to keep the jailbirds from communicating with each other by rapping on empty pipes or sending messages via plumbing. Toilets were automatically flushed, first by even- then by odd-numbered cells. I cannot imagine how.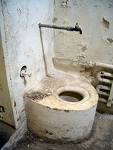 The theory behind this form of control was that the Pennsylvanina plan was better than public torture or the prevailing Bedlamlike conditions of other prisons -- so claimed the Quaker businessmen who deverloped the new and improved system.
In the early years, the only book permitted was the Bible; the only public debate was whether or not the isolated inmates would be permitted to work in their cells, thus distracting them from dwelling on their sins. No one questioned the reign of silence.
When I first described the Eastern State, perhaps in too much detail, to a friend who had been born and bred in Pennsylvania and always assumed the Quakers were the good guys, she broke into tears.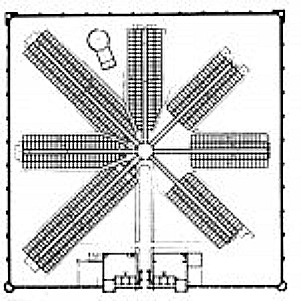 Numbering Systems
I had visited Eastern State several times before, once to perform a guerrilla circumambulation.
Now I was focused on finding the site-specific works I had facilitate under the Interactions rubric.
Disoriented by the signage and the exhibition handout map, I consulted a charming young guard -- far different form the original guards, no doubt.
"Oh," he said, "it is confusing. But the numbering of the cellblocks is historical, and we honor that."
He explained that the cellblocks were not numbered consecutively, but according to when they were built. The original "one through seven" were as orderly as a backwards clock-face, beginning with Cellblock One to the right of the entrance. But then eight more cellblocks were added over time, interspersed with the original radiating wings.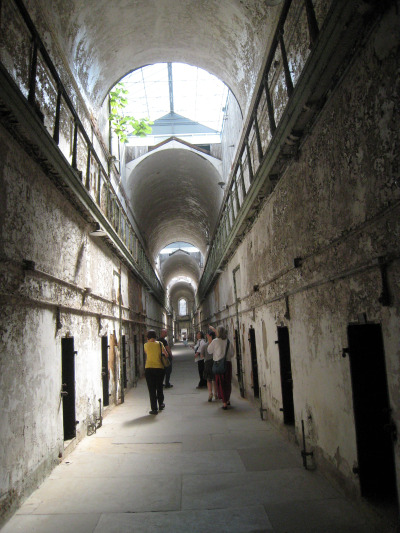 The numbering of the cellblocks, beginning at #9 at 23 minutes after noon, running counterclockwise, remains #9, #1, #10, #13, #2, #15, #11 (Death Row), #14 (Operating Room), #3 (Hospital), #4, #5 (Dining Halls), #6, #12, #7 (Synagogue!), and #8 (Al Capone's cell).
I wondered if the layering of numbers was a particularly Philadelphia thing, because earlier I had noticed that the city's main railroad station entails a related bit of Dada.
Like Eastern State Penitentiary, 30th Street Station has preserved its own historic numbering system. Stairway numbers are permanently embedded in the walls, but then below are the added and unrelated track numbers, two to a stairway, and finally, superimposed most recently, are the Amtrak gate numbers, also incongruent. This means that arrival and departure announcements must include all three numbering systems. For instance, your train to Pittsburgh might be leaving at Gate Three, Stairway Five, on Track 12 .Wouldn't a single, prominently placed gate number be enough? Not in historic Philadelphia.
Or is it insane homage to the Philadelphia Museum of Art's incredible Duchamp collection? Not necessarily.
I finally remembered that in Tokyo, street numbers, like those for the ESP cellblocks, are not consecutive but assigned according to when the houses were built. As one guide writes:
Finding a block inside a district is often very difficult. You have to wander between the blocks looking at the block number panels until you find it. Your task is easier when the map indicates the block numbers. But very often, outside central Tokyo, the map will only indicate the district name, and you'll have to find the block yourself. Or your map may be outdated......Inside the block, the houses are numbered according to when they were built, not to where they are located in the block. House number #32 will probably not stand by house number #33 or #34. You may have to turn around the whole block before you find it.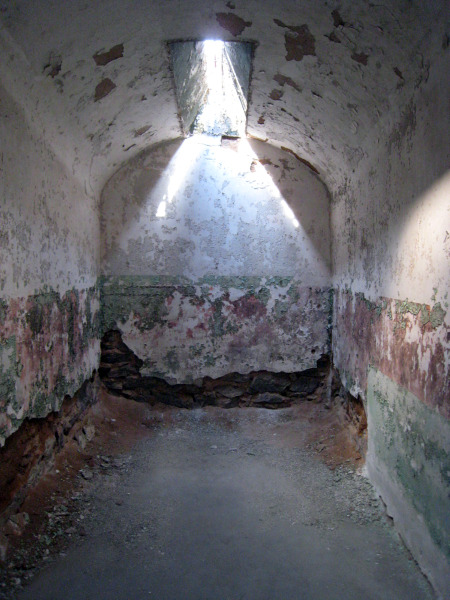 How Many Americans Are Now in Prison?
The U.S. prison population, or as the Department of Justice would have it, the "correctional" or "custody" population, has been increasing more than the increase in population: 1,842,00 in 1980, 7,308,200 in 2005. Are people committing more crimes? Has enforcement improved? Have the courts become tougher?
And if you think you know how the prison population looks, think again. According to the Federal Bureau of Prisons, most prisoners are, yes, male (93.4%); more than half are "white" (57.6%); the average age is 38. Not 18.
According to the Prison Policy Initiative, prisoners are also political pawns:
In New York State, for example, one out of every three people who moved to upstate New York in the 1990s actually "moved" into a newly constructed prison. The State bars people in prison from voting, but their presence in the Census boosts the population of the upstate districts whose legislators favor prison expansion. Without this phantom population, 7 upstate New York State Senate districts would not meet minimum population requirements and would have to be redrawn.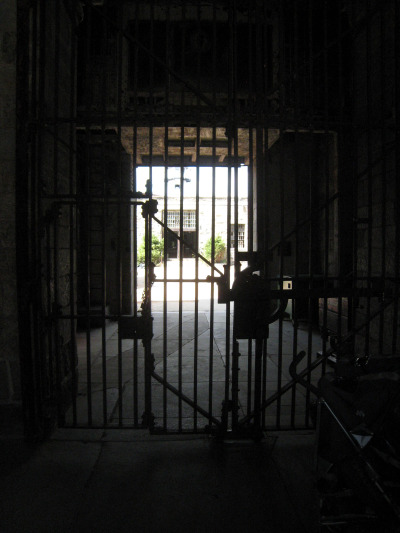 So....
Let's All Get Together

Two of my nominees for "Ceramic Interactions" made it through all the hoops: Judy Moonelis and Jeffrey Mongrain. The idea of asking artists to create works in response to art in Philadelphia collections and/or particular sites was mine. The artists could choose their sites. I had my fingers crossed that "my" artists would choose my favorite place in Philadelphia, and they did.
Two of my nominees opted for ESP.
Here are all the Interactions artists at ESP, on view until November.
Here are the ESP-commissioned artists also on view. Of these, Artopia-approved fimmaker Bill Morrison has altered found-footatge of the crowds assembled to greet the release of Al Capone.
So, artists out there, which would you have chosen, the stabilized ruin of an historic prison or the sleepy, sleepy Philadelphia Prison -- oh, I mean Museum -- of Art?
In the case of the PMA -- and another institution that behaved so badly it shall be forever nameless -- curators or higher-ups rejected some of our artists and, of course, in general resisted having new artworks placed in or near sacrosanct displays, even if only for a brief period.
That was not the case when I used the same idea a few years back for a G.A.S. (Glass Art Society) conference I was hosting back in Brooklyn, commissioning artists to make pieces in glass in response to works in the Brooklyn Museum
Of course, our glass conference only had 2000 attendees, as opposed to this year's NCECA conference in the City of Brotherly Love, with over 3000 clayaholics. As I should have predicted, few bothered to look at or could have had time for the 98 special ceramics exhibitions in the Philadelphia area. There were friendships to bolster, jobs to pursue.
Well, any excuse for an art project is a good excuse.
An uninformed reader might wonder why both glass and clay artists have professional organizations and national gatherings each year, as do jewelers and metal workers of all kinds -- including blacksmiths. Turners congregate too, as do furniture makers and fiber artists. All such shindigs feature a keynote address, lectures, panels, demonstrations, and exhibitions.
Is this true only of craft art? No, sculptors have a confab. The real question is why painters don't congregate. Well, you know why. They are at the top of the heap and don't have to meet. Plus there are no trade secrets to trade or techniques to bone up on; no marketing tips are needed, either. Paintings sell like hotcakes. Or used to. Will the forthcoming economic rebound spur an art-market return?

Sir John Daugman and Charles Dickens
How do you "curate" site-specific artworks?
I wanted nominees and participant artists who had demonstrated they could work with historic structures and had already tackled the site-specific mode.
Jeffrey Mongrain, known to me for his sculptures placed in cathedrals such as St. John the Divine in New York, here has offered up The Iris of Sir John Daugman. In a break from his minimalist output, Mongrain connects the tracery of the "ocular" window in Cell # 9 in Cell Block 2 -- and thus all the windows in the cells -- to the framing of the clock in the tower of Philadelphia City Hall. In his ceramic tracery he implanted a photo blowup of the left iris of Sir John Daugman, who the handout identifies as "the inventor of the iris-scanning technology used for security identification at international airports." One can see the iris skylight through an angled mirror below.
On the basis of her site-specific sculpture for the historic Kehila Kedosha Janina Synagogue in New York's Chinatown, I knew that Judy Moonelis -- another artist I have followed over the years -- would be perfect for the project, particularly if she choose ESP as her site, which she did.
She began by investigating the history of women inmates incarcerated at the penitentiary from 1831-1923. The space she choose had been the laundry, where many of the women had been allowed to work. In Blood Cell, the forms that stretch out on the rubble-strewn floor are based on the human circulatory system and its capillary beds, rhyming with the roots, branches and moss that have invaded the space.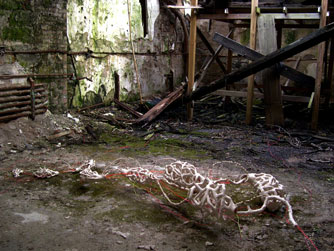 Moonelis' Brain Cell was inspired by Charles Dickens, who visited Eastern State in 1842 and "perceived the invisible damage inflicted by the solitary confinement approach," describing it as the "slow and daily tampering with the mysteries of the brain." Moonelis' hanging forms are imaginary models of the neural injury caused by isolation.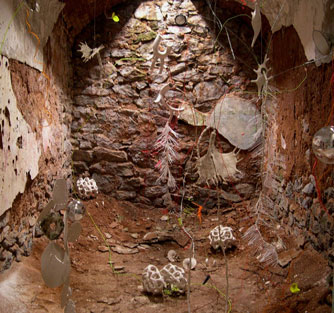 Was it an accident that both my candidates previously had made site-specific work for houses of worship? I don't think so. Like churches and temples, ESP is public architecture, but turned inside-out.
Eastern State Penitentiary is a house of worship; its god is The State or The Law or The Demon of Public Order and Tranquility -- the God of Silence.
He does not stare upon the air
Through a little roof of glass;
He does not pray with lips of clay
For his agony to pass;
Nor feel upon his shuddering cheek

The kiss of Caiaphas.

From Oscar Wilde: The Ballad of Reading Gaol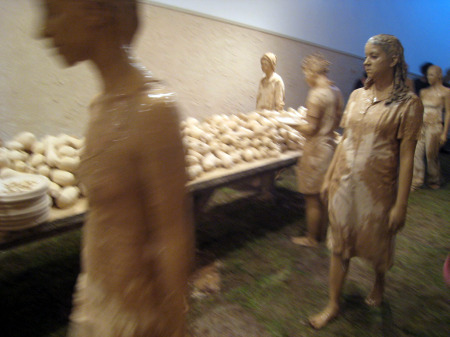 Geophagy in Philadelphia
Each of the curators selected by the Clay Studio for its "Interactions" project was also allowed a group-approved, but strictly personal, exhibition. Mine was HUNGER, Philadelphia by J.J. McCracken at the Painted Bride Art Center (to May 15).
Suffice it to say that McCracken also did not disappoint. I first saw her work in a group show I juried in Arkansas. The piece that struck my fancy was STASIS. A number of serious youngsters in white coats, after punching a time clock, threw perfect little vases that were then vacuum-sealed in plastic bags, labeled, priced ($22 per pound) and put on display.
The next major piece I became aware of was the 2008-09 Living Sculpture Project: clay-soaked young women "performed" a series of vignettes, such as playing a clay-coated cello, knitting while perched on spheres, trying to form perfect clay spheres with their fingertips, etc.
McCracken calls her large-scale artworks "active installations" rather than performances. They are allographic rather than autographic, in the analytical terminology of art theorist Nelson Goodman. Philosopher-critic Arthur Danto reminded me of this language key, in response to what I recently wrote about Marina Abramovic at MoMA. Goodman uses these terms to distinguish between music performances and the scores themselves. In Goodman's view, only the latter can be forged.
My way of expressing this difference was to call my preferred examples of Performance Art charismatic, i.e. dependent upon the execution by the author/performer, leaving artists theater that does not require the artist himself/herself in an as yet unnamed category containing most Happenings, most Fluxus Events and, it now turns out, McCracken's "active installations."
In these audiences are allowed to come and go. Actions - directed but not performed by the artist --- may leave behind installations then viewed without the "performers."
I have since discovered, as her Philadelphia piece bears out, that McCracken also favors certain themes. The impossibility of preservation is one of her motifs. Her preferred medium is unfired clay. In some sense, she is deconstructing ceramics. Not only has she attempted to preserve unfired clay vases by vacuum-sealing them, she has also stored unfired clay objects in Mason jars filled with Karo syrup.
In HUNGER, McCracken addresses inner-city scarcity by exploring the theme of geophagy, or eating clay. Yes, people, mostly very poor people, eat clay, not only in the American South, but worldwide. Some swear it is a pregnant woman's nostrum, supplying minerals otherwise unattainable, but it is also clearly a food of last resort.
On April 1 and 2, for two hours ("dinnertime"--- from 6:30 to 8:30) the public could dip in and out of the Painted Bride (a well-known Philly performance venue) and watch slow-moving, clay-slip covered women occasionally break off small pieces of clay from a sumptuous banquet table of slip-cast, but unglazed and unfired, clay fruits and vegetables. They chew; they swallow. [Also May 7, 5-7 PM; closing ceremony May 15, 1 PM.]
Certain areas of North Philadelphia are functionally barren; those brownfields can be reclaimed for agriculture by the use of raised beds full of imported soil and proper compost. Philadelphia has the lowest ratio of supermarkets to population of any large city in the U.S.
Upstairs at the Painted Bride, a sampling of hydroponically grown vegetables holds sway, the entire live-plant array to be donated to the Stenton Family Manor homeless center, to inspire alternatives to the available food resources.
Certainly she [McCracken] is expanding ceramics by deconstructing ceramics. But her critique is not only media-specific, it is oddly poetic. Loss is not a popular topic, and accumulation and decay are not the usual ceramic themes. Her work turns loss into art's gain.
John Perreault, "Let Them Eat Clay," Hunger, Philadelphia/ J.J.
McCracken, The Clay Studio, Philadelphia 2010.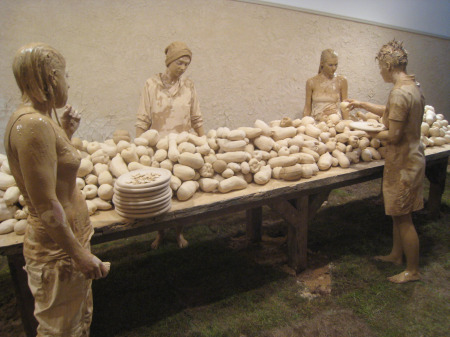 FOR AN AUTOMATIC ARTOPIA ALERT CONTACT: perreault@aol.com