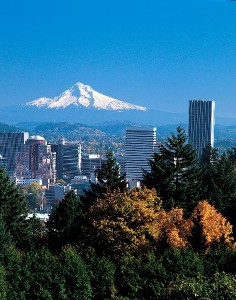 An interesting story from Portland, Oregon, on the copyright held by sculptor Raymond Kaskey in his statue Portlandia. Willamette Week reports on his close guarding of reproduction rights in the large, iconic statue made 30 years ago, commissioned by the city:
You would think the image of Portlandia would adorn postcards, photos and T-shirts. She doesn't. That's because her maker, Washington, D.C.-based sculptor Raymond Kaskey, has, over the past three decades, often threatened to sue those who dare use photos or illustrations of Portlandia for commercial purposes.

That's possible thanks to a policy adopted 30 years ago this week by the Metropolitan Arts Commission, now known as the Regional Arts & Culture Council, when it voted to allow artists to retain the copyrights to their publicly purchased artwork.

"It was a forward-thinking decision," says Kaskey, who was paid $228,000 in public funds and reportedly another $100,000 in private donations to create Portlandia. "Not many cities respected artists' rights in those days."

The RACC agrees. "Many artists have had their works taken advantage of in the past," says Peggy Kendellen of the RACC. "It's important to protect the rights of the artist."
But… this is not a very smart way to protect artists' rights.
The rights of the artist can be rewarded in an initial contract, at the time the commission is set, that allocates rights in the most efficient way. If it is anticipated that thousands of people will want to make photos or videos or paintings where the statue would appear, then the artist and the city can bargain over a commission price where the city claims the reproduction rights (and, hopefully, puts them in the public domain) and the artist is compensated at the beginning for transferring that right. That greatly reduces the transaction and other costs of anyone wishing to create an image that includes the statue having to negotiate individually with the artist. And if the artist under consideration won't take such a deal, find another artist who will.
It is not exploitation of the artist to make such an arrangement: the artist can be compensated at the outset for trading this right. It makes a lot more sense in the long run.
And keep in mind that legal hassles over public art only serve to lower public support for such projects in the first place. How many Portland residents, on reading about this case, would support investing more funds in public art under the same contractual arrangements?
UPDATE: I failed to say who wrote the very interesting Willamette Week article: John Locanthi. My apologies to him.