So, I keep coming across this word.  "compulsory," in connection to arts education.  Many of our major institutional funders (including, these days, government funders) look askance at funding youth arts engagement that is "compulsory" rather than "self-selected."   Many audience members and supporters, upon finding out that we at Epic have major arts education programs, ask first "do the students choose to participate in theatre, or are they required?"  Well, actually, we do both.  But does that distinction somehow impact the quality or importance of the arts participation experience?  Why do we equate "compulsory" with "bad"?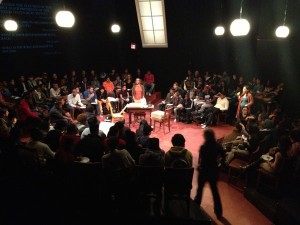 Hundreds of NYC Public High School students engage in post-show discussion following DISPATCHES FROM (A)MENDED AMERICA.
The word is typically used in a very negative context, of course – with the definition of "required," "obligatory," or "enforced."  Sure, we get a bad taste in our mouths when we think of "enforcing" participation in the arts – especially in underserved schools where arts instruction is not already a part of the curriculum – because the vast majority of art-makers tend toward a political value system that "encourages" much and "enforces" little.
Most of us would object to the statement "Arts education should be enforced in America's schools," or even "Arts education should be considered obligatory."   But we seem to forget that another definition of "compulsory" is "essential."  Would you object to the statement "Arts education should be considered essential to one's education?"  Probably not.
But I'm going to push it further.  Why SHOULD we be so damn tentative about "forcing" young people to engage in professional arts experiences?  I'm comfortable with that word, if we have to use it.  What's wrong with making sure young people do something we know is good for them?
I think we better consider this "self-selection" or "choice" that we're trying to protect in 14-year olds.  Think back to when YOU were 14.  It may be painful, I know.  14 was, for me, defined by the view of a parking lot, through a chain-link fence, where I spent every lunchtime wishing I was anywhere but McKinley Senior High School, a place where I had no friends, or even really acquaintances.  Or by the sound of a young woman – let's call her "Amanda," the name of almost every young woman who broke my heart in Louisiana in the 1980's – spontaneously laughing, the small gold crucifix on her chest bouncing, when I asked her for a date one day after Chemistry class.   It's important, when we talk about what 14-year-olds should or should not be "forced" to do, to remember what it means to be 14.
Do you remember, when you were 14, EVER doing anything that you were not emphatically COMPELLED to do?  Whether by your parents, or teachers you were awed by, or peer pressure, or by your impressions of who you were supposed to be as gleaned from the media?  I was COMPELLED to skateboard because they wouldn't let me on any of the teams at school, and I needed an athletic and social outlet.  Skaters could practice, and compete, basically anywhere where there was concrete, at any time, barring police intervention.  When a person slightly older than me showed me the "counter-culture" that came with skating, because my alpha-culture did not seem to accept me, I went with it.  As a result of being a newly-minted skater, I was COMPELLED to get my hair cut in a sort of unspeakable combination of a "loufa" and a "mohawk" because that's what no one else in Baton Rouge, LA, had in 1985, and I had been told that I had to have what no one else had.   And I wore a pretty embarrassing combo of:
Willi Smith's "WilliWear" pants – because that's what my mom would consent to buy me at the department store;
Banana Republic t-shirts (back when they actually had animals on them – remember?), because I could afford them on my allowance; and,
An overshirt airbrushed with the cover of the Misfits 1985 "Legacy of Brutality" LP that I conned my skater-friend's older sister into buying for me.  This guy at the mall airbrushed it for me from the album cover I had just bought at the record store!  (My skater-friend and his very pretty sister COMPELLED me to listento that LP, by the way)
Everything I did and was, it was because SOMEONE exerted a perfectly-placed pressure upon me.  I bet if you think back, the reason you are in the profession you are in has much to do with a COMPULSION someone successfully exerted on you.  And there are well-off schools, private and public, throughout the U.S. COMPELLING their students to accumulate arts credits in their curriculum, through their fully-staffed arts departments.
But there are also tons of 13-to-17 year-old young Americans today in schools without consistent arts instruction.  Often young people of color.  Often in communities without consistent arts access to supplement the lack of arts in their schools.  Imagine what they are being COMPELLED to do and be, and what therefore they will "choose" when they grow up.  It's important, because there are about 10 million of them.  And they represent the only viable future our industry has.
Why exactly is it that we don't want to "intervene" with our "compulsory" programs, which undoubtedly would help some of these young people discover a desire for engagement, innate talents, new levels of empathy, surprisingly viable but heretofore un-noticed career options?  Is it:
A lack of faith in our rigor?  Is creative engagement less rigorous somehow, embracing less "learning," than Math?  Social Studies?  Literary analysis?  These are all COMPULSORY – why do we underrate our own academic importance?
That we want to be "liked"?  The nature of teens is that they must be COMPELLED to do anything that involves risk.  The sociobiological urge to fit in always wins out at that delicate developmental stage – in fact, even seemingly "rebellious" teenage behavior is a self-protection impulse – to fit in with the sub-tribe, or counter-tribe, if you see the primary tribe rejecting you.  It's just self-protection.  They will NEVER NEVER NEVER "like" anyone who asks them to step outside of their comfort zone.  So working in America's public schools as an artist is hard.  But once they're challenged, and they've been forced to work hard to engage in professionally-authentic art-making, most teens will respect you.  They may even see you as relevant to their lives and to the future of their community.  Isn't that more important, ultimately, than being "liked"?
Is it a kind of institutional class-ism?  Let's be honest with ourselves.  Do we only WANT those young people who self-select for the arts because we know who they'll be – what preparation they've had, who raised them and in what economic and cultural context, who they are likely to grow into?  Is it just easier for us to be around our own?
Are we just wimps?  Are we afraid to defend what we deeply believe to the bullies, the rednecks, the "tea-partisan" fools?  Are we afraid they'll laugh at us when we assert NOT ONLY that we get to have our own space in well-off schools, but that we MATTER?  TO EVERYONE.
Whatever the reason, we have to begin to recognize the foolishness of this stance against "compulsory" programming purely from the point-of-view of self-protection – we need to build our customers of the future.  And we have to be brave and demand access to young people and the funding we need to reach them.   I guess I've always assumed that the vast majority of artists and producers are in the arts because they want change, because that's the promise it holds for me.  But change requires risk.  Most school leaders want professional arts experiences for their students – so we have access to underserved young people across America ready and waiting for the positive growth that artistic participation fosters.  Young people poised to become the insightful, empathetic, empowered citizens that will build a new kind of economy, advance the causes of social justice, and shape a more engaged political and civic milieu.  They are waiting to embrace risk.  Are we brave enough to "force" them to recognize their potential?