Editor's note: My partner Joseph Campana and I discovered Marina Zukow's work when it was presented in Houston by Diverseworks (see below). One of the most important American artists of her generation, Zurkow will be coming to Houston later this year as part of Joe and his colleague Tim Morton's unique seminar on energy and the arts. Joe sends this communication from Boston, where an unusual performance premiered last weekend.
At a CVS on Commonwealth Avenue in Boston, I hovered in front of the chapstick. Despite an upstate New York upbringing, seven years of Houston "winters" left me unprepared for a blustery weekend in the northeast. At least, as far as my lips were concerned. Which to select: the all-natural beeswax lip balm, or something I had used before containing some manner of unidentifiable petroleum product?
Would I have lingered in these aisles puzzling over petroleum products had I not been about to attend Marina Zurkow's "Outside the Work: A Tasting of Hydrocarbons and Geological Time"? The meal took place at Boston University's 808 Gallery, which now hosts the exhibition "Alternative Visions / Sustainable Futures." I was on Automobile Row, which used to celebrate and sell motor vehicles in all their glory all the way from Kenmore Square to Packard's Corner. And where was the meal itself? In a former Cadillac showroom. How appropriate.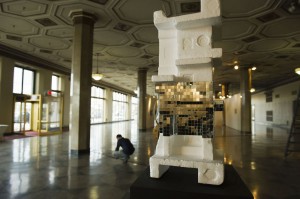 I first encountered the works of Zurkow in Houston when I reviewed an exhibition at Diverseworks, called "Necrocracy," which literally means the rule of (or by) the dead, though the dead Zurkow has in mind are not the ghosts of kings and presidents past but the hydrocarbons whose death millennia ago now provide us with fuel, plastics, and so many conveniences that have in fact become necessities and without which households and governments alike might topple.
So why is a Houston-based writer telling you all of this in a blog about the arts in Texas?
Over the course of a few years of arts writing in Houston, I've come to recognize the odd and compelling intersection of Houston's vibrant arts scene with the massive network of energy generation, storage, and distribution that calls Houston home. Often, these two intertwine, as when energy money funds the arts, as it has done traditionally in the city.
I would guess patronage is nearly as old as art, and at some point in an artist-patron relationship, the artists begins to talk back to the patron: sometimes in the form of praise, sometimes as blame. Although the classic artist-patron relationship is mostly a thing of the past, artists, however they fund their work, are speaking up on the subject of energy and the arts. They have a lot to say.
Let's not forget that Houston is never just "Houston." To get tangled up in "local" art is to consider what it is for art to be produced and presented at the hub of a massive network for the generation, sale, and distribution of energy. The reach of Houston's energy network extends, tentacular, not just to the neighboring region but to far-flung global locales, even Boston.
I have two confessions to make before I speak briefly of the meal itself. First, according to an online calculator, I added .51 tons of carbon to my footprint with just the flight to Boston alone. According to a carbon footprint offset site, I can assuage my conscience with anything from a $6 to an $18 donation to a variety of sustainable energy operations. The carrier I used, United, suggested checking out Sustainable Travel.
The second confession is that I'm not in any particular way mad for consuming petrochemicals. In fact, we all do on a daily basis. I flew to Boston to see Boston University's iteration of the meal in preparation for next year's staging of the meal at Rice University in Houston. Thanks to funding from initiatives around art and energy at Rice, we'll be launching a year's engagement with Marina Zurkow, culminating with this very meal in the spring of 2014.
A meal is the pinnacle of hospitality. When we invite people to dinner, we're opening our world to them. As a result of Zurkow's collaboration with chefs Lauryn Tyrell and Anna Hopkins, and Michael Connor, those of us at the 808 were treated to the most intensely thoughtful meal I've ever attended. Zurkow even asked us to approach the experience with a meditative mind.
The meal matched courses of food and drink to a serious of geological times zones resulting in a series of crusted, gushing, and often glorious food. It would spoil Houston's meal to reveal too much, but let me share the first two courses and their corresponding slice of time as detailed by the marvelous Tyvek menu, with information printed over drilling schematics of Zurkow's called NeoGeo.
We began with the simplest substance of all, water, harvested from icebergs in Newfoundland and bottled by Berg. After water, comes "massive microorganismic death" leaving blue-green algae to bloom in local waters. So, with a shot glass full of water containing a dropper of algae, we all made our own little cocktails and toasted the night to come.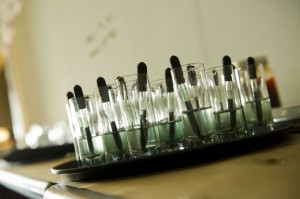 The question for Zurkow, Tyrell, and Hopkins would be this: how will Houston transform a menu meticulously sourced and carefully composed to make us understand how deeply we are what we eat and what that really means just at this moment?