Just before I moved to Texas, people warned me Houston was a kind of dance wasteland. Even a local critic told me there was "nothing here" in terms of dance, saying in a scolding tone, "you know, you're not in New York!" While my experience has been variable (check out my latest review of Houston Ballet in the sidebar, after a depressing night of Ben Stevenson's Romeo and Juliet), the situation is hardly what I'd been told to expect. Sometimes, even, New York comes here. Melissa Toogood, a former Cunningham dancer, was here a few weeks ago dancing at G Gallery in The Heights.  And in perhaps what has been the most invigorating dance performance so far this year in Houston, American choreographer Jonah Bokaer brought recent work to the newly-opened Asia Society Texas Center in Houston.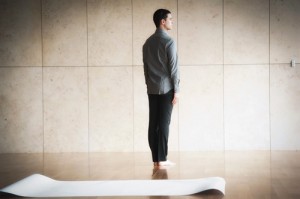 One can see already that this extremely elegant center is certain to become an important venue in the city for contemporary performance, and Bokaer's work was an excellent choice for christening the space. Remarkably, he has collaborated with numerous artists, including Charles Atlas, Anne Carson, Merce Cunningham, Isaac Mizrahi, and Robert Wilson, to mention only a few. His choreography (too often, I feel) is usually written about only within the context of his time spent with Cunningham, as if he were primarily the great master's protégé. Of course, one sees obvious traces of Cunningham's aesthetic in Bokaer's choreography, as well as in his musical choices: John Cage, Morton Feldman, and others. I think the influence of Robert Wilson's theater is of equal importance, however, particularly the theater work Wilson created in silence. For me, the work looks much less balletic than Cunningham, the pacing less sporadic, and the focus on a studied "emptiness" more transparent. Bokaer is building his own style.
Further, Bokaer is a young choreographer whose oeuvre has unfolded primarily in this century. There is a kind of pristine order that seems less a harkening to the great heyday of American minimalism than to the recent decade of technological advances. That is, it displays a kind of I-Phone machine clarity. Since his is nearly the most sophisticated and refined work of his generation of New York peers, it's important to look more deeply and try to figure out just what is going on.  
The etiology of this particular work is slightly foggy to me. When On Vanishing was first performed at the Solomon R. Guggenheim Museum's Rotunda floor last July, it was described at Bokaer's website as being "in response to the exhibition Lee Ufan: Marking Infinity" and his "first-ever choreographic dialogue with sculpture." Loren Kiyoshi Dempster played John Cage's One⁸ (1991) for solo cello. At Asia Society Texas Center in Houston, the same piece was described as a re-creation of the Guggenheim performance, this time in response to Ufan's Relatum – signal, a stunning work commissioned to inaugurate the Texas Center's Allen Sculpture Garden.
Here in Houston, the dance was presented in collaboration with theUniversity of Houston's adventurous Cynthia Woods Mitchell Center for the Arts, and Dempster played the Cage again, beautifully.
Only someone who saw both performances, or the choreographer and performers, can say how the two events might have differed. It doesn't really matter, except to the extent that The Asia Society Texas Center is perhaps the more pristine and relaxing environment of the two, even if much smaller. It is completely new and it smells new, quietly perched in air-conditioned splendor at the edge of Houston's museum district. Once inside, traffic noise is inaudible and the unrelenting Houston heat is a distant memory. Sculptures and paintings are given plenty of leg-room. They don't compete with each other for a visitor's attention.  There is an understated yet well-appointed cafe on the first floor. It is an almost therapeutic space to recover from the stress of the city, and I plan to spend a great deal of time there in the years to come. As a performance venue, it is perfect.
Bokaer's ensemble performed On Vanishing in the early evening, which means there was full sunlight streaming through the windows. There are few instances where everything comes together to make for such a perfect experience, and Jonah Bokaer's company dancing to Cage at the Houston Asia Society Texas Center is without doubt a milestone in my experience.
That choice – Cage's music – to accompany the work reminded me of something Cage said often regarding the success of his own compositions. He felt the best ones were the result of good inquiry. Bokaer seems to have adapted the same strategy for this dance, posing the question "How does the body erase itself, to prefer matter against presence?" for this work. I'm not sure that the piece answered this deeply philosophical question, and I'm not particularly worried. I'm also uncertain of how it was a dialogue with sculpture, which didn't seem to be speaking back to the dancers. There wasn't any talking, thankfully. I was more intrigued by the extreme discipline of the piece and the evident commitment of the dancers. It is an austere work, yet filled with emotion and texture.
At the opening,  Bokaer stood facing into the garden and away from the audience, offered a brief solo in silence, and then he disappeared, only to return slightly towards the end. He has already separated himself from his small ensemble of dancers, I thought, though it's uncertain if this strategy will continue into his next dances. It did, however, remind me of the role Cunningham had already given himself when I first saw him perform with his company in 1978.
Occasionally the four dancers (two men and two women) engaged in unison phrases. Some of them were prone on large pieces of white paper for a time, something I'd seen Meredith Monk do nearly thirty years ago, and which still works well to frame a human body and give some essence to negative space. When two dancers finally made contact, it was a kind of highpoint. One thought also of the ancient art of Origami, where volume accumulates out of flatness.
The far wall of the performance space was nearly as important as the floor, in terms of supporting the dancers. The middle of the dance has a lengthy, intricate quartet. Or was it two duets, merely interlaced? These are the sorts of questions I considered as the work proceeded, and by the finish I felt as if my mind had been polished off, somehow cleaned of all the discursive patterns of the day, a sensation augmented by the newness and perfection of the building.