Now mostly settled in their stellar downtown Dance Center on Preston Street, on Sunday evening artists of Houston Ballet gave a private showing of their Choreographic Workshop 2011 in the Margaret Alkek Williams Dance Lab. This isn't a laboratory per se, but what looks more like a black-box theater to the average eye. The "preliminary data" from these first experiments demonstrate that there are more than a few young people in the company with true choreographic talent.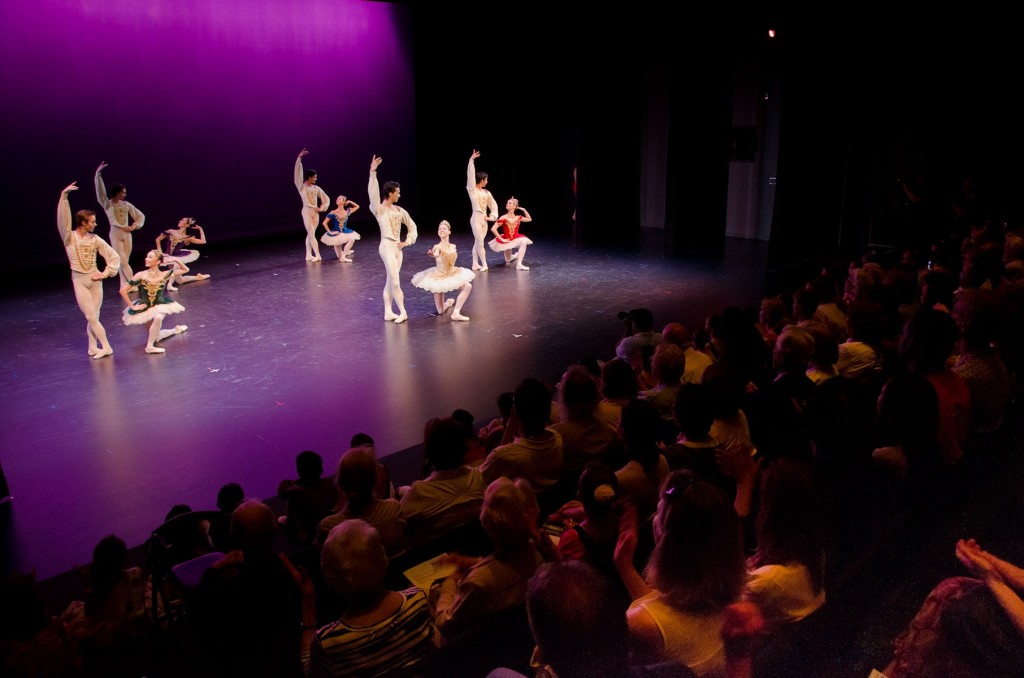 Above: Principal Jun Shuang Huang and  soloist Katharine Precourt with Houston Ballet II, inagural performance, Margaret Alkek Williams Dance Lab (grand opening for public on April 9, 2011). Photo: Jim Caldwell. 
Whenever I see a program like this (and over the years I've seen many of them), I'm encouraged when at least one of the following situations unfolds: 1) a new choreographic voice asserts itself; 2) a well-established strategy is expressed with further sophistication and understanding, suggesting  insight into the past; 3) a dance is shocking and/or cryptic and creates a "buzz" among viewers; 4) the work is skillfully comic; 5) young people "claim" ballet for themselves, reflecting the moods, predilections, and themes of their own generation. All of these happened on Sunday night.
Artistic director Stanton Welch served as emcee, leading the program as well with a brief ballet of his own titled Crazy, set to Gnarles Barkley's song of the same name. It featured three angry brides tossing bouquets, screaming, and offering brief solos during each of the verses. The long gowns mostly obscured their movement.  "I wasn't going to do anything for this program," Welch explained, " but I couldn't resist. I guess right now I'm a little cynical about marriage," he added, without explaining why that was so. The short piece looked a bit old-fashioned next to the others, recalling MTV in the early days.
After each of the 12 dances, Welch invited the choreographers on stage to say the name of their piece, identify the music, and then say what the dance was "about." I put that in quotations, because I find it somewhat odd. One can say the factors that lead to the making of a dance,  something of the ideas that influenced it, perhaps, but rarely is a contemporary dance readily reducible to a one-sentence narrative, especially by the choreographer. It's the kind of idea that prevails on So You Think You Can Dance, but doesn't have any place in a serious setting like the Margaret Alkek Williams Dance Lab.  Fortunately, at least four of the choreographers named their works "untitled" as a way of usurping this way of thinking.  Nearly all failed to provide quick narratives, further proving the futility of such a question.
This isn't to suggest that we didn't want to hear the choreographers speak. We did, and mostly they were well-spoken. "I like Jerome Robbins, I like that depressing thing going on," said Oliver Halkowich quite simply of his In Search of Dr. Feelgood, the most startlingly original work on the program. He had a top-notch cast, which didn't hurt his chances for success (namely, Melissa Hough, Katlyn Addison, James Gotesky, and the chameleon-like Rhodes Eliott), and mysterious pseudo-Bluegrass music by The Devil Makes Three.  He's made a dance that an intellectual or a novice, or for that matter anybody's mother, could enjoy and discuss after it's over. I don't remember the last time I saw a traveling mazurka step lead into shaking the badonkadonk, or if I ever saw that before. It is the skill with which these disparate elements were woven together, along with the dark beauty of it all, that lingers in my brain several days later. This was Halkowich's very first choreography, which is amazing.
The most promising work seemed the result of the most promising strategies. Melissa Hough apparently spent hours watching videos of herself and James Gotesky dancing in her erotically-charged Untitled, set to Rachmaninoff's Prelude in C-Sharp minor, and then she edited and shaped the material accordingly. I was worried about that musical choice, a kind of warhorse of the piano repertory and a common selection of many young choreographers, until the dance began. It was immediately clear that Hough used the score for its almost vampire-like sensibility, and the results didn't seem labored. It's a rare thing to accomplish, namely, to show an audience that you love something and that you are also quite aware of its shortcomings, its exhaustion.
Joseph Walsh also satisfied the "what's it about?" inquiry with admirable brevity. "It's about how my own body moves in different spaces, such as a tiny square of carpet, a bathroom, or a large empty studio," he replied.  He collaborated with laptop composer Benjamin Wesley for his intriguing, if fragmentary ablutionary. This was an example of young people claiming ballet as their own medium. It looked entirely fresh, if not somewhat formless. If Walsh turns his attention to the development of this raw material, he will have a big hit on his hands.
Perhaps the dance that showed the most extraordinary emotion was Kelly Myernick's introspective Untitled, set to René Aubry's La Grande Cascade. The dance is a striking collaboration between choreographer and performer. Myernick said that dancer Samantha Lynch was just as responsible for the finished product. It has a neo-Fokine sensibility, with lush, soft jumps marking its ethereal conclusion.
The additional works by Connor Walsh, Jim Nowakowski, Simon Ball, Peter Franc, Ilya Kozadayev, Garrett Smith, and Melody Mennite are evidence that a strong choreographic sensibility is rising quickly at Houston Ballet. This shouldn't be a rare thing in America's regional companies, but unfortunately it is. I'll be following this effort closely, because it is precious. If we support dance, we must support the making of dance.
Here's a glamorous shot of the new Dance Center at night. The connecting bridge leads to the Wortham Center, Houston Ballet's primary performance venue. Be sure to check it out if you're in town: