He says his music continues an American tradition "exemplified by artists such as Charles Ives and Bob Dylan." I could hear influences of both in a seven-minute excerpt from his latest opera, Voir Dire, on a libretto by Jason Zencka. Friday, I predicted that Matthew Peterson would win this year's Opera Vista Festival. Saturday, it was announced here in Houston that Peterson did, in fact, win the competition. Next year around this time, we'll be able to see his full-length, staged version.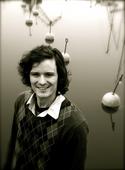 My second choice in this year's finalists, Alberto García Demestres, was Peterson's runner-up with his equally stunning Il Sequestro, to a truly unusual libretto by Christina Pavarotti. Friday night, Demestres explained through a Spanish translator that his talent is assimilative rather than innovative. He seeks to write great singing in the grand tradition more than to forge a new musical path. His opera seems, in some ways, the epitome of a European post-modern aesthetic, minus the coy ironies. His strategy isn't like John Zorn's system of swiftly-shifting snippets, either. Rather, it's one of broad application of Strauss and Puccini-esque phrasing, electronic sampling and a dense orchestration, all of it applied to a narrative based in Brazilian reality television and hinting at existential dramatic "classicism," Huis clos mixed with a dose of Big Brother, at least in excerpt.    
That Opera Vista's audiences chose two works based in the present concept of "reality" entertainment is significant. People are looking for their current media experiences to be transformed, and thus commented upon, through live singing. These might be chamber works, but they continue in the tradition of the grander American "CNN operas" of the late 20th century. I'm not sure who coined that tag, but at Wikipedia the examples given are pieces like Adams' The Death of Klinghoffer, Anthony Davis and Thulani Davis' Malcom X, and Steward Wallace and Michael Korie's Harvey Milk. The "CNN" rubric is not quite right for Peterson and Demestres, since their operas come rather from channels more like VH1 and truTV.    
Unlike television reality competitions, however, the OVF composers who didn't make the cut weren't asked to "sashay away" like they are on RuPaul's Drag Race. I was pleased to seem them remain throughout the week-long event to support their colleagues and mingle with the crowd. On Saturday, Demestres didn't seem upset when he didn't win. He was somewhat preoccupied, anyway, with making films of the evening on his mobile, souvenirs for his friends back in Spain, perhaps. I'm grateful to the festival organizers just for bringing him, since it's opened up yet another portal in my growing experience of opera. I've made a mental note, as well, to check out contemporary Israeli opera after hearing Ronnie Reshef's intriguing Requiem for the Living.  
Lembit Beecher, who won the 2010 Opera Vista Festival, had a modest but nonetheless sophisticated staging of his dream-like And Then I Remember on Saturday evening. Performed in the sanctuary of Bethany Christian Church and confidently conducted by festival artistic director Viswa Subbaraman, the production featured Sara Draper's smooth choreography, slide projections as the only set design, and a chorus singing in Estonian and English to convey the memories of the composer's grandmother. It is an introspective and personal work, vastly different than either of this year's winners. If it has a theme, it is the Buddhist maxim, "everything changes," even if the Buddha never appears directly in the opera.