"Looking up suggests hope, and hope has no significance on stage except as a function of narrative," said the legendary Deborah Hay in a recent lecture at the Contemporary Arts Museum Houston.
One of the greatest thinkers, choreographers, and performers in American dance, in 1970 Hay left New York and moved to Vermont. Six years later, she settled permanently in Austin, Texas. During her recent visit to Houston, she told me that her migration west had come from a somewhat "hippie sensibility." She was waiting for a sign, as she explained. And while she remains the greatest contemporary choreographer in all of Texas, it's a paradox that she's not here very often. Europe, where she is more readily accepted as a genius, is where she spends much of her time these days.
"Looking up is a kind of dead place on stage. Looking up has no relevance to my work," she added as the lecture continued. I took notes busily, telling myself that it would be only later that I could consider the implications of such remarks. Since then, I've waited at every performance to see whether or not the dancers look up, and if they do, whether or not the gesture suggests hope. I cannot decide if Hay is correct about the matter. Later in October, however, as I watched Pina Bausch's Vollmond at the Brooklyn Academy of Music, I noticed that the dancers looked up quite often. If Hay is right, this would contradict the generally-accepted idea that Bausch was a choreographer of pessimism. Rather, it would seem to prove that she was a romantic choreographer, since hope and redemption have always seemed to me to be the pillars of a romantic sensibility.
Deeply influenced in her early career by John Cage and Merce Cunningham, Hay is hardly a romanticist. When she moved to Texas, I imagine that she made a radical shift in her relationship to time and space. Hay requires a minimum of six months to create a solo dance, and sometimes takes years. She calls her own body her greatest teacher. "My body benefits in solitude" is the title of the first chapter of her seminal 2000 text, My Body, The Buddhist. And of course, solitude requires space and time, which are plentiful in Texas.
When I moved to Houston in March, I quickly discerned a different attitude to space than I had noticed in Boston, where I lived for 24 years. And now, thanks to Hay's comments, I am noticing that people here often look up. The Texas sky is vast and rarely filled with rain clouds. Because the sun is almost always visible, time is also more readily discernible. Here, I look up more than I used to do in New England. Texas feels like a very hopeful place. While hope might not have a place on the stage, at least according to Hay, I find that it is a wonderful emotion to experience in everyday life.
Hay's careful consideration of something as simple as the level of performer's gaze is a key to understanding her deeply complicated and endlessly fascinating dances. I am impressed by her because she practices something that seems to have gone missing from most contemporary choreography: thinking. More specifically, comprehensive thinking. Profound thinking. She contemplates even the simplest event in a dance and then the results of those events, as well as the possible significance to viewers. Most of the younger choreographers I observe these days are pre-occupied with such matters as virtuosity, spectacle, costumes and décor. They are not doing enough thinking. I often wonder if they shouldn't go back to drawing board, as it were, and reconsider something as basic as their own relationship to time and space. As she explained in her Houston lecture, Hay thinks mostly about the possibilities buried in the 370 trillion cells of her body. This attitude is, in my opinion what makes her dances "great," even if at times they appear impenetrable.
Texan Robert Wilson, perhaps the most influential director in late 20th and early 21st century American theater, is also a great thinker on time and space. Often he has commented upon the importance to his work of his childhood visits to the vast limestone flats of Waco. This landscape, in particular, is a key to understanding the use of white in his theatrical tableaux, and his thorough attention to light in general. His appreciation for the Texas experience of time and space has had a profound impact on opera production in the west. It seems an irony that the seeds of this thinking came from Waco, a place that most Americans associate only with the 1993 siege by the U.S. Bureau of Alcohol, Tobacco, Firearms and Explosives, and then the FBI, of David Koresh and the Branch Davidians.
These thoughts, however, are not to suggest that Texas is an inherently pastoral place. On a recent night drive to Dallas, four hours north of Houston, I found the expanse of space terrifying. Enormous grasshoppers crashed against my windshield. Some of them were so large that I thought I had run into small bats. I wondered if I would ever find a gas station where I could replace my dwindling supply of wiper fluid. Once at the rest stop, more grasshoppers swarmed my head as I tended to the dirty glass. American desert locust, I believe. They frightened me, and I happily recalled the cramped, nature-free streets of Boston.
When I had dinner with Hay in Houston at Hugo's, everybody's favorite high-end Mexican restaurant, we ordered grasshopper tacos as an appetizer. They are considered a great delicacy. Crunchy, garlic-infused, and high in protein, I imagined them swarming the kitchen like they did the landscape between Houston and Dalllas. It's not often that I eat a wild creature, especially an insect.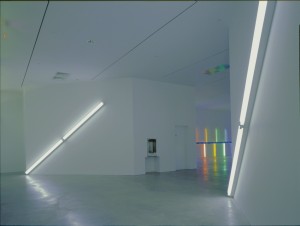 The Sunday afternoon following Hay's lecture, I returned for the third time to my favorite museum, the Menil Collection's Dan Flavin Installlation at Richmond Hall. And I noticed that the first thing I did after getting out of the car was to look up.
The spacious museum contains only four works by Flavin, a brilliant conceit by northeastern standards, where the museums are often too crowded and usually too dusty. The first of the four Flavin sculptures runs along the top east and west exterior of the building. It is simply two rows of green fluorescent lights.
The 1930 building once served as Weingarten's grocery store. Later it contained several different bars, including a country-and-western dance hall. Flavin's green lights are more readily discernible at night, where they mimic the retail, non-descript flavor of the neighborhood. Across the street are the Richmond D&S Washateria, Henry's Barber Shop and Pepino's Italian Restaurant, among others. It is, as they say in Houston, a typically ugly "strip center." Parking is plentiful.
The first of three rooms in Richmond Hall holds Flavin's 1996 Untitled, two series of daylight lamps installed at a diagonal on white walls. At first, one doesn't notice them at all. This is perhaps because they flank the entrance to the larger gallery, which contains a Flavin masterpiece, also from 1996 and also called Untitled. The naming reminds me of something Hay wrote: "Even the title, untitled, implies something about a work and its author."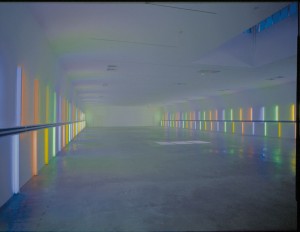 On either side of a simple, square skylight (which invites the viewer again, to look up) are rows of alternating vertical pink, yellow, green and blue lights, 62 on either side, to be exact. They are bisected in the middle by horizontal rows of black-light. I asked the lone security guard if the black-lights were indeed turned on. "You can only really notice them just before the museum closes, and then during daylight savings," he explained, as if many visitors had inquired the same. In the back room, which used to be a storage area for the Menil Collection's enormous holdings, are four of Flavin's 1960s "monuments" to Vladimir Tatlin, one of the founders of Russian constructivism. They are made entirely of staggered vertical rows of cool white fluorescent tubes.
The only sounds in the museum are the whoosh of the air-conditioning units and the distant echo of the security guard's radio, this time tuned to 93.7, "Houston's Classic Rock." When I'm not looking up at the light sculptures, my attention turns to the cracks in the floor and the traces left by maintenance equipment in the polished concrete. They remind me of the drawings Trisha Brown made by holding charcoal in between her toes and dancing over huge pieces of paper. There is a sense of the traffic that once inhabited the grocery store and the bars, and then it occurs to me why I love this museum above all others.
Unforgiving in their love of primitivism and modernity, John and Dominique de Menil wanted to convey experience, rather than just information, to museum-goers in Houston. Maybe, as well, they just wanted us to look up now and then.