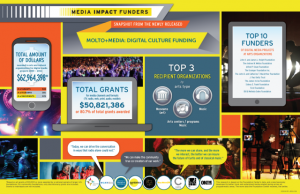 Late last week Media Impact Funders (MIF) released a report I helped create titled Molto + Media; Digital Culture Funding.  The report consists of data MIF commissioned from the Foundation Center documenting private sector giving to cultural organizations in the U.S. for media purposes, and nine profiles of organizations doing exemplary digital media work.
It's great that media funders are exploring the increasingly blurred line that once divided media and cultural organizations. In prior generations, cultural organizations needed "the media" to write about, broadcast, and serve as vehicles for advertising and marketing their work. Today, artists and cultural organizations can do all these things themselves. We're probably at the tip of the iceberg when it comes to the unleashing the potential of cultural organizations to use media capabilities. Media Impact Funders is out to convince other grantmakers to learn more about why they should help.
The report's good news is that private sector giving to digital culture is already increasing. Media grant spending to cultural institutions increased from $18.9 million in 2009 to $26.7 million in 2011, and the number of grants increased from just below 150 to more than 200 over the same time period. Museums received the largest share of digital media grants to cultural organizations, and orchestras the smallest.
One of my roles in the report was to help identify and profile the nine organizations featured. That gave me the opportunity to interview people involved in building digital media capabilities, and to learn about their challenges and results.  In choosing the organizations to profile, we asked for nominations from leading funders and also did our own research. We chose organizations that had big budgets and much smaller ones, and that represented a range of geographies and arts disciplines. We also wanted to profile multi-million dollar efforts and ones that are very low cost. We were not trying to be comprehensive or even representative. But we are trying to start a larger conversation about what private sector funders are doing in cultural media and whether it's enough.
Themes emerged that were common to the otherwise disparate group of organizations.
Sharing is a defining element of media today. But securing rights to share completed and in-progress works of art, whether performances, visual artworks, or text, can be cumbersome and expensive.
U.S. arts groups lag global colleagues from countries and regions, like the E.U., that have prioritized and deeply funded open content projects.
Opening up curatorial and production processes can be challenging to curators, directors, and producers whose role in organizations has been authoritative, not facilitative. Public interaction around content creation and curation challenges traditional definitions of these "expert" roles in organizations.
Artists are using interactive tools in resourceful and inventive new ways, directly engaging with people, and bypassing traditional channels of marketing, distribution, and fund-raising. This in turn is challenging the roles that organizations once served in these realms.
What's compelling about the work? Old notions of cultural production and distribution are being transformed by easy access to digital platforms for public engagement — and people's compelling urge to share what they "like."  Right in their pockets, hundreds of millions of people carry the tools to design, record, compose, draw, film, photograph, listen, curate, edit, critique, and share.  Creative organizations and individual artists can build capabilities that foster reciprocal relationships, stimulating creativity and building an engaged community of "fans." Cultural institutions are gaining a broader public purpose, as platforms for this engagement. Art wins because more people are making it, sharing it, and talking about it.
MIF showcased the new report at a gathering for grantmakers and cultural organizations at the Curtis Institute of Music on Saturday night. Beyond Curtis, whose first attempts at on-line course offerings have drawn nearly 50,000 enrollees, the groups profiled are the Children's Theater Company (Minneapolis),  Fractured Atlas, The J. Paul Getty Trust, On The Boards, Opera Philadelphia, Sundance Institute, Trey McIntyre Project, and WQXR.  I hope you will take the time to read about their work and share your thoughts.