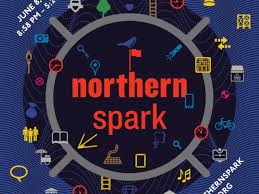 I credit Steve Dietz, the founder and director of the Twin Cities' treasured organization Northern Lights, with casually saying to me one day, "Build platforms not organizations."  It stuck and I've been thinking about it ever since.
Dietz, a self-described "serial platform creator," is the director of Northern Spark, a once-a-year, all night festival that last Saturday drew 20,000 people to St. Paul's arty and urban Lowertown neighborhood to participate in dozens of performances, installations, and participatory experiences (sing, dance, act). To understand the Northern Spark gestalt, read about Chris Larson's performance/installation piece, nick-named #BreuerBurn by Twitterers, for which a carefully-built replica of a Marcel Breuer- designed house in St. Paul was burned to the ground at 2:00 AM before many thousands of art hounds. Then it started raining.
"Organization as platform" is a radical lens: re-imagine your organization's purpose as creating capabilities for the like-minded to kindle their shared enthusiasm for your mission. What if you think of your organization as a community capacity rather than a production house, a presenter, an exhibition space?
Forward-thinking organizations already are embracing this mental frame; they're building organizations whose purpose is to foster and facilitate, not dictate. A few examples are the community curation and engagement projects of the Santa Cruz Museum of Art and History, the artist-engagement platforms of St Paul's Springboard for the Arts, or the tools and capabilities for artists built by Fractured Atlas. Another example locally is Northern Clay Center. They don't care what you know about clay when you walk in: their purpose is to facilitate your knowing more, and to help you meet other people who want to know more, too. Their passion is clay, not their specific current programs and pursuits.
In fact this frame is emerging in organizations everywhere, once you look. But few organizations have taken it as far as they could. And "traditional" arts organizations will need to re-frame much more quickly in order to keep up. They'll need to re-think assets as capabilities and capacities. Suggestion: set aside an afternoon and think through how you could radically re-imagine your assets as capabilities. What assets have you developed that could go "open source" and serve many more creative purposes? Here are some places to look.
1 – Buildings. What about re-thinking buildings as platforms? So many cultural facilities deaden instead of animate their surrounding areas. What else could your building be? How could people use your space during its many "dark" or under-utilized times of day, week, and year? Why not turn your building into a co-working space, an alternative performance venue, or an arts-infused teen hang-out? Can its exterior surface be a projection surface? Can your grounds be used for picnics? (This year's Northern Spark used St Paul's historic and recently renovated Union Depot as its center, letting artists loose on the giant building and its loading platforms, parking garages and retail spaces. We won't look at the building the same way again.)
2 – Functional expertise. How can you share your expertise in fund-raising, accounting, human resources? How could you make it possible for like-minded people and the projects they want to create to tap your staff's expertise, building complimentary or innovative practices that also serve your mission? Chicago's Steppenwolf Theatre has created the Garage Rep program, inviting storefront theater groups in Chicago to present work under the Steppenwolf banner, and offering them support and mentorship around strategy, financial planning, fund-raising, marketing, and dramaturgy.
3 – Artists. How could your organization serve as a broad platform for artists, both the ones you employ and independent artists? How could this help more artists connect and find new platforms and new resources for their work? The Walker Art Center's Open Field project invites artists and visitors to "re-imagine and inhabit the museum's campus as a cultural commons." Then the Walker supports and promotes work the work through all of its communications channels.
4 – Audiences. Most cultural organizations know a lot about how to convene audiences, and excel at doing so for their own programs. For what other mission-related purposes could people be convened? How could you help people connect with each other? The Santa Cruz Museum of Art and History is this month hosting Office Hours with the Vice-Mayor of Santa Cruz, inviting their audiences to share their "question, suggestion, or dream" for the city.
5 – Mission. We are not the only ones pursuing our missions. There are multiple organizations in the same city, region, and nation with parallel or identical purposes. How can our organizations multiply rather than divide resources by looking at our shared missions as building community capacity? The audiences among institutions are often shared.  How can we work together to make our work shared – to see it as creating community capability?
Another inspiration? This week the World Wide Developers Conference met in the Bay Area. Thousands of people who use iOS and OS X — platforms — gathered with the platform's creator, Apple, to learn and to share ideas and experiences. Our organizations could be a lot more like that. We could convene the people (the people we formerly thought of as "the audience") to help us create platforms as tools for their engagement, for their learning, and for their delight. Imagine a conference that's for our "users" not for ourselves.
Platforms are open structures designed for participation and utilization. When you think like a platform, your organization automatically opens up to new possibilities.
Go ahead. Spend some time thinking about it.