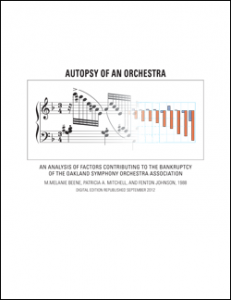 Thanks to the efforts of Grantmakers in the Arts, the landmark 1988 study of the Oakland Symphony bankruptcy is newly available in digital format. Titled, Autopsy of an Orchestra: An Analysis of the Factors Contributing to the Bankruptcy of the Oakland Symphony Orchestra Association, the research was conducted and the report written by Melanie Beene, Patricia Mitchell, and Fenton Johnson. They interviewed dozens of artists, staff, board, funders, and community observers and had access to all of the orchestra's files and correspondence. The result is one most detailed reviews — ever — of a troubled institution; the report has reached nearly legendary fame. It's wonderful news that it can now be easily shared.
The fall issue of the GIA Reader includes essays by relatively newer grantmakers in reaction to five landmark research reports, including this one, all under the title "Revisiting Research."  Editor Alexis Frasz's introduction also explains that she paired these longer essays with five short reflections on the reports from "seasoned leaders" (which includes yours truly — thanks for describing us as "seasoned" instead of "old"!) Calling attention to the five important reports is aimed to "stimulate grantmakers to revive and revisit other important research reports that have lasting usefulness for our work." The Hewlett Foundation's Ron Ragin was the primary respondent to Autopsy. You can read his interesting essay here.
With respect to what is now called the Oakland East Bay Symphony, it's important to remember that the Association did not cease to exist after its bankruptcy. In fact it has had a creative re-birth under the leadership of Music Director Michael Morgan, and its 2012-13 season launches in early November.  A new report about the organization's recovery and re-birth also would benefit the cultural sector's understanding of organizational dynamics.  I hope it will be commissioned.