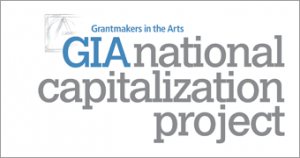 When you go to the Grantmakers in the Arts website you can read two documents there that provide deep background on a conversation GIA members are having about trends in their work and how their grants shape the financial and artistic vitality of the nonprofit cultural sector. Â The reports posted there are the result of a literature review and then meetings to discuss capitalization in the nonprofit arts sector (and lack thereof).
The funders' group asserts that a) arts and cultural organizations are undercapitalized which "leads us to be concerned about their sustainability and the financial health of the sector as a whole, and that persistent uncapitalization has the strong potential to erode artistic vision and quality" and b) that "there is an oversupply of product in some marketplaces, and that current funding practices do not address this issue" Â (emphasis mine).
I have been thinking about this premise ever since I read the report earlier in the fall, Â trying to understand what funders really mean when they say there is an oversupply of product. Â Surely there is no such thing as too much art? I think what funders mean is that there are too many applicants, so they need to re-think their funding criteria. Â  They're telling us that there are a lot of organizations, some are losing audience, are financially weak, or are no longer artistically vibrant, and they can't fund all of us or even as many of us as they used to fund.
I think it is good for funders to make bigger bets on their grantees and I hope this is an outcome of the report. Â Grant size is static. Â For example, the median size of an arts grant is $25,000 according to the Foundation Center, and has not changed since 1993. Â Meanwhile the cost of living has gone up about 50 percent from 1993 – 2010, meaning that an organization spends around $37,000 now to get the results that $25,000 bought in 1993 (I used the American Institute for Economic Research calculator for this.) Â Many foundations had a funding cap of $1 million back going as far back as the 1980's, and in many cases their maximum has not changed.
Beyond this, if an organization is artistically stagnant, losing significant audience, financially undisciplined or unsound, or irrelevant in its community, funders could do something else — they could just say no. Â That in and of itself would be a service to the field.