Matthew Bourne's "The Red Shoes" 
On September 15, the big-ticket fall dance season in Los Angeles begins with the U.S. premiere of Sir Matthew Bourne's award-winning 2016 ballet version of  'The Red Shoes,'  appearing for a  robust two-week run at the Music Center (Sept. 15-Oct.1). As with other recent Bourne visits, the luxe scenic production will be presented in the fittingly compact Ahmanson Theatre, thanks to a joint presentation by Center Theatre Group and Glorya Kaufman Presents Dance at The Music Center. A ballet production like this needs a more compact, nostalgic proscenium.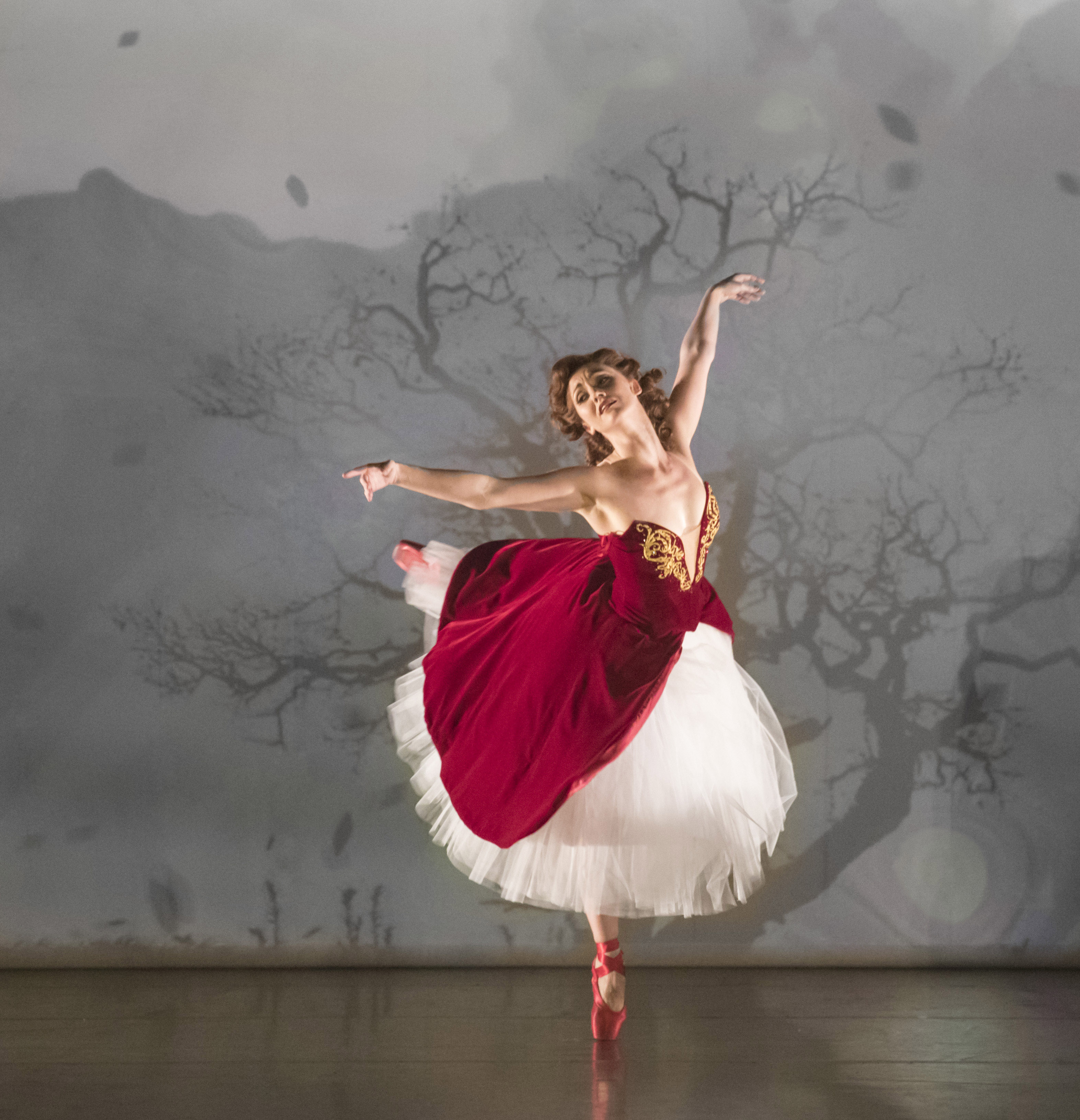 Ashley Shaw in Matthew Bourne's production of "The Red Shoes." Photo by Johan Persson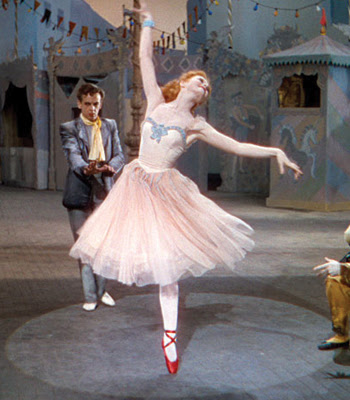 Moira Shearer in Michael Powell and Emeric Pressburger's 1948 film of "The Red Shoes."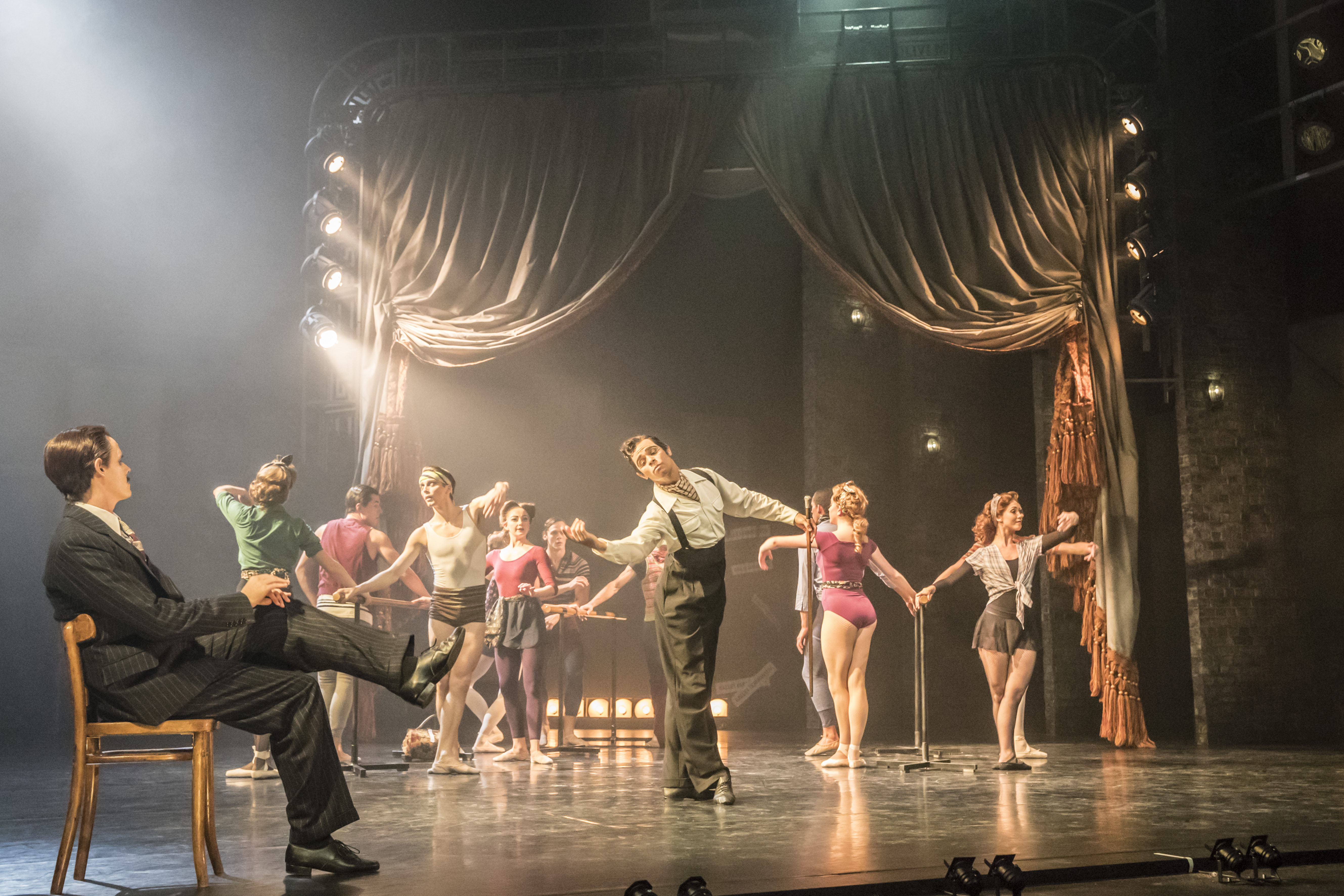 Sam Archer (left, as director Lermontov) and the cast of "The Red Shoes." Photo by Johan Persson.
Recreating a Film Classic
When Bourne's stage version of "The Red Shoes" opened at Sadler's Wells this past December, the review headlines appeared full of praise (I've averted my eyes from any spoiler details). Last weekend, there was a fabulous local prelude to the event: the Music Center co-sponsored a 35mm showing of the restored 1948 technicolor marvel  in conjunction with Dapper Day at LACMA museum. The enchanting Powell/Pressburger creation never runs out of hidden details, and the cinematic artistry and impeccable screen dances held the celebratory audience glued to its seat despite an unusual heat and airlessness inside the auditorium. The crowd's rapt attention also indicated the very high stakes of any kind of adaptation, and how audiences are still only just discovering the pleasure of the film since its restoration.
The publicity stills from Bourne's new stage version suggest that the inspired British director/choreographer and his recurring artistic crew — designer Lez Brotherston (set and costumes) and Paule Constable (lighting) — have extended some of the masterwork of Hein Heckroth's painterly scenic compositions to the stage. As well, there is a well-drawn musical through line: from British composer Brian Easdale, who wrote the award-winning film score, with its creepy Ondes Martenot tones, Bourne sets the new production to a compilation of pieces by Bernard Herrmann, another mid-century composer whose haunting scores for Hitchcock and Orson Welles match the tone, rhythm and timbre of Easdale very well (this time with Theremin).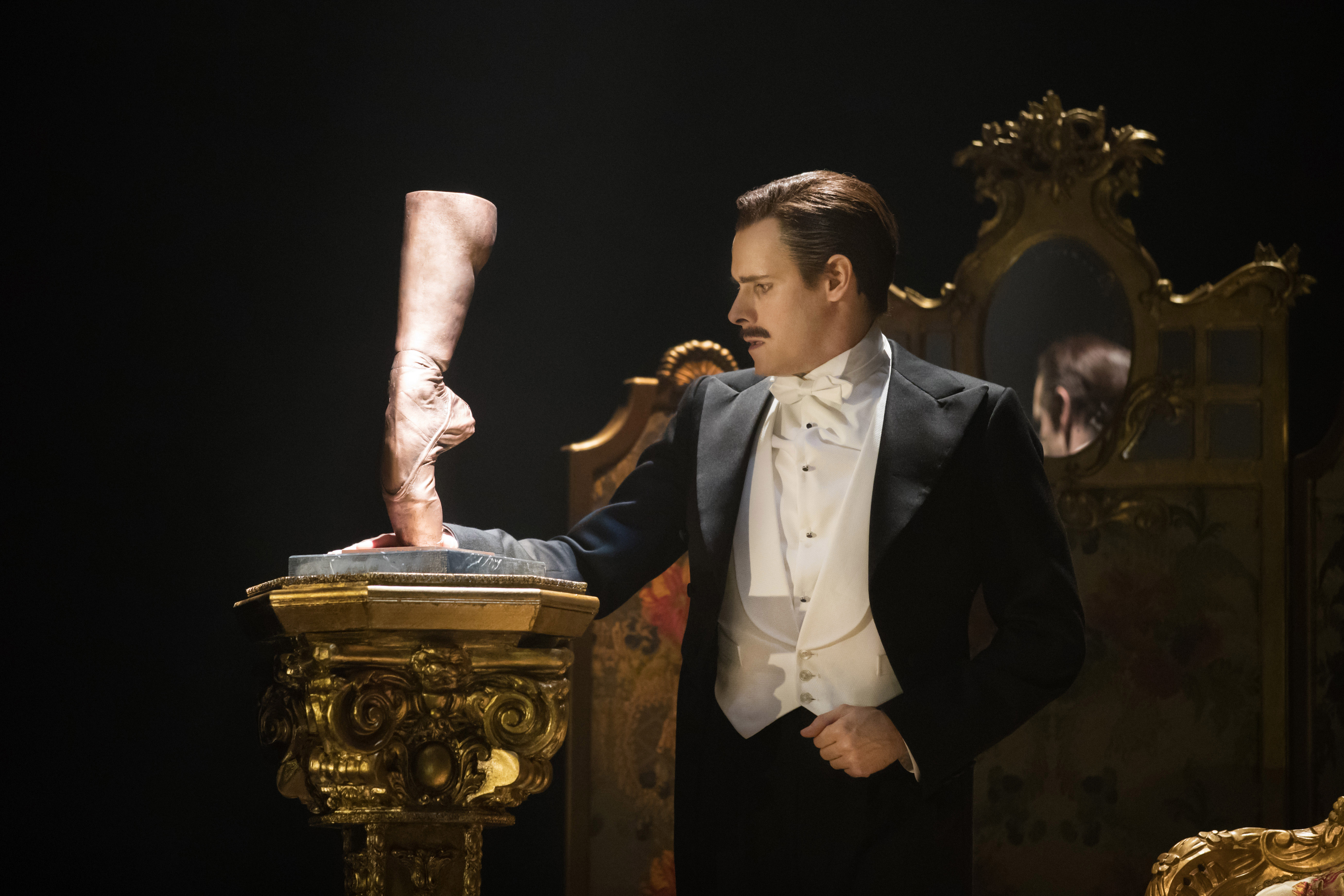 Sam Archer as Boris Lermontov in Matthew Bourne's production of "The Red Shoes." Photo by Johan Persson.




Ashley Shaw in the ballet-within-a-ballet version of "The Red Shoes." Photo by Johan Persson.
Challenges and Twists
Will Bourne find a way to transmit the energy of the film's dialogue and giant close-ups onstage? Between the lulling dance scenes, the film's confrontational episodes between impresario Lermontov and his talented new hirelings —  rising-star ballerina Victoria Page and feverish young composer Julien Caster — are chiseled for ultimate emotional and rhythmic impact. As well, the Lermontov character onscreen is stolid; neither he nor Caster are ever seen dancing with Miss Page. This isolates them from her and increases their desire for her singular, inaccessible grace. I'm just not sure I want to see these characters dance with her~
Since Bourne is forever linked with the revolutionary narrative concept of his all-male "Swan Lake," friends are asking about the twist here, yet all the photos suggest a straight-ahead adaptation. That said, there is one strange and interesting detail in the shot of impresario Lermontov standing beside his marble statue of a dancers foot en pointe. In the film, Lermontov is talking to the composer about his new concept for a ballet at that moment. As he reaches for the foot, he's concluding the fairytale plot of the exhausted ballerina stuck inside her new red shoes; as he strokes the marble foot he explains, "but the shoes are not tired." In the photograph from the new ballet that recreates that very moment (and this may just be for the publicity materials alone), the marble foot appears to be made from live flesh, with a suspiciously large calf. 
For ballet tickets: Center Theatre Group. To check out the film, try Filmstruck. 
P.S. Don't Miss the "Room 104" Dance Episode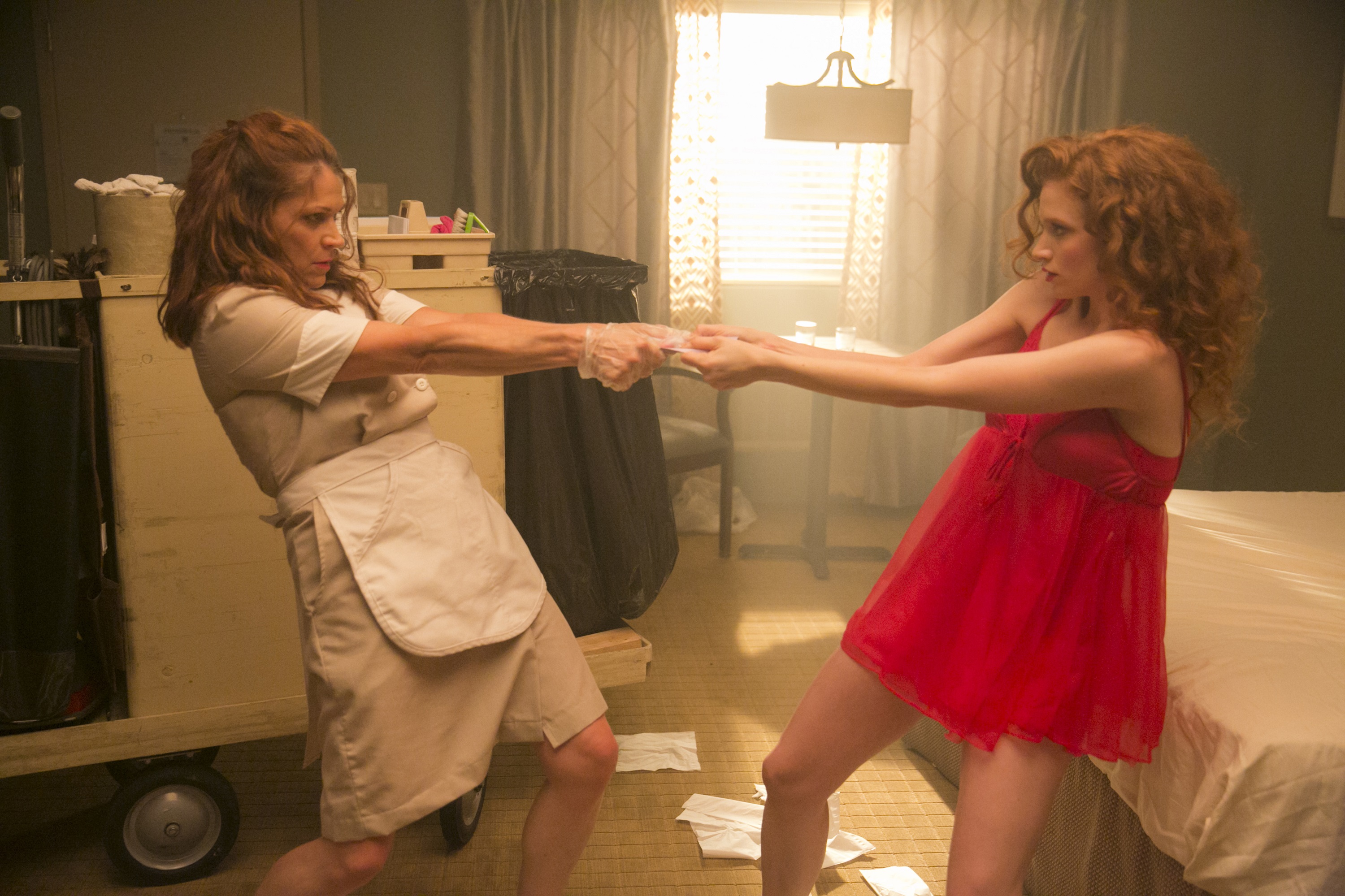 Dendrie Taylor (housecleaner) and Sarah Hay (girl) in Dayna Hanson's "Voyeurs" episode of Room 104. Photo: Jordin Althaus/HBO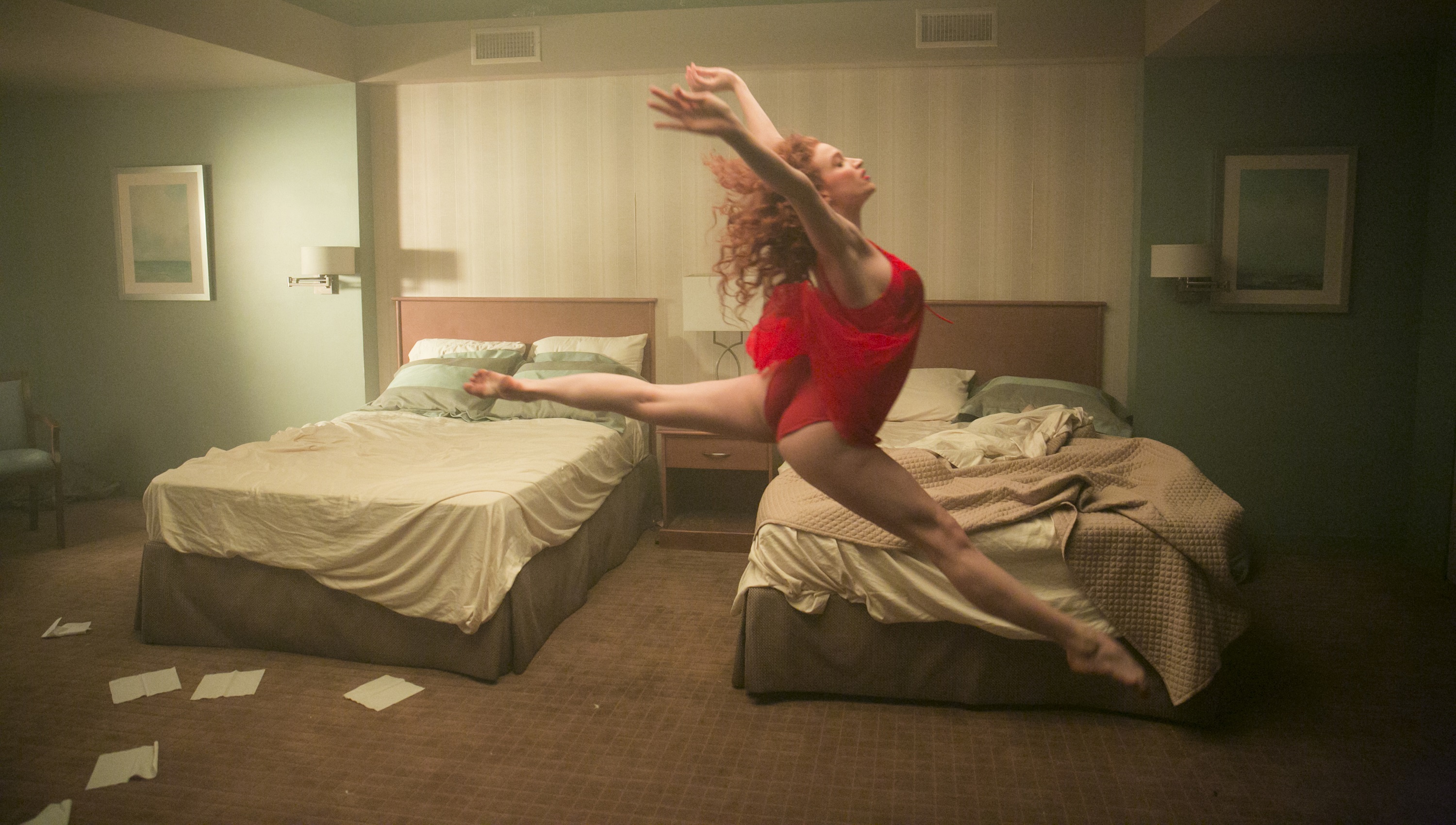 Sarah Hay in "Voyeurs." Photo: Jordin Althaus/HBO
How Dance Fuels Dayna Hanson's "Voyeurs" 
There are no red slippers in Dayna Hanson's effecting 1/2 hour dance film for "Room 104," the episodic HBO series created by the Duplass Brothers, but dancers everywhere will surely experience the high dance craft & slashing fury of Sarah Hay's blood-red chemise as a nod to dancerly dreams and passion, a la "The Red Shoes."  There are many more interesting narrative layers woven through "Voyeurs" — Hanson wrote, choreographed and directed this story of a motel chambermaid who encounters a young girl in crisis — and her goal was not to tell a 'dance story' at all. With a retros '80s feel, "Voyeurs" is about an isolated girl at a pivotal moment in her life and a housekeeper (Dendrie Taylor) dredged in a state of half-lidded mundanity. The use of movement functions as a kind of surreal bridge that enables communication and understanding across two distant shores, eventually suggesting even the possibility of a shared, evolving essence.
And it does all of this with great success, which is why the story appeals to the masses, and its one of the most acclaimed episodes of the series. Yet its form —  a wordless tale in which a dance grows inside and between each of the two women, advancing from tight gestural phrases into soaring leaps and falls — inadvertently becomes a perfect nugget-sized '1980s reinterpretation of "The Red Shoes," too. Streaming now on HBOnow and HBOgo.