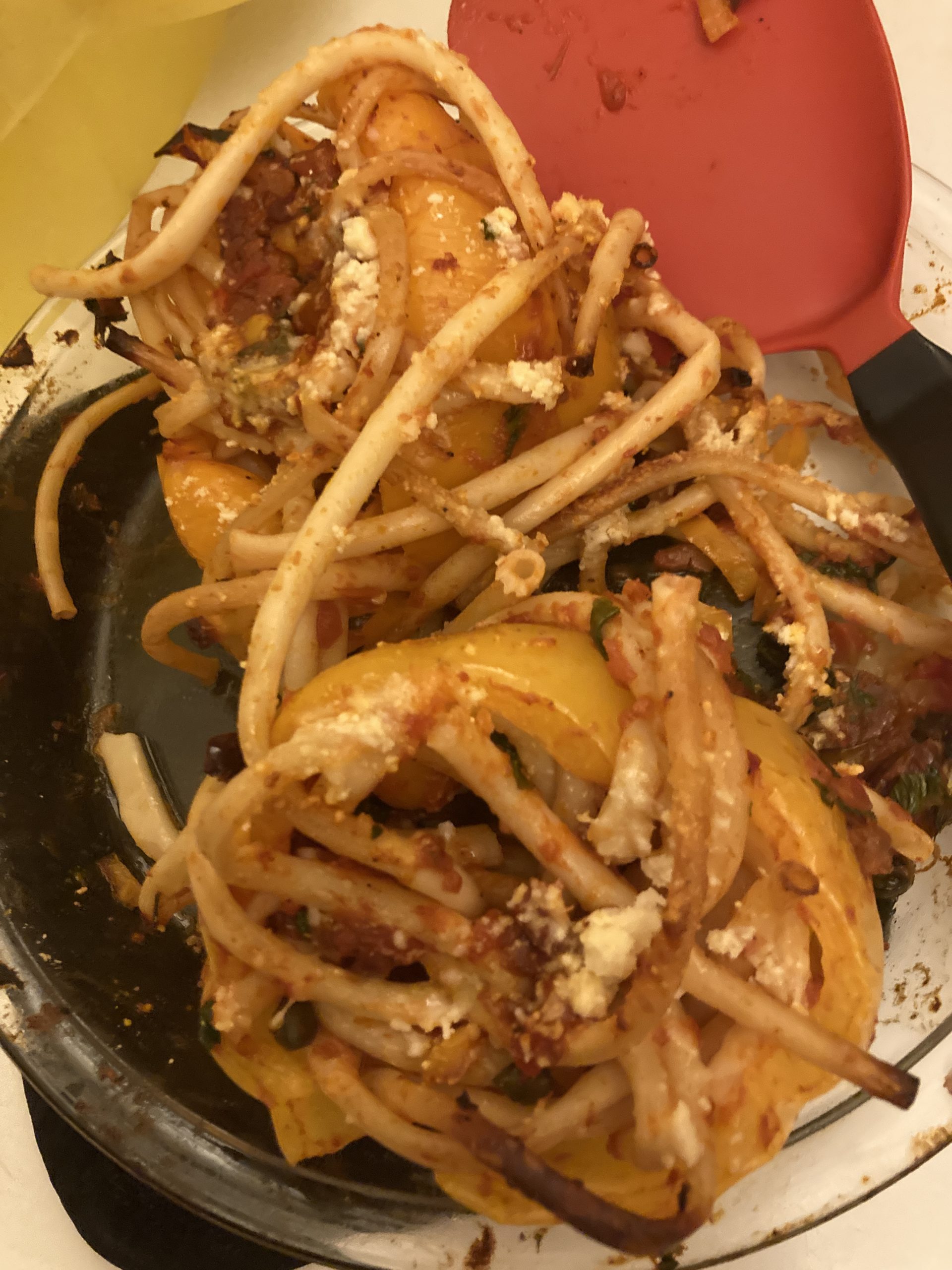 I've been absent and errant, for many reasons, but global tumult has sifted through everything I am. The other day, I admitted to a friend who masters a special bookshop — which, if forever ambered, could be an Ashurbanipal or Alexandria for our rickety future — that my daily reliance on cooking as thinking, hand-ballet, and even small achievement was waning, and I wanted to end my relationship.
He stopped, struck. As we spoke, he had been sorting books and ephemera in his store's exploded back room. I already knew that New York City remained an exploded back room.
"Don't you get [he said, I'm paraphrasing] that those foods you scout, cook and put into you become you?"
I'd just bought a pound of bok choy ($2) from a stall next door (we're in Manhattan's Chinatown), but I think he meant that bringing one's belly to the knife and stove results in a sort of culinary spiritual cycle. He's probably right — assuming there's enough food for a worldwide become-you.
Had I thrown my apron down? No, because something perverse happened when, goaded by an online recipe, I sought and purchased an ordinary pasta, perciatelli, or more commonly labeled, bucatini, that was a type I'd never cooked before.
Ronzoni Sono Buoni ?
James Beard plagiarized himself as well as others in his cookbooks, as John Birdsall's passionate biography, The Man Who Ate Too Much, elucidates, as well as tells so much more about the pain Beard received and later perpetuated in a shadowed queer life that, as his "friend" Julia Child may have said to anyone else, was de rigueur. Beard wasn't penalized for stealing, though journalists have been fired for repeating themselves, as most of us do in writing or not, which is arbitrary and cruel.
Colleagues, all you need to put down is, "I may have said this before."
("Said" is often used when the right word would be written, the devil on my shoulder who is a copy editor reminds me. And do I need these shoulder parens?)
So, I may have said, written this before:
My childhood pasta was Ronzoni. We lived in Brooklyn, it was made in Queens. Dark blue box, still on shelves. Occasionally, when I wake up, dream-fuddled, I sing: "Ronzoni sono buoni means Ronzoni is so good. Yes it's clearly understood, Ronzoni is so good. …"
Then I crawl from bed and whisper the rest of the jingle, making tea. Daniel, roused, is not amused.
As I grew up and out, I tasted new things.
There's at least two kinds of "new" in food: stuff you'd never seen in front of you before, jicama or dahl, iceberg lettuce or mashed potatoes, depending on who's you and where you're from. Also new are novel versions of what's familiar: homemade floppy or doodle-shaped dried pastas made from peculiar wheat and cinematic water in time-immune slices of neo-Duce Italy.
The Ronzoni story is an immigrant success-cliche. But no bronze-died, ridged product filled Ronzoni's cartons in our Ukrainian-Italian-Irish-Scottish frozen-food kitchen. If you buy the bronze-die propaganda, and I mostly do, my mom's all-day sauce, sighing on the stove, should have slid off the company's silicon macaroni and puddled at the bottom of our bowls.
The Repeat
Diabetic Jeffrey Ian, age 8, forked up every pre-weighed Ronzoni morsel and swirled it in our apartment's sweet, oily red. And this is where I suggest that you view my previous two posts, in which I discover, after a life of baffling lies, that my mother's father was Sicilian. Unknown to me, I was born into pasta.
Here I go, repeating myself.
Every Saturday I receive a link from an Italian-food blog, Memorie di Angelina, that I cook in my head. One alluring recipe a while ago uses poisonous beans — here's a piece about my boyfriend and I surviving them. This week, Angelina grabbed me by sleight of hand: autumn bell peppers, plucked by farmers nearby, stuffed not with rice and meat, New Orleans style, but with pasta.
I'm not doing a blind test, but bell peppers, any size or hue, don't cry local to me. Yet I did scrounge the Tiffany greenmarket at Tompkins Square Park in the East Village for dirty organic.
The Memorie recipe, blanched bells spooned to the top with perciatelli twisted in a loud puttanesca (I doubled the garlic, anchovies), graced with grated cheese and baked, is pictured at the top of the post. You'll either want to realize the recipe or allow its words to create a liminal, artwork-ish state: Pleasure with distance. Desire minus experience. Time without clock.
Someone, somewhere must have hungered and passed away while reading recipes in a siren cookbook.
The Tube Test
Hundreds of recipes have claimed with certainty that searing a steak before cooking "seals in" juices. Nope.
Some writers too have claimed that the center hole of perciatelli/bucatini soaks up the sauce in which it's bathed.
The perciatelli strand's a ten-incher. The hole is darning-needle, maybe broom-straw size. You'd have to lip-suck sauce through each piece to fill it. Tried that, didn't work.
Did I mention that you can stick an uncooked piece of our pasta into your Mezcal Negroni to use as a straw? That was supposed to have ignited, yes, a bucatini shortage.
"Adds a hint of gluten glimmer."
(My quote.)
A blind test is really eyes wide shut. No one tastes things alike, as we know secretly, but don't publicly believe, because if we did, we'd no longer wonder why we don't all get along or want to have sex with just anyone.
Company arrives, a couple, distracted but expectant, and is served colored balloons bulging with noodles. They truly or pretend to swoon. As we eat, we have a messy time dishing the state of contemporary opera and the serial, interminable failure of the government of Italia. Fig dessert, then affectionate, cautious farewells.
We can't know what our invigorating visitors thought about what they ate. It's not etiquette: they simply may not be able, for every human reason, to decide. Perhaps they fell further in love, one fastening on a strand of Ronzoni hanging from the other's mouth. Or fought to the point of tears while walking home, because something, someone, disagreed with them.
"Could I make that?"
That thought shoves a placid memory into an active role and turns the pot upside-down, so to speak, not onto but into one's head.
Coda: How the Three Stand Up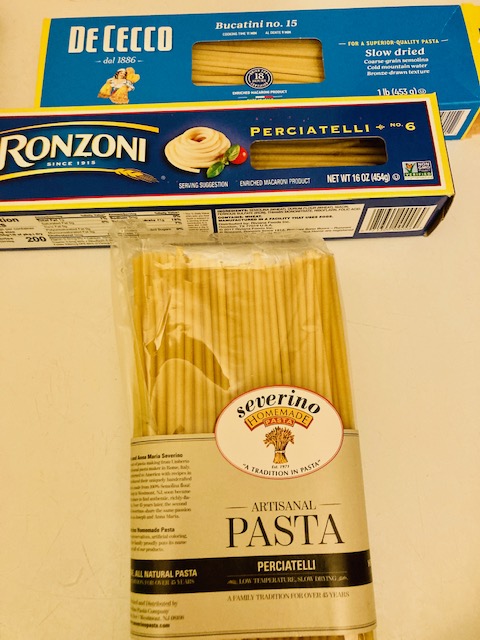 Three pots of bubbling water. Added equal amounts of De Cecco, Ronzoni, Severino. Salted, boiled 10 minutes. First portions were tried just drained, then with simple red sauce.
Plain: Ronzoni and De Cecco chewed al dente, Severino thicker and soft.
"Rubbery," Daniel said of that one. "The least wheat taste."
I disagreed: Little difference between R. and De C., both middle-lane, which surprised me. Quite good grain flavor in Severino.
With sauce: Stuck like mucilage to all of them. Daniel liked Ronzoni best. De Cecco was toothy to me, I preferred snakier Severino, and not just because it was softer. Later I boiled portions of R. and De C. for 12 minutes, and they bloomed but were unevenly toothy, thinner selves.
When, job done, we stirred all together with added oil and cheese, the mess went down fast.