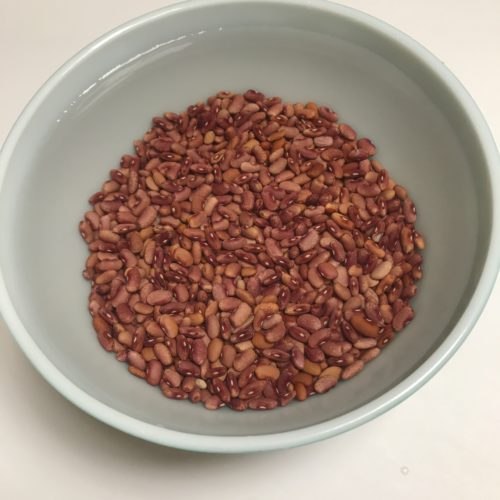 Many of us in 2020 understand that we must retreat from strangers, sometimes even from our very closest, and do for ourselves.
The threat of death by a new plague makes any comparison unusual, although comparing different threats of death in past decades and centuries puts some of the present danger in existential limbo.
Small comfort. But I've been told that context is important. When I hear "context is important," I usually screw my face into a please, no.
So I did some lookback and realized I had rarely written about beans, now a bourgeois pandemic topic, except for a few times as restaurant critic of the Village Voice, when I gave innocent, deserved praise to a slam-down Cuban diner in what used to be trucker Chelsea, and later in the 1980s, when, less wide-eyed, I noted that beans were given high-hat treatment and promoted as novel for a khaki-clad, bean-counting clientele.
Don't think I didn't buy into some of that. I thought I knew beans. The moment I slipped on flip-flops in San Diego grad school, I flipped off my Campbell's childhood and met what I thought of as the "real thing." What I didn't know I had been missing gave me an almost sexual hope.
Got Campbell's or even B&H in your cabinet? Shake the can into a colander, rinse, and fry the naked babies in bacon fat or olive oil with onion, garlic, whatever. Beans never give up on themselves. They're also a canvas.
Last week I tried to "clean out" my lowest kitchen cabinet, which food writers now call a pantry. "Pantry" in this country is something only farmers and wealthy folks would properly name, because it was a separate room, often closed with a locked door. Pantry in my case became Levittown parlance after WWII, referring to cheap pine, maybe Formica, shelves close to the fridge or electric stove.
On some optimistic afternoon long ago, I wrote about shopping for vintage brass knobs for my pantry cabinet doors that was made fun of on a Wednesday-evening TV newscast — Wednesday was when the weekly Voice came out.
That's what I have in our 1956, Ronald Reagan-advertised General Electric kitchen: a closet for queer food.
I was raised as a kinda Jew, and nobody in the Weinstein family soaked and cooked dried beans. Neighbors across East 8th Street in Midwood, Brooklyn did just that, and although I know I saw Mrs. DeMarco's beans on her lace-covered table and sensed a siren yet silken aroma when we were invited, I can't remember a taste. I seemed to have been in love with her eldest son, but little boys love many things.
Back home, we ate simmering tomato sauce and garlicky, meat-stuffed artichokes, because my unmoored mom borrowed recipes from temporary friends, but she never considered from-scratch beans. So what else is new?
This is beginning to sound like a canned COVID bean-feature. Time to make it surreal, get drunk on bean liquor, of which I have two pints in the freezer.
Beans and poverty. Beans and diversity. "Here's a recipe" leads to a doubtful bean cul-de-sac, no matter how much chopped and shredded you throw on top and shove in the oven till the eternal cheese bubbles and browns. Beans, as it happens, are dangerous. Beans will save the planet.
How are beans dangerous? Read this poison-bean piece about war, starvation, and Goya. I ultimately tossed out my remaining cicerchia, also called grass peas, in a way no rodent or raccoon could be killed. I can afford to do that.
Nestled in my pantry was a pound of 7-year-old beans.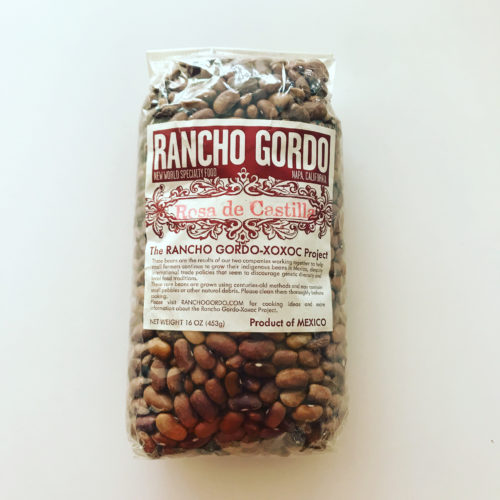 When I posted this photo, a writer I admire, whose book about gay James Beard, The Man Who Ate Too Much, is slated for October, commented: "fetishy."
I grinned. Did he mean the bag was a Gordo dildo? Rancho Gordo does make a planetary fuss about its product, and before the virus bean-rush, it sold varieties that no place you could order from had. The website is now bereft of anything but two lentils, one pinto and a couple of outliers. Because I am a fetishist, I wish I'd found additional toys in my pantry corner.
Old beans not only plump, they double in size when they soak. I dump them and their suspect overnight bath into a pot in which I've sauteed chopped onion and smashed garlic in olive oil, then add a bay leaf and red pepper flakes; boil to fury for some minutes; simmer partially covered for hours, topping with hot kettle water when level gets low, stirring myself to stir and sniff if mood draws me near.
When does a bean retreat, give in, become submissive and tender, like a person, like me? You can tell by the smell, as with so many things, and people.
Freeze your leftovers. They melt in just the same way, even more, when they thaw.