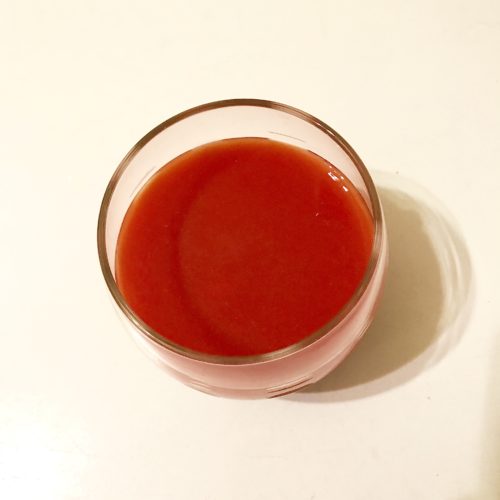 Of course, I had to grow, pluck my own and juice them. I even bit one on the vine like an animal — I am an animal — and sucked and chewed, thinking of another writer who acted on the same impulse before I was born, though with a different lure. Perhaps MFK Fisher transmitted that to me, a gastronomic Tesla.
As I get older, and maybe as others do, I tend toward something I will call "jeweling" my past, surrounding habitual memories with Wordsworth halos. This happens more often now, under pressure to consider the present a permanent past.
Jeweling is much less complex than "madeleining," which common use would madden Proust, because he spent years narrowing dailyness to a wisp, with no patience for any work that a cup of tea, linden or other, entails. Scholars who masticate manuscripts found that he started his single-word fame by having his narrator's brain jogged backward by toast and honey, not a cookie. Don't ever mistake writing as recording.
"When you pour it, it goes 'plop plop.' "
Never cared about television jingles, just the taste, and when I grew older, the non-texture texture, dead-red color and morose adult paradox of festive turning familiar has captured me, still in my eating highchair.
When did you have your first sip of tomato, Sacramento or other? Obvious question, but it obtains to how pleasure is created, adjusted, retained.
Usually I remember brands that populated long-gone Brooklyn shelves, but not in this case. Did I lift a thumbsize glass that gave us an adult treat alongside the Catskill shrimp cocktail (throned on chips of ice), sauced with beet-stained horseradish and Heinz? I can recall how special it was to bite into a gelid white thing, but ultimately it's like anything from before, a nourishing fiction, basted with the unexpected tears of a dressed-up little boy.
The taste we call "tomato" is especially difficult to describe. Some of the reasons for this pertain to the wobbly nature of the fruit as presented, its many commercial guises and tiresome seasonal stardom, but I'll take the easy route and say that U.S. tomato "identifiers" are various and contradictory. Apples and oranges? Tomatoes and tomatoes.
I recently received, during this sequestered period, four tomatoes "off the vine" the color of pumpkins, and as solid. They softened and changed after a week, but not all things that "ripen" can be eaten. Vegetables also are corpses.
No one wants to say these things in these times. I'll find a way to make my reddish balls bounce. Someone grew them, I'll eat them, I'm lucky to have them.
So this is a love note to all my tomatoes, and especially canned and bottled tomato juice, a sentimental Sacra-mento. To everyone who continues to make them: a big, scarlet kiss.
The napkin stains, again.