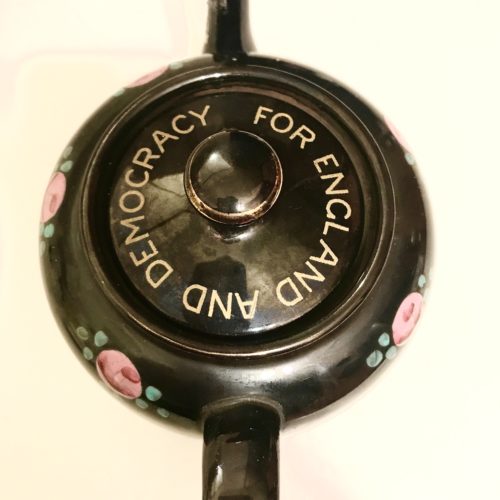 For the life of me, I can't recall where or when I found the pot, but I'm certain a cosseting dealer at some hodgepodge stand in Manhattan or L.A. must have told me it was an object effort to get U.S. support for England as it was attacked by Germany.
Five inches tall and made in Staffordshire, like thousands of others, it was daubed with childish flowers by women in city factories. The teapot, as teapots go, is hideous, but I counted out my money and carried it home.
I'm listening to Morrissey as I write. His voice is in Manchester, an hour from Staffordshire by car, less by rail. He sounds like a guy who brewed, not poured.
In the early '40s, the U.S. sent cargo ships across to carry food and supplies, and if they survived the U-boats, they were loaded with stuff like English pottery to serve as ballast to make the trip back, the beleaguered nation having nothing else extra to send.
That's what I've read, though it sounds iffy — why not haul bricks or Christmas fruitcakes to us? Teapots like this are light and chip in a second — especially the gold-rimmed spouts, which seem to call for unusual attention. Mine dribbles miserably, as I expect they all do.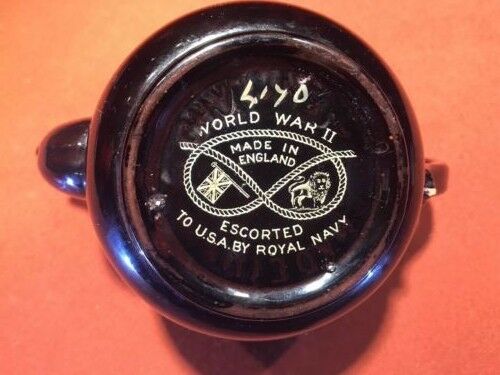 The bottom is more interesting, as is usually the case. Look at the base.
"Escorted?" We see a Stafford knot, which is a pretzel in my book, curling around a flag and one of those made-pathetic lions that has long stood for greedy, bloody imperialism. Cautious Americans were supposed to recognize these sentimental, degraded symbols and help.
This borrowed photo doesn't show the base of my own pot, because we're separated, for the time being, by the pandemic.
Yet mine has a history, including something personal. One of the only pieces I wrote professionally that was rejected, by an editor friend I saw recently at a dinner party given by my dear friend Bill Stern, was about this pot. Bill, as it happens, was an extraordinary collector and lover of ceramic dinnerware.
My torpedoed writing was perfectly seaworthy, escorted to port by me.
Daniel and I drink tea when we wake, not from this errant pot; we have dozens of teapots, which is sort of crazy. The one we use is a Depression-era, get-by-mail "favor" from Lipton Tea Company (talk about imperialism), manufactured by Hall China in East Liverpool, Ohio — no Beatles there. Glossy black glaze, with a weighty clay that retains the heat of the water. It won't ding or break even if you throw it at some innocent wall. Better ballast for those freighters, I'd imagine, but they were going west, with desperate cargo.
Tea can be made in anything. But teapots claim a hold on brewing, actually dictate our needs and use. They are hell to design: guaranteed to drip. Ordinary ancient pots, Korean and Chinese, gave birth to and best most successors.
Now I will change the subject. During the times I visited dish-besotted Bill Stern, the friend I mentioned, in his apartment in Los Angeles, we would make tea-bag tea for breakfast in a gray pot designed in the 1960s by California designer Edith Heath. I feared that its ribbed, plastic-covered handle wasn't sturdy enough to support the hot content, but we had dozens of cups from it over decades, even from Trader Joe's teabags, as his neighborhood, and we, changed.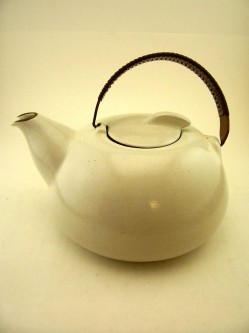 "What would you like for breakfast?"
Breakfast with Bill always felt special. Eggs? They were fried in a cast-iron skillet that was rinsed and maybe wiped, never washed. The Heath teapot, close by, was alway greasy from so many early meals, its surface sticky. If I got up before Bill did, I made the tea and tried to clean the pot.
Bill had the most beguiling smile when he served his ideal eggs and buttered sourdough toast. If I asked for yogurt before I visited, he bought it and made sure he went to Santa Monica for glowing berries to strew on top. He or I would run down and up the long stairs to pick up the New York and Los Angeles Times. He saved their plastic rain wrappers, shoving them in a large, low kitchen cabinet. The higher cabinets that held his Necco-wafer colored Vernonware (actually, many more teals and mule-browns in his plates than that) and the thick cowboy cups he liked for his tea, had earthquake locks, so random tremors wouldn't throw his vintage piles onto the linoleum to shatter.
Sometimes he allowed me to assemble our meal, and I served. His pleasure was all I asked for.
"Jam?"
We had casual conversations then, about art, food, politics and being gay writers, at the wooden table, newspapers scattered, sunlit vines at the window and, hummingbirds, once in a great while.
Bill died a week after our last breakfast. We had both been restaurant critics. Wherever we were, dining with Bill was always what I'd call an adventure, because of what he thought about our particular table, the outside neighborhood, personal affairs, and how we often slightly disagreed. Eating together is a kind of knowledge.
At some aha moment, Bill decided to found The Museum of California Design. William H. Stern organized groundbreaking exhibitions. You can read his obituary here. He gazed at almost everything he gathered with a curious affection, as if the rescued past were looking fondly back at him.
Every day I make tea, which is every day, that's what I recall.
I can't tell what pot I have in hand.