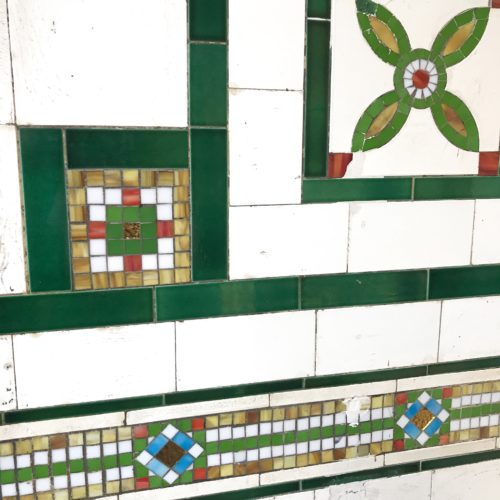 How Jewish is he? Queen, bar mitzvahed in Queens. If I say big deal, certain readers will spit. It was a giant, sweaty deal way back, but evaporated fast. My sceptic father knew that. Still, if you hate Jews, you hate me, truer than true now that I'm 72.
So Moishe's Kosher Bake Shop, the around-the-corner bakery that opened in '72, said goodbye late last year with a vague paper sign, the way they all do. How many tears am I supposed to … yes, the word is shed. Never liked its grim unsweptness, couldn't finish the prune or poppy seed hamantaschen, the stolid babka, and especially not the seeded rye with scant bread "life," which is the sense that something to laugh over was fashioned early morning, hand-formed and feeling like a bundled baby.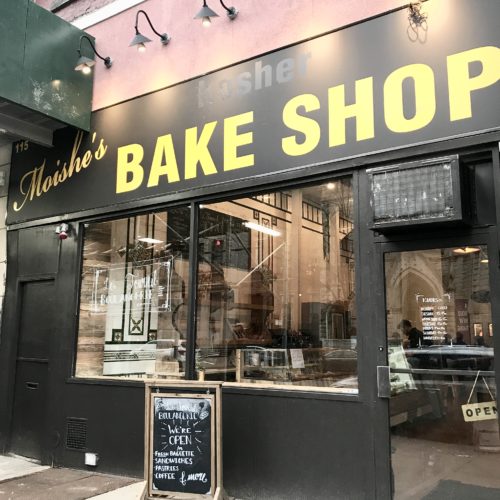 Yet I brought Moishe's my custom for four decades and maybe grinned while breaking between my teeth a rhinestone-covered bow-tie, crumbs dropping between the door and Second Avenue sidewalk, near East 7th Street, where I live.
Moishe's, once Ratner's Bake Shop, was a building away from long-closed Ratner's dairy restaurant, both owned by Harry Harmatz. (Kasha varnishke sages usually cite the other Ratner's on Delancey, owned by Harry's rival brother.) The sad signature R embossed in the entry of the faceless, sighing New Yorker Market, 107 Second Avenue, cries out for dairy tears. It's hidden by progress and flooring.
Ratner's bakery and Ashkenazi-style eatery on Second seem to have vanished even from imagined nostalgia. My dad was a Harry, too; he took the family to the other one. I don't think Shakespeare was involved in either case.
Oh, a bunch of Harmatz sisters were shunted out of control, in the traditional family way.
Shivering Yiddish Theater District tours — the Jewish Rialto! — try hard to fold food around tales of lapsed fame. Maybe I should buy a ticket, but that would be odd, because this hoary denizen could himself be toured, attic and basement, inside and out. No Weinstein refund, even with receipt.
So after the entirely understandable reaction to Moishe's sign hit social media and kosher meatspace gossips, something hopeful happened.
New York City still has bakeries, some even better than when I was learning bread, but boulangeries are few. A bakery occasionally moves into a bakery, but not because it wants the old oven.
"No, it's new," I was told by an employee of Le Fournil. And when I looked into the back of its room through a picture window, into where things were made, I could see not only a glinting machine the size of a gas pizza oven, but a little girl doing what was likely her homework right on the other side, sitting comfortably, I hope, on a hidden bench, looking randomly at customers — at me. Then back to squinty writing, as her obvious dad collected beige shapes from behind and brought them out in a basket to assort on his front shelves.
Most people who do daily work have neutral or grim expressions, but Jean-François Hebert had a small smile. The baguettes had an aroma that matched him. These are sought-after moments in film, but rarely carry into my day unless I allow myself some freedom. He isn't making popcorn, after all, so no theater cliches are necessary.
Cherbourg-born Hebert, from a baker family, may have a cinematic pulse too, which led him to leave his homeland and inhabit this location. What he found under soiled plaster and drywall is why I'm writing. This is not to say I wouldn't mention his flaky or his crusty. That's what's expected.
He's so near the site of a 19th-century German piano factory at 103 Second on the corner, which became the first cool, "gentrifying" restaurant in the realtor-named Village East, then East Village. I've written too much about my life at the restaurant called 103 Second, opened by far-seeing greengrocer Bon Yagi, martinis and chili salad tossed onto angular tables at midnight by the lanky R. Crumb brothers who became the Lounge Lizards. It's now Mighty Quinn's Barbecue, whose convincing brisket is slowly sinking.
Then, one door north, the narrow Commodore Theater, which became a Loews tenement movie palace named Village Theater, which became the "what, they're here?" rock destination Fillmore East and, in an even more telling neighborhood blood-test, the strobing, euphoric Saint, a g-g-gay disco that saw itself eulogized even before it hit the dust of AIDS-dead customers. I went there twice, outclassed by wet, alien bodies and its sugar-Daddy cover.
Jean-François Hebert spent money on the redo and exposed the type of treasure that is urban inevitable: lapidary, inset wall tiles, modest in placement yet tailored with an unknown glazer's sense of daily elegance.
Who made them? New Jersey factories dredging river clay such as Grueby Faience Company and architects George Heins and Christopher LaFarge made the city subways a democratic luxury with their wares. Other tilers set down hypnotic mosaic synagogue floors. Perhaps I underestimate the expectations of my nickel forebears: they may have thought beauty their due. And good for them, if true. The bakery's tile designs are more delicate than the crazed beavers and impossible sailboats still haunting particular Lower Manhattan station stops. If anyone in the many tile associations across the country recognizes the narrow Second Avenue jewels, let us know.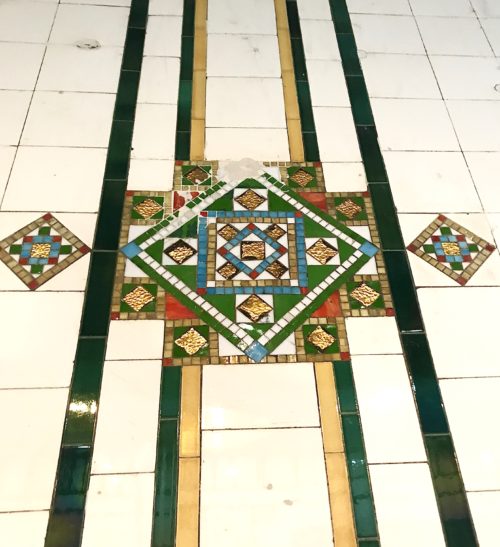 Just as important, what was the store before? Always bread, not clarinets?
Originally a three-story brick row house, 115 Second Avenue had a storefront added in early 20th century, which, presumably, would be close to when the wall tiles were added — they'd be odd for a sitting room, though easy to clean. This from a lush 2012 report about the East Village/Lower East Side Historic District by the NYC Landmarks Preservation Commission.
And here's where first-bakery memories rise like that ideal loaf. Funny word, loaf. Loafers don't rise, we stay in bed. My home-baguette experiments combined our serial bakeries: I produced long, crusted matzohs. Baguettes and croissants, to be frank, require skills that bread-making does not.
Little Jewish boys who are these days long in the tooth also did their errands and fetched bread from the bakery when required, smelling what was in the bag and pulling a middle slice so no one would know.
But to what end?