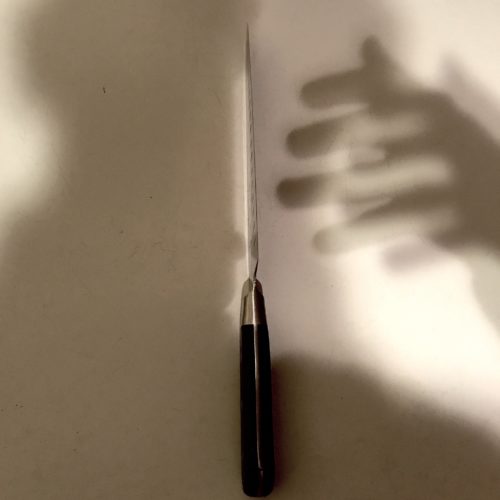 One of the few short stories I've written, a lifetime ago, begins with a declaration that I stole cookbooks. Yes, I did lift some classics as well as a set of what I thought were "good" kitchen knives from a foofy store in San Diego. I learned later that the knives were French, not big-deal German, and in spite of their ridiculous price, considered just OK.
When I took the biggest in my hand and pushed it through something, it cut just as well as the $1.99 drug-store serrated knife I already had and still use almost 50 years later, a Japanese six-incher with a riveted wooden handle that has a streak of steel running through it. Guess it's sawed hundreds and hundreds of artichoke tips and stems, even in a period when I wasn't doing much cooking. Who would need any knife but that?
Recently, a laughing, thoughtful friend returned from Tokyo with a knife shaped like a small cleaver. "It's meant for vegetables," she said, "and for you." She had tried many knife-district stores and in each sampled what the salesman put on the counter. She said she liked the feel of this one, the medium weight and especially the balance.
Some of you sharpshooters will have guessed that she brought me a double-bevel nakiri (bevel is the sharpened edge), an ordinary cook's up-and-down dicer and slicer. True chefs, however, use the single-bevel usuba to sheer see-through scrolls off rotated daikon. Where did you think they came from, those ghostly julienne, when you left them on the sushi plate to faint and be discarded?
Don't think for a second I knew the foreign names by heart.
I'd never had a knife in my life like the new nakiri. It was crackling sharp (though not for long), but something else made it exceptional: the calm ease with which the knife held my hand, as well as the uncanny confidence it gave me. Once the blade came within range of a leek or rolling radish, it knew what to do. My knife was teaching me.
That could be scary, like the transplanted murderer's hand in a number of dark movies that divorce goodness from need and will.
The good knife made me hungry — for more knives. I'm not a knife queen and never will be, but it isn't hard to understand why pros and bros spend their domestic futures on food weapons, assembling collections as if they were Blahnik Vuitton Weitzmans (shoes) or Maseratis, shoes and cars.
So, although I was fine with flip-flops, I now want heels, and my boyfriend bought me a pair, my first dancing knife.
If you hold this over a held piece of paper, an eviction notice, whatever, and bring it down, it slices through without a shudder. It's the kind of sharp that knows "sharp" is a calculus of diminishment; at no time will the blade be the same. Sharpness is a relationship, and relationships take work.
"I hide my knives."
Are they cooking-guns, to be locked away? Here's a kitchen store, with potholders and pots as well, so let's go to the Fear Department. "Can I help you (cut your fingertips)?"
"No, sorry, I'm just cooking."
Cooking is like being a surgeon, operating on food. After we attempt to cleave the skittery onion or remove the heart of an avocado with our favorite tool, ER chefs have their work cut out for them. I've seen few of my friends pick up a knife. When I do, I almost always think of bandages and slits of red along the skin, dark human gravy puddling on butcher boards next to the other meat. Random thoughts like these don't freeze my daily cutting.
An artist walked into the dusty lobby of a downtown weekly paper in the late 1970s and chopped off a finger or two because the art editor was out to lunch. The horrified greeter at the bloodied makeshift desk who tried to calm him down told me it was "some kind of kitchen knife."
The strenuous act didn't make the guy famous. Someone grabbed ice to put his fingers in. I hope that being an anecdote at least brings him some satisfaction. Did he later retrieve the knife, sharpen it, use it for celery?
You may wonder how cookers in foreign places and times manipulate the main ingredients. I imagined that there would be "traditional" cultural knives, yet I found few. The boti in Bengali (many other names for it in Southeast Asian regions) has a curved blade, sometimes shaped like an abstract bird, mounted on a plank of wood or metal. The dextrous, seated cook takes her garden prey, say a tuber and, upright blade facing her, moves the form against it, fast and smart, slices piling underneath. Metal touches only potato, okra, shrimp, never a hard board, so her familiar edge remains useful and dangerous without much care.
Unattached knives may be weapons, too. Heat-addled, coked-up chefs have been known to go all carnival knife-thrower, terrifying staff: "Get the order right, asshole!"
Don't wrinkle your nose in doubt, I ducked.
His explosive extension sticks into the wall or bounces and clatters on the slimed floor, its point lost.
Can you live without a knife? Let's try a desert-island experiment and see how a U.S. urbanite would manage an eating day.
Bacon and eggs, 20th century. Nothing but butter needs be dropped into a pan or spread on bread, which a spoon or fork could do. Today's avocado toast? The same, because any penetration is as good as a cut. You can also peel the fruit with fingernails, scrape off the meat and spread with fingers, licking as you go.
Lunch? None of this is fair, because you can buy precut filets and eco-vile clamshells, frozen bags, forever cans — is a can opener a round knife? City knives are accessories.
Yet when it's time for dinner, using my knife is no different from eating the result, because food is a caloric memory of process. Look at it, the narrative. Dirty gathering, maybe killing, if that's my choice, shopping, stripping the skin away, and deciding size continues with the knife's labor. What gives me life as well as a bit of pleasure every day is the end of a long short story, to be finished on a page right there, in front of me.