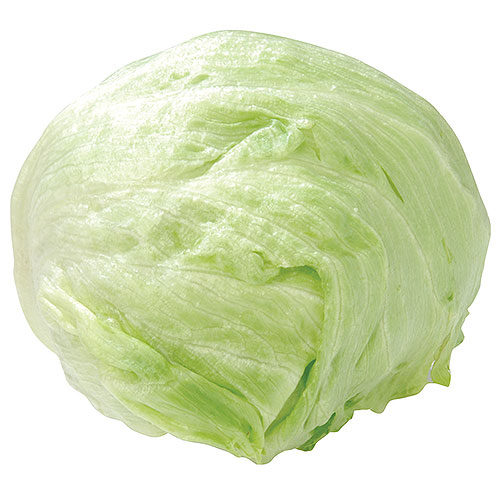 [contextly_auto_sidebar]
Hungry beyond myself, I come to a cartoon field of wet, glossy globes. Leaping into mud, I get on my knees and lean over, biting and choking to swallow one down.
The way nightmares work, I see the lettuces, run, bend and chew — again and again. Then I wake up, blinking and faint.
Iceberg. Caesar. Mesclun. Hedda. These make my two-syllable lettuce poem, and they're welcome, though my next thought is about the recently denigrated M.F.K. Fisher for her youthful lettuce memories. She wrote what she remembered and is paying a price for having made pleasure obvious too soon, on a platform of relative privilege.
I've looked everywhere for my copy of 1943's The Gastronomical Me, but I do recall two green leaves that stuck: teen snobs telling clueless Mary Francis she'd be blackballed if she ate the wilted lettuce under a salad — this was at the tightly laced Bishop's School in La Jolla, California, a snotty paradise of a town where I also went to school — and later, in a midwest college, when on some winter evening she and dorm girlfriends bought six heads "of the most beautiful expensive lettuce, we could find," slathered them with something like Wish-Bone, devoured them, then opened windows to the icy air and screamed.
How can this be, or even seem, important? Lettuce, a goddess, can walk anywhere. I know, because I once wore her.
I'm deciding if the provocative photo (by Robert Kushner) can be posted and really can't recall if my edible outfit, part of a '70s artwork and performance, was a macrame cape of Boston red leaf or sturdier red cabbage, with scallion trim — the scallions stand out. Even now, photos don't code identity or flavor, and of that I'm glad, because I'd like to keep at least a few intimate experiences to myself.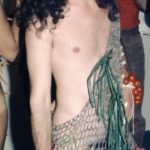 This all started because my writer boyfriend wanted to know what a wedge salad was; he liked the word "wedge" and said it many times. After WWII, I told him, icebergs were piled in grocery and supermarket cases like basketballs, and one by one, they were carried to bachelor apartments for seduction dinners, at least according to cookbooks like 1950's Wolf in Chef's Clothing.
Robert H. Loeb, Jr.'s "Salade Subversive" was a Cold War ploy: wedge of iceberg, quarters of "red" tomato, and Russian dressing, not the usual Roquefort or lesser blue lubricants. (How Bridget Served the Salad Undressed, an American Mutoscope short from 1898, also plays with "dressing," servants being the usual butt of domestic hilarity.) Wedge salads hit the plate again in the 1980s, when American Regional Cuisine was being fashioned and marketed, and this time the price was upped by using a cloak of Iowa's Maytag blue cheese as "local" dress-up. Dried pasta, canned beans and iceberg lettuce are restaurateur dollar signs; they're garbage-cheap and don't spoil. I myself fell for that retro item, an unbaked Alaska, though not off my chair.
But iceberg had been around, bred in the late-19th century and soon trained in from California, supposedly on actual ice, like oysters to Chicago. I've read a lot of silliness about it being the general lettuce until plastic bags of lawn clippings, many also from California, hit the stores not long ago. Dozens of lettuce cultivars had been grown for hundreds of years. Food authorities sighed over common iceberg, citing … its definitive crispness, the way the leaf follows and supports the strong centers? How the slightly milky inside coats your mouth, allowing so much more to happen?
Of course they were wrong. Every food has its calling-card, but no one is forcing you to open the door. Yes, John Waters called iceberg "the polyester of lettuce," but he and I know full well what Rei Kawakubo and Issey Miyake have done and continue to do with that fabric.
Print editors still commission pieces like "My First Lettuce" or take a 10-call poll on "what lettuce tastes like." In scads of kitchen fridges, lettuce is ambient noise, a way to eat and not eat, someone else's second cousin, though I'm certain that there's a word in some philosophical system that corresponds to the way lettuce is supposed to work with food: a neuter vehicle in which assertions are launched to be judged.
The reason I'm curious about the subject is that both primitive and evolutionary logic laugh at anyone hungering, yearning, for anything so unsubstantial. "Meat and potatoes" has graphic oomph; salad is sexless. Few admit that a green leaf that isn't cannabis could put them on the orgasm path, even when made lustrous with something spicy and slimy.
There's old lettuce in the fridge. Should we eat it? No black crap on it, so why not, we paid for it, and it's supposed to be healthy. I've thrown my withering Organic Spring Mix, the one with provenance and no flavor, into the boxed organic soup. Who cares about sorry roughage once it is heated beyond recognition.
The Asian cultural assumption, if I may be so broad, is that in most cases greens should be cooked. If you imagine bok choy as a lettuce, you'll see how iceberg and other crispheads (that's name of the variety) are considered and employed.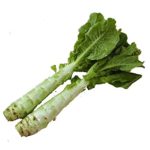 Celtuce (above), sometimes called Chinese lettuce, is really a double vegetable, with a firm, almost woody stem and long lettuce leaves. You can take a peeler to the stem and fashion a pithy noodle, or chop the leaves and wok-fry either. The plant's hearty vascularity results in a mild, slightly sweet, though plangent chew. It's hard to find in markets, though I've eaten it, mixed with offal and mushrooms, whatever you choose, at Manhattan's Mala Project.
So lately, I've been a kitchen climate-change, melting icebergs by using established Chinese methods. The trick is the usual, to keep the name-tag on the main ingredient after you've shocked and swirled it.
I've learned that everything must be quieted to allow the despised head to hold itself high. Here's my easy best, but please know that I can't claim anything but influence. It's adapted, as cookbooks say, from wok-master Grace Young's family recipe. I've kept sugar out, the only real change. I think it serves two, not four, as claimed.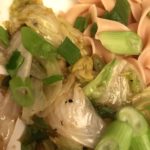 Here's an opportunity to say that iceberg lettuces can be different. Organics are floppier, with a "greener" flavor. What the French call "iceberg" is a whole other beast, and they know it.
1/2 head iceberg lettuce, any type, cored, leaves pulled into big pieces
A few cloves of garlic, sliced
A spill of soy sauce, a teaspoon or more
Same of rice-wine vinegar
A bit less of toasted sesame oil
A pour of peanut oil, or whatever you have, to just cover the wok bottom or frying pan
Salt and maybe black pepper
Optional: a few scallions trimmed and chopped into 1-inch pieces, white and green
Mix soy, vinegar, sesame oil, salt, pepper in a little bowl.
Heat the pan, add peanut oil and tilt around till shimmering, add garlic for less than a minute, then lettuce (and scallions), stir around for another minute at most. Some lettuce may flop out.
Pour in the sauce, stir for a minute. Serve.
The surprise your guests may or may not show is telling. Lettuce, especially iceberg, has that power.