They bring me back to my stoop days, decades ago, when I smudged their bellies on my forehead as makeup, also called war paint. Will they make the same impression decades from now, on those I love beyond measure, in flooded or scorched backyards I'll never see?
You can tell the temperature by the firefly rate of thorax blinking, which can be hypnotic, like the gleam of this cucumber seed in fluorescent kitchen light.
Those seeds, covered in slime, scoot like baby roaches onto counter or floor when you run a spoon down the center of your split green sausage to scoop them out. Later I learned to save and use them because they add what is called umami to the mix, but that's like claiming guts taste good. They do and they don't. They could.
"Cucumber soup" would have been a punch line in my "Mad" magazine youth, for reasons Campbell's made obvious to me and to Andy, whose mother cooked it anyway — zupa ogorkowa — for her darling boy. Mrs. Warhola used a meat bone, I have no doubt.
"Slice this."
Mom said that. Although scared of the knife going into a hard, fat shape, I did what was asked and had my first cucumber contact when the blade broke through. Aroma rose from the cut, neither feminine like her Shalimar nor manly like his Aqua Velva. I had learned to slice onions that year, which were more underarm than cologne — words and smells I learned later. Onions brought me tears; this scent was a surprise.
When I read or am told that cucumbers have no quality, no identity, are merely wet saddles for oil, vinegar and salt, I realize, once again, that the world is a place I can't trust.
Spin the wheels of flavor and texture, and the matches range from expected — earthy and crumbling potato — to odd — sweet and elastic squid. When you add "concepts" such as wet or dry, hot or cool, you may sense why cooking and eating are like meeting and making love to everyone on Earth.
The boy with the knife knew right away he that he would marry the fragrant, crispy, gooey, cool-to-the-core cucumber. The word itself drew him in.
Some vegetable names, tomayto, tomahto, can keep the most promising human ingredients apart, which brothers George and Ira made clear. As it happens, and it always does, there's a spined-cucumber variety called Gershwin RZ, but there's no Cole Porter cuke, no Bernstein cuke, no Sondheim cuke at all.
However, a Brit music-hall song from 1915 by a bloke named T.W. Connor, "A Little Bit of Cucumber," made audiences titter. Here's the chorus:
I like pickled onions,
I like piccalilli
Pickled cabbage is all right
With a bit of cold meat on a Sunday night
I can grow termartoeses, but what I do prefer
Is a little bit of cu-cum-cu-cum-cu-cum
Little bit of cu-cum-ber.
Records show… well, there's historical evidence that the ribald cu-cum metaphor was understood.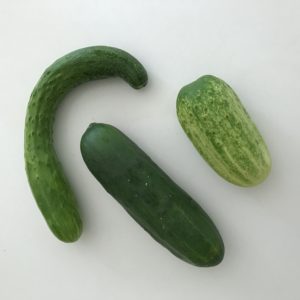 For the last million summers, Manhattan's restaurant Veselka has offered a cold cucumber soup that this customer ordered at every possibility. I also fashioned home versions, with onion, fatty yogurt, sour salt. Guests seemed grateful, yet my soups were never quite Veselka's.
A recipe will appear soon, so let me write speed bumps.
Recipes, sigh, are lies. They say, "I'll never change" and bat their teaspoon eyelashes, but we know that the taste and feel of what we cook always changes, just the way the cliche "each and every time" never plays the same way twice.
So when I found cucumbers grown by a farmer I know in a field a short walk away, I sniffed and knew at once that everyone's pallid-cucumber lies were going to be spiked that very afternoon. The Veselka Cookbook by Tom Birchard and Natalie Danford has my lodestar soup, so I could continue my lifelong experiment and see how much 1) sitting in that airy East Village room 2) who I'm sitting with 3) the next table's conversation about finding a Bushwick roommate "who won't fuck my boyfriend" 4) the total on the check, governs the delightful regularity of my bowl.
I must admit, I was surprised at what the recipe did and didn't have. I'll do an Elizabeth David here, which means to make it "take a nice hen" vague:
Take a few cucumbers, peeled, seeds removed, and sliced.
I throw some seeds back in.
See? Scotched the duplication, and sentimental memory, already. Also, cucumber varieties have various scents, flavors and textures — "varieties," "various," that makes sense. Marcel P. (not D.) is looking for his stained white flag to wave.
Throw chunks in a blender and run till smooth, which takes some starting and stopping and jamming down with a spatula or spoon. Add two cups buttermilk (there's real buttermilk and fake buttermilk, isn't that comforting), a bit more than one cup half-and-half, a clove or two of minced garlic, two teaspoons Dijon mustard, a big handful of chopped dill, a few twists of black pepper, one teaspoon salt.
The recipe reads two, but you can add more after you chill the soup and taste, because cold things seem less salty, so some say. I haven't found that to be true in all cases. Nothing is true in all cases. Strew diced cucumber and a sweep of dill feathers as top punctuation.
I want you to hear the satisfying whir of a vintage Waring as the end of the recipe, the end of the bright fantasy that we can do any more than suggest, at our age and time, a constancy of pleasure, and, as you bring your eyes back to the top, the end of this piece.