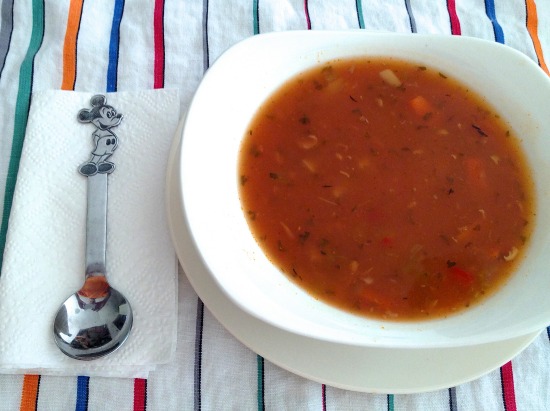 I don't know where she was born, and I don't know her real last name.
When I say this to friends or even to party strangers, they quite rightly raise eyebrows. My late mother lived to almost 90. What kind of adult son would have been so profoundly uncurious?
As of now, I've found no record of her before her marriage to my dad — no marriage certificate, either. Her maiden name is "Browne" on the photostat of my birth certificate, but she told me later that that was not the case and offered another one — also, as it happens, untrue. She was "from" Westfield, New Jersey, but later she said she was actually born in "the Bordeaux region of France," her father having been a hunting-dog trainer on some estate, and the family came over in the early 1920s. One of his Jersey hounds bit her badly, and he shot it, she recounted proudly, as proof he loved his little girl. I don't know this unmet grandfather's name, either.
"Everyone likes to talk about growing up," my brother, Leslie, told me on the phone today. (Leslie? After Leslie Howard?) "Why didn't she?"
Hunting-dog trainer in Westfield, N.J. Believe me, I've scoured the records, and no classy bow-wows rise to my genealogical occasion. I've got no family photos (she lost or destroyed them all, old and new), no early papers, no online anything beyond the 1940 census, which is the last one available to the public. In that, she appears for the first time, in Brooklyn, age 22, wed to my father. I was thrilled to find her name, imagining a real person, my mother-to-be, in a real past. She had four years of high school, was "engaged in home housework." Yet any historian or journalist knows that one piece of evidence is just a signpost, a tease: Her name is "Edith" on that census form, but she always spelled it in a romantic, Anglophile way, as "Edythe."
Edythe who? I'm looking for my birth mother, even though I wasn't adopted.
Very Home Cooking
You have every right to wonder why such a late, sorry search connects itself to a cooking achievement. In the past few years, I've become confident in preparing and understanding various kinds of chowder, almost enough to be able to recognize "chowderness," the genre's common core. (Yes, types of food are genres in my public library.) That, in turn, has led me to the idea that I may be, after all,  a "soup" guy — part stewish, too. Little makes me happier than a liquid bowl of anything.
Yet I bet that anyone who can guess where and when I grew up will also know how my first sip of soup came to my lips, and what my first chowder was. So that's where I'll start, because I can see my lovely mom open and reach into a Midwood, Brooklyn kitchen cabinet. My brother and I saved up all year and had bought a pink electric can opener for her May birthday.
Her lips are the same color as the label. She "knew" lipstick well and told us many times that just before she met Dad, she sold cosmetics at Macy's, the big one in the city. The company demanded that their prettiest gals dress as Pilgrims in tights and show their gams in the Thanksgiving Day parade, which Edythe hated because it was always wet and icy. Her best Macy's moment, she said, was selling perfume to Joan Crawford — a neat reversal, I thought later.
Too bad she didn't recall which scent Joan bought; not lush and musky Shalimar, which was Mom's first choice. It made her white-fox collar and Autumn Haze stole smell like cold vanilla. Ancestry.com doesn't track makeup or hair color.
Oh, we hear the whine of that dangerous new machine and know what's coming.
Campbell's Manhattan "Clam" Chowder
Ingredients:
clam stock
potatoes
tomato puree
carrots
clams
celery
modified food starch
salt
green peppers
red peppers
wheat flour
vegetable oil (corn, cottonseed, canola, and/or soybean)
monosodium glutamate
spice
flavoring
yeast extract
sodium phosphate
flavoring (cod)
clam extract
succinic acid
sugar
soy sauce
Add one can water, heat, serve.
Thanks, Mom! Mom, why are there quotes around the clam?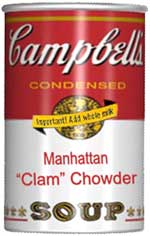 With the same salty sweetness in our mouths, the only one that means  "chowder," Les and I run back to school.