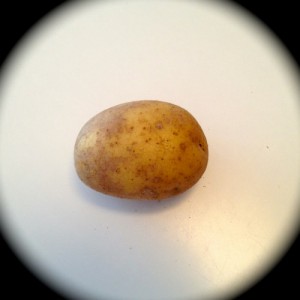 Potatoes soak up words exactly as they soak up butter. Mash them in, stir them in, whip them in, makes no difference, they disappear. Descended into a silken maelström, language dissolves, and no amount or quality of writing can resist the potato's absorptive, neutralizing nature. Thoughtful or ardent spud poems are doomed in advance.
Moby Dick was really the Great White Potato.
My strategy here is to keep everything away from the brink because a single, recent kitchen victory — stirring potatoes — needn't go far. The only better ones I remember were in 1982, at Joël Robuchon's brand-new Jamin in the 16th arrondissement: pommes purée. (That makes me sound so smart, but my seat at table resulted from the confluence of a good friend and great luck.) The hot cloud Jamin placed in front of me had leapt from dirt to heaven without once stopping in between.
My religion allows, in fact, requires, that we are each capable of our own heaven. It's a tenet — and paradox — of my criticism, too, but I see that the universal potato-maw is getting ready to swallow me up, so back to small business.
Here's what happened the other night, on a fake holiday that starts with "V."
Found some just-gathered dry scallops and decided to match their naughty smoothness with potatoes. Mashed or whipped? Those are quite different propositions, and I remembered a detailed study about why that was so, so I found and reread it.
Fascinating. Can't find the ricer; maybe I'll do some nice rice.
But Yukon Golds were waiting in a cool corner, so I chose five mediums, washed and peeled, then sliced them into cubes and pyramids, something between 1 inch and 2. Rinsed off the starch juice in a colander, put the chunks in a pot, covered with cold water, brought to a boil, threw in some salt, stirred, waited 15 minutes as they bubbled, drew out one piece on knife point, chewed, gave them another 5, and when I saw that there was still some resistance but the flesh was ready to collapse (a truly human moment many of us recognize), drained them.
In the meantime, I had cut a third of a stick of sweet butter into a few pieces and placed them in a Pyrex measuring cup into which I had poured about 1 cup of heavy cream. Then I melted the butter into the cream in the microwave; took a minute or so.
Put the potatoes back into the still-hot empty saucepan, added a third of the mixed-together warm, buttered cream, and took a wooden spoon and stirred, gently breaking up the pieces while incorporating the fat as if I were making potato mayo. Then another dripped third as I'm stirring — slow and steady, nothing like beating or whipping.
All of a sudden, the mass develops a pillowy form and obscene shine. It does not collapse or turn to mucilage.
The last third consolidates the transformation.
Would you taste it now? Aroma beckons.
Do you think it needs salt or white pepper?
Final relief; words fail. Paris can be anywhere.