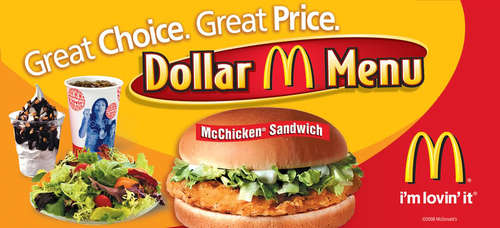 Some of us in the business and out treat the unending eruption of apparently unconnected news stories as if they were dollar items in a restaurant we don't know. Most of the time, their topics pull me toward, their specifics push me away — but not until I finish the meal. Repulsion has its attractions.
This past week, for example, all that Maltese papal pap (left) in place of responsible action made my head spin in
Exorcist
fury. And speaking of volcanic vomit, there was the Philadelphia story of 21-year-old Matthew Clemmens (right), who
reportedly
stuck fingers down his throat and forced himself to spew greasy stadium food and watery beer on an off-duty police captain and his young daughter at a Phillies game. "Matt's a nice kid. Maybe a little overweight, but he has a good heart," the accused miscreant's uncle said. Perhaps the "kid" was using the classic upchuck method to drop some pounds.
Or maybe Matt had just finished reading about kopi luwak, the rarer-than-rare shat coffee from the islands of the China seas. Wild civets, the New York Times's correspondent
wrote
, seek and swallow glossy red coffee berries from the forest floor. Then, after a period spent on the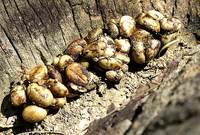 digestive assembly line in which the fruits are roiled and churned, the value-added beans that result are deposited back where they were found, gathered by hand, and sold for a minimum of a hundred dollars a pound. That carbon-neutral form of processing is old news to coffee-lovers, but the Times's cadre of serious Slow Food readers is now being asked to judge if the droppings from a new type of entrepreneurial coffee farm — the civets are caged! — can result in anything as satisfying as the musky, idiosyncratic cup brewed from pure, free-range spoor. In this report, civet rights and pristine flavor conjoin.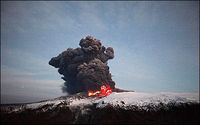 At the same time, we were asked to constantly behold a volcano with its ash in the air. "Oh, I can't pronounce that name, 'Eyjafjollajokull,' " the network announcers laughed, "just 'Bjork.' " Odd that almost no Stromboli melodramas emerged in the coverage, just
Cassandra financial reports and boilerplate airport kvetching, both with Brian Eno soundtracks behind them. (European reserves of kopi luwak must be reaching dangerously low levels.) Still, some human-interest stories did surface, and here's a charming medieval quote from a long one in the Guardian:
"I noticed a smell in the house and wondered what it was," said Joanne Jamieson, from Sandwick on the southern tip of Mainland, the biggest island in Shetland. "It was coming from the outside, so I opened the door. It was very strong, and I initially thought it was rotting seaweed. I looked down to the beach and actually looked up to see if the sky was falling in."
Ingrid Bergman would deliver those lines one way, Wendy Hiller another, Carole Lombard a third.
And wouldn't Lombard, with that Village of the Damned hair and those geothermal eyes, be a thoroughly convincing Icelander too? Karol Lombardottir. She'd get shipwrecked under the volcano, just as she did in 1934's We're Not Dressing, yet another of those rich-girl, poor-sailor Admirable Crichton knockoffs — remember Madonna's ghastly Swept Away?
Every one of you knows more about Lombard than I do, but I am forced to note that in We're Not Dressing, Gracie Allen thinks flora and fauna are a vaudeville team, Ray Milland plays one of two gay-baited romeos, and women's rights are trampled by Bing Crosby's phony working-class revenge.
On a somewhat larger ship, Lombard does Garbo in The Princess Comes Across, in which costume designer Travis Banton's buttock-loving satin and fine fur sausages give MGM rival Adrian a run for his studio's money. (Yes, I know that's Rosalind Russell and the back of Carey Grant's head in the movie with the title that could sit atop this post. Please move the button on the YouTube clip to 1:35):
"Vee go to Hollyvood."
"To see the stars?"
"To be the stars."
Does the Svedish princess have a favorite male star? "Oh, ya, Mee-kee Moose-ee."
Nothing in the news of the week made me happier.
'Out There' Quiz
Readers, can you name all the movie titles cited and buried in this entry? Email your attempt to me at jiweinste@aol.com. I will publish the winning name or names and full list in the next post.