Who Would Expect a Video Artist To Be a Hero?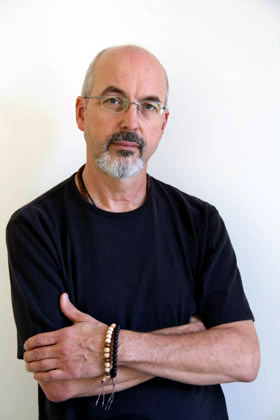 Every week's cultural and political news is actually a puzzle to be solved, a jigsaw set with antagonistic pieces. Here's one part of the puzzle that I find heartening, though others may not.
Artnet.com is an auction and art-market site that also has a kind of magazine attached, Late last week the mag lifted part of a story almost verbatim from Catholic New Service. I myself will borrow the beginning of the original:
Pope Benedict XVI has invited hundreds of artists to meet with him in the Vatican in an attempt to rekindle the special historical relationship between faith and art.

More than 500 personalities from the worlds of art, theater, literature and music have been asked to gather with the pope under the legendary Michelangelo frescoes in the Sistine Chapel Nov. 21.

Archbishop Gianfranco Ravasi, president of the Pontifical Council for Culture, said the meeting was to be the first of many initiatives aimed at bridging the gap that has developed between spirituality and artistic expression over the last century or so.
Though the list of invitees hasn't been released, the story says, the following were named: "Italian film score composer Ennio Morricone, avant-garde theater director Bob Wilson, architect Daniel Libeskind, and Bono, the lead singer of the group U2. American video artist Bill Viola was asked but has already said he won't be able to attend."
So Ennio, Dan, and "Bob" could be ready for Rome, but Bill? Artnet, to its immense internet credit, didn't let that sleeping dog lie. Here's its contribution:
According to a source at James Cohan Gallery, which represents the artist, more than just a scheduling conflict is involved. "Bill Viola doesn't agree with many of the policies put forth by the Vatican and the Catholic Church and this is his reason for declining to participate."
I wish the source had been named, but here's the question: Can the art ever trump the context? Years ago, an extremely talented artist I know — and an exceedingly fine person — told me that she made something expressly for the Nixon White House. It was work that actually could be used by the president (I won't say more) and probably was.
Do I still like my friend? Yes, of course. I must have asked why she had agreed to add her beauty to the home of a war-mongering crook, but I can't recall. The look on her face, which I do remember, told me she was confident that her pristine work would remain inviolate. After all, Michelangelo too pleased murderers and thieves.
So come November, Ennio, Dan, "Bob," and so many unnamed others may meet Il Papa right under that heavenly ceiling, painted by a man who loved men.
Wonder if they will.
For an automatic alert when there is a new Out There post, email jiweinste@aol.com.