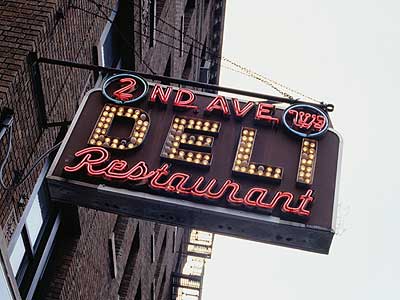 The old sign
A Tale of Meat
If you're not interested in a New York story, you can stop now. It may be annoying even if you are, because I'll be talking about a lifelong relationship with something a number of readers may never get to know — which usually sounds like a brag.
No one ever said the 2nd Avenue Deli had the best pastrami. Most mavens pit Katz's on Houston Street ("Send a salami to your boy in the Army" — the history-heavy sign dangles from the ceiling) against Langer's Delicatessen on South Alvarado in L.A. My own feeling is that, when you reach a certain, Shangri-La level of pastraminess, the sandwich directly in front of you is the best.
But yes, I cannot deny my fat expertise: For pastrami, it is indeed Katz's or Langer's, Langer's or Katz's. In some cases, the event defines the expert as well as the evaluation.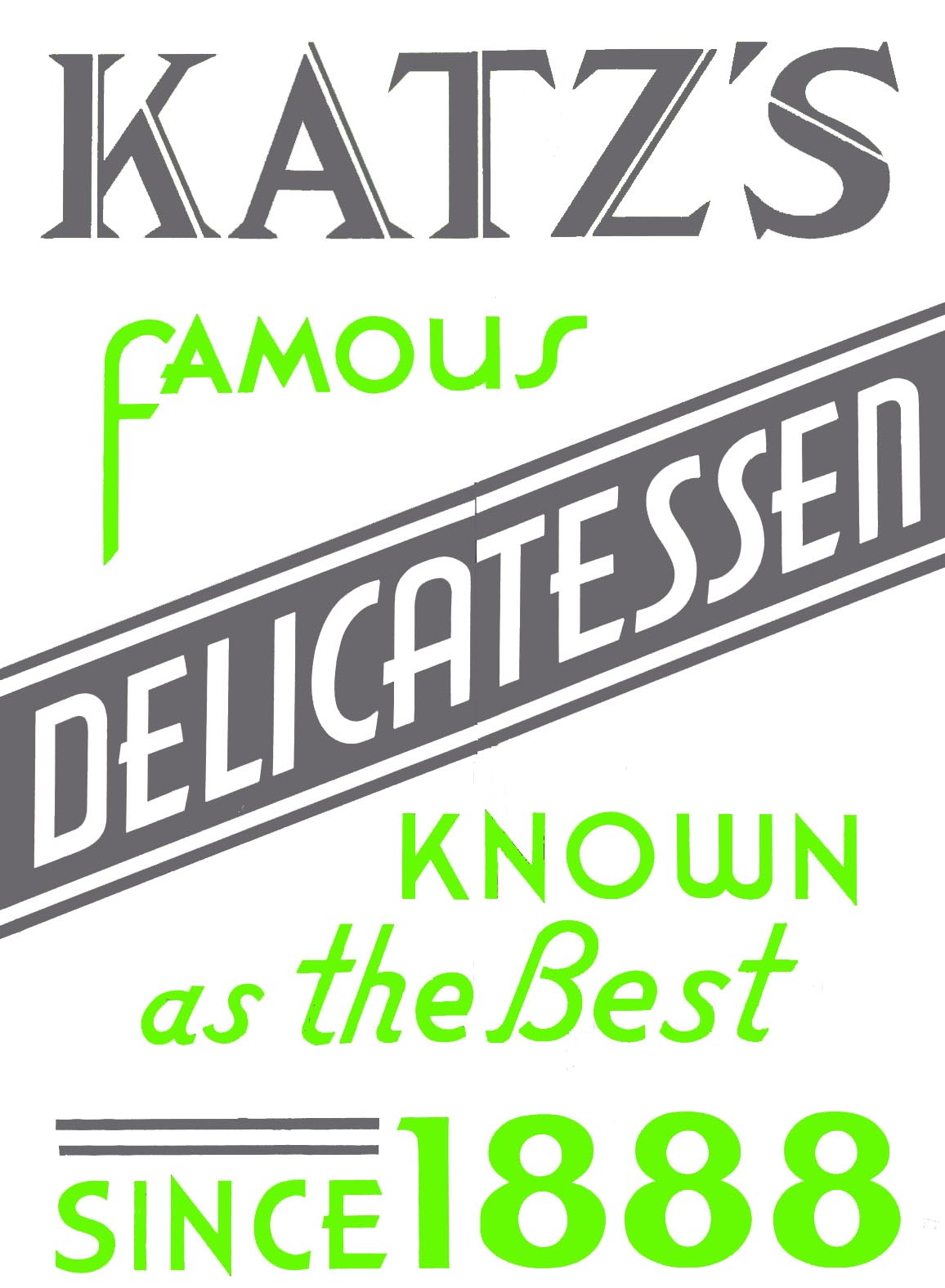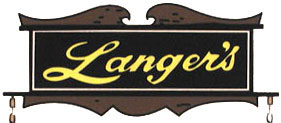 Two Critics
I went with my friend Daniel Young, a former restaurant critic of the New York Daily News, to the new 2nd Avenue Deli on East 33rd Street between Third Avenue and Lex. This establishment was founded on Manhattan's Second Avenue and 10th Street in 1954, which makes it a relative matzo-ball newcomer; little Jeff was already eating pastrami on seeded rye that year somewhere in Brooklyn, not far from Hymie's Highway Hi-grade Appetizers. I developed my career-enabling ability to differentiate flavors at that time by comparing one kind of mustard to another and quietly but precisely making my preference known. (It wasn't French's.)
The 2nd Avenue Deli moved reportedly because of an absurd rent increase, of the type that is forcing a nearby East Village trattoria, the excellent and hospitable Col Legno, to move — or close! — as well. Col Legno's still open, on East 9th Street between Second and Third; try the flask-cooked beans in olive oil with garlic and sage, fried artichokes, pappardelli with wild boar ragù, before they vanish.
Also, the deli's founder, Abe Lebewohl, was shot and killed in an early morning robbery in 1996, which made it hard to eat joyfully. Members of Abe's family opened the transplant in December.
Dan and I walked into a glass-walled anteroom. "Table or takeout?" was our efficient greeting by the man on the stool; when he got up to scout inside, he put his cup of something to drink on the seat. The deli doesn't take reservations, so we could employ Dan's trick: Don't arrive on the hour or half hour or even on the quarter. Come at eight minutes before, or 17 after, and you draw a better chance of being seated. (Sorry, Dan, I had to.)
Yet we still had to wait, so we stood as others came after us into the kosher aquarium, arranging their dignity and checking in. Whenever the interior door opened to let belching customers out, the hot-pickled-meat perfume from the jammed takeout counter flooded through, the best ad for "deli" ever created. (The counter is crowded because the servers pick up much of their orders there.) When we were kids, my brother and I wanted to bottle and sell that smell.
Suddenly I realized I was in for trouble: Whatever I actually ordered, I was about to be served a decent portion of mortality, pickle on the side.
Company
The stool-man made us an offer to share a table with another pair, and we agreed. The next two couples, offended, said no, but two guys bit, and in we went. The rectangular four-tops, arranged like booths, were tight as could be, and the fellows suggested that they take the outer seats because they'd be eating fast.
We thought: They have a curtain. What theater? It's far from Broadway. They don't look at all like a couple, or even gay, but who can tell.
Five minutes into their meal, one was trying to get the other to read a script by Al Carmines, the effervescent reverend who a while back ran the Village's Judson Poet's Theater — I hoped it would be his 1973 musical hit, The Faggot. It was not hard to overhear.
Two critics, one meal, what to choose? I had eaten in the old version of this place dozens of times because I lived nearby and thought the food was rolling slowly downhill way before it closed. It took us just a few minutes to fashion a concentrated test: We would share a matzo-ball soup, then a corned beef sandwich and pastrami sandwich, flipping halves. Our mutual reviewing instinct demanded that we add an order of French fries.
Yes, I know, I know, the many touchstones we didn't touch.
As soon as the server realized we were not one party but a pair of deuces, she brought out mirror-images of the complimentary but mandatory plate of half-sours, sours, and pickled green tomatoes (two of each, two of everything, so no fighting); sides of the crunchy, not creamy, cole slaw, and something new for free: gribenes (GRIH-bin-iss), a monkey dish containing a scant dozen scraps of chicken skin fried in schmaltz. Bad even to think these resemble pork rinds. The usual recipe should include lookalike pieces of crispy onion, but I didn't taste any. I ate my few with appreciation more dutiful than passionate.
The broth of the soup was genuine but featureless. I sliced the light-beige tennis ball in half and gave it over. Not the worst, not the best … but the cloud I was afraid of, a kind of time-transporting mist, began to form around my head. Then, bang on the table, meat and potatoes. We traded our almost identical sandwich portions carefully so the piles of ruddy slices wouldn't tumble. I saw Dan look at both and without hesitation choose corned beef first. His face disappeared.
Like him, I had no choice, and met my pastrami.
A Sandwich Life
There will always be those who want some kind of description that leads to a ranking, a rating. After we ate our sandwiches, Dan thought that the corned beef was better corned beef than the pastrami was pastrami, yet you could tell from his Cheshire grin that he was extremely pleased with both. Although the corned beef was well-colored (with saltpeter) and possessed the manifold edges of flavor that indicate a proper period of brining, we agreed it was slightly too mild.
I may have had better pastrami in my life, but sitting there I knew that I had crossed the snowy Himalayas and entered a serene, changeless realm where rating didn't matter. The breastlike softness of the bread as it chews into luxurious fat and the smoky, peppery, irreducible tang of transformed flesh … and then the whole awakened, Mahler-like, by a clarion mustard …
The pleasures of one's life are supposed to vary, to reflect and refine the protean person you are at each peak, significant time. But the pleasure of pastrami does exactly the opposite, forcing the older you, the older me, to acknowledge we are exactly the same ravenous, curious, sensuous beings we were at our first restaurant table, and will be until the final flecks of yellow and red are wiped from our lips.
Dan went uptown and I went down, hoping to meet again very soon.
* * *
For an automatic alert when there is a new Out There post, email jiweinste@aol.com.