« Midori's two weeks in Asia | Main | »
June 20, 2005
...Midori
first picked up the violin at the age of four in Osaka, studying and practicing with her mother, Setsu Goto, herself an accomplished violinist.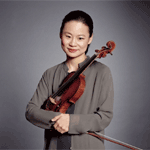 At the age of six Midori made her concert debut in Osaka, and three years later came to The Juilliard School in New York to study with Dorothy Delay. When she was eleven, she made her debut with the New York Philharmonic under the baton of Zubin Mehta...
...In 1990 she made her Carnegie Hall debut, which was recorded and issued as a live recording to wide acclaim. In 1991 she was back at Carnegie for the concert hall's historic 100th Anniversary concert, which was recorded and broadcast around the world. That year she also set up the first of her non-profit organizations, Midori & Friends, to promote music education in New York City; she later added Music Sharing in Japan and Partners in Performance in North America. Midori devotes a significant part of her schedule each year to all her organizations, working to bring music to outlying communities and to children in particular. In the mid-90s, she entered New York University, ultimately graduating magna cum laude with a degree in psychology and gender studies. She completes her Master's Degree, also in psychology, in May 2005. In 2001 Midori was awarded the prestigious Avery Fisher Prize, and in 2002 was named Instrumentalist of the Year by Musical America. Besides performing worldwide and actively participating in outreach projects through her foundations, she is on the violin faculties of two music schools: the Manhattan School of Music, and Thornton School of Music at USC, where she holds the Jascha Heifetz Chair.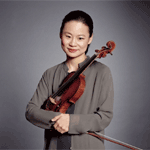 Posted by mclennan at June 20, 2005 9:47 AM