lies like truth: September 2009 Archives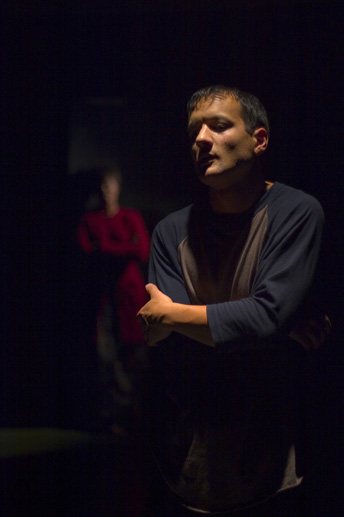 One of the signs of a good actor is that they can hold your attention even when the play they are performing in doesn't. There are a few performers in the Bay Area that truly have this uncanny ability -- so often dubbed "presence". The San Francisco actor Sean San Jose walks among them.
San Jose, an actor of Filipino and Puerto Rican background, is most closely associated with the
Intersection for the Arts
organization. He's not the most versatile actor I've ever seen on stage. He's best at playing tortured heroes with hearts of gold but serious chips on their shoulders. The less even-keeled they are, the better.
In
Thick Description
's current production of Octavio Solis' dream-like domestic drama set in Texas
El Otro
, San Jose is therefore truly in his element.
The play itself is problematic. The play takes off like an early Tarantino movie, with San Jose, playing a miscreant father and husband, Guadalupe, takes his teenage daughter, Romy, and his wife's new husband, Ben, on a wild goose chase into the wilderness ostensibly to locate the whereabouts of a gift that he wants to give to his daughter. The quirky buddy-movie-cum-stage-drama plot engages us in the first half but spirals of kilter in the second. I, for one, got lost in the playwright's esoteric dream sequences. I didn't really understand what was going on in the second act or why the characters behaved the way they did.
Nevertheless, I couldn't keep my eyes of San Jose, who behaved in such a compellingly unhinged fashion throughout, that I never knew what he would do next on stage. His performance is carefully controlled yet full of off-beat energy throughout. His lightning quick changes between playing the tender father, joking around with his daughter and tearing into her viciously are the sort of thing that makes you wake up in the middle of the night wondering where your childhood has gone. He makes Solis' anti-hero full-blooded and likable, as much of as bastard as the character is.
The Bay Area is lucky to have San Jose. And I'm only waxing lyrical this morning about his acting abilities -- he is also a formidable arts activist, producer and all-round mensch.

Nearly every day brings news of another arts organization in financial straits. The latest casualty on the Bay Area performance scene is the
Willows Theatre Company
. The Concord and Martinez-based company, which has been producing well-trodden, though lively productions in the Bay Area for more than 30 years, has announced that it is facing a financial crisis that may force it to shut down its main-stage facility in Concord and a cabaret in Martinez unless the theater can raise $350,000 by November 1.
It's an old story. And a troubling one. The theatre has been struggling to achieve a balanced budget for more than a year, according to Charles Lewis, board president, and Richard Elliott, artistic director. "We've cut staff, sharply reduced expenses and stretched every scarce dollar, but clearly it is not enough. Any further cuts could put us out of business for good. Clearly, we need help," the duo stated in a press release.
The company is currently presenting productions of
Hair
and
Spelling Bee
.
The news doesn't leave me in a very positive frame of mind. Let's hope we don't have to weep for this willow. I feel like quoting a poem by David Harris:
Willow, willow
soft swinging low head
sadness brings night tears
to your breast.
Singing of a night wing
circles in the sky
down in the darkness
a life begins to die.
Willow, willow
no answer to give
sunlight brings bright
eyes exploring where you live.
Songs of happy voices
whisper to the breeze
but no one see the tragedy
that lies beneath the leaves.
Willow, willow
watching the world go by
evening breathes a stillness
near the close of the day.
Cries of distant shadows
and shriek of diving claws
hissing into silence
that will soon engulf them all.

Is it enough to stage a play because it seems socially or politically expedient to do so? Or should the fact that a particular drama reflects the times we live in be just part of the rationale behind mounting a production? All too often, it seems to me, producers and directors make programming decisions based solely on this criteria with little consideration for other equally important factors such as whether the play really suits their company's mission, mandate and/or aesthetic approach.
As a result, audiences are fed a lot of half-baked classics, put on simply because the playwright's anti-war sentiments, commentary on race relations, representation of transgender politics.
At yesterday evening's performance of Clifford Odets' 1934 drama,
Awake and Sing!
, however, I was reminded that social and political prescience can make for a very effective night out at the theatre. But it has to be married to great acting, a powerful mise-en-scene and mounted with an eye to the mission and audience of the company in question in order to truly succeed.
Awake and Sing!
is pretty clichéd and hackneyed at this point. It's themes (the breakdown of the American Dream, the rise of anti-capitalist thinking, the dissolution of the family unit, the generation gap, sexual politics etc) and characters (the domineering mother, the milquetoast father, the smart-talking card shark, the upstanding youth, the grandfather from the shtetl etc) have been seen on American stages many times before Odets came along and many, many times since. But Odets has a wonderful way of developing his characters to their full. When brought to life by
Aurora Theatre
's crack cast, they dance with humanity. We can't help but feel drawn in to their lives as melodramatic as they seem. Couple the strong performances with Joy Carlin's even-keeled and taut direction, and the play keeps us engrossed thoughout.
Awake and Sing!
is also a great choice for Aurora. The play suits the theatre's intimate, deep-cut apron performance space. It also tells a story to which many of the company's audience members can relate. The cast of characters skews on the older side, as does the Aurora crowd at this point. Some of them probably remember growing up around the time that the play is set.
As a result, Odets' play puts across its political and social messages with expediency. But we never feel like we're being bashed over the head with morality. The reasons for staging the play are clear. But they never supersede the experience of engaging with it at the artistic level.

It's funny, and -- frankly -- depressing, how nothingy little words or expressions creep into everyday speech until they become as rampant as swine flu. We often don't realize when we use the words "like" or "you know" 15 times in a sentence. We get lazy with the way we talk. Is this a relatively recent by-product of our lackadaisical culture or something that's been going on for centuries? And if the latter, I wonder what the Renaissance equivalent for "you know" was? "prithee" perhaps? Or maybe "forsooth"??
A new word has been appearing in the everyday lexicon of quite a few people I know in the Bay Area. It's becoming so prevalent in the culture out here that I thought I should take a moment to point it out. The word in question is: "Really?" It sounds innocuous enough but it's got a boa constrictor hold on the way Californians speak these days.
In the usage of "really" that I'm referring to, the word is always accompanied by a question mark. It's used when people find someone's behavior strange, can't believe something happening or otherwise feel like questioning the world around them. Instead of articulating how strange / incredible something is by describing that something in more detail or their feelings about it, they use "Really?" as a sort of shorthand for incredulity. The word is usually accompanied by a look of perplexity such as a furrowed brow. The second syllable is usually intoned higher than the first.
Although used in more specific circumstances than such common speech ticks as "like" and "you know", "Really?" is, at least to my ear, really, really, lazy. And it's driving me bonkers.