On the 80th anniversary of Jimi Hendrix's birth (11/27/42), memory and legacy of America's unsurpassed guitar-artist (written 2011):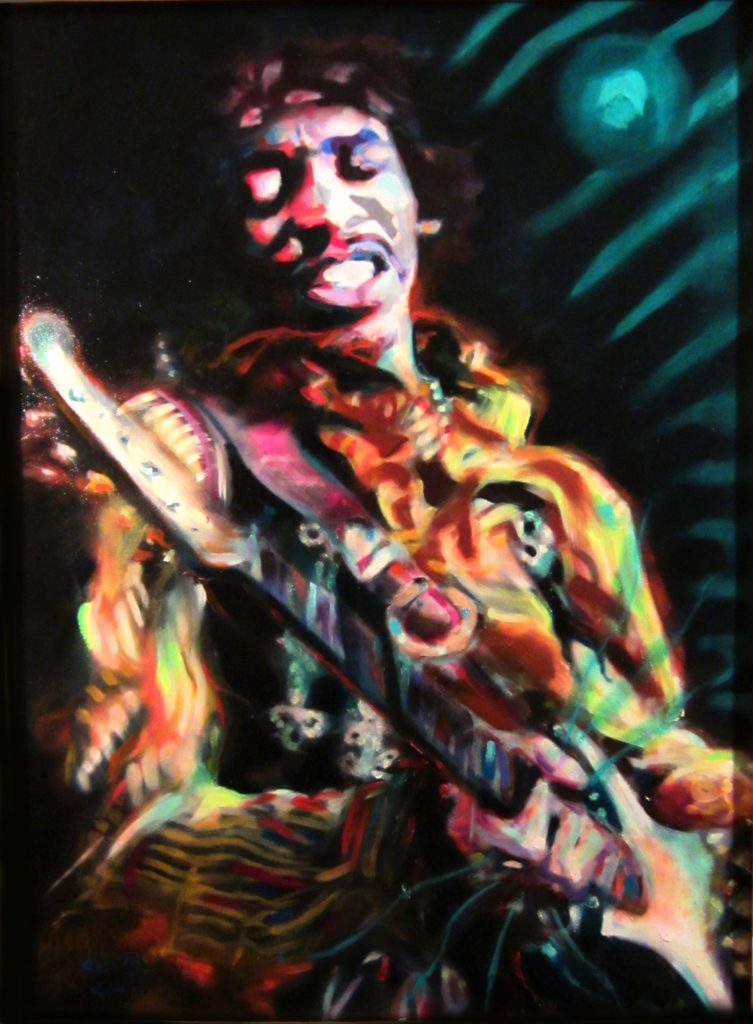 I'm bouncing around in the back seat of a pal's car with a couple other high school wannabes, cruising through our leafy-green, cushy but staid Chicago suburb, when the most amazing music comes roaring out of the dashboard radio. We're not going fast – have no urgent destination — but the music shakes us up. We've never heard anything like it before. Few have. It's early summer 1967.
A crude, siren-like, octave-leaping guitar lick – whomp, whamp! whomp, whamp! — grabs us, leading to a slinky, fuzz-toned phrase and a bunch of rhythm chords that crunch all the notes into a spiky fistful. Then a young man, dazed and confused, yelps in an echo chamber.
"Purple haze, all in my brain/Lately things don't seem the same. . . Acting funny, and I don't know why/'cuse me, while I kiss the sky." It may not be lyric poetry, but as a compressed description of an ecstatic moment, it's hard to beat. And the singer's next utterance, "Am I happy, or in misery?" — slamming drums and electric bass suddenly silent, leaving him wailing, all alone — "Whatever it is, that girl put a spell on me," crystallizes a state of mind us guys can relate to.
We roll on, grinning hard while this guy cries, "Help me, help me, oh no, no, no . . ." A reverberant wind howls. His voice comes as if from a hovering cloud, expelling harsh breaths. The guitar strikes out with an intricate melody, slips back into its opening riff. He sings: "Is it tomorrow, or just the end of time?" There's no answer, no possible answer, to that question, just the guitar ringing on and on, worrying one high pitch that seems to be draped in metal chains or coins, something clinking crazily along with it, and a chant underneath, "Purple haze, purple haze" – as the song, still raging with intensity, fades out.
"That was Jimi Hendrix, playing 'Purple Haze,' a new hit from his album Are You Experienced," the cheery disc jockey leaps in. He's on a commercial station that promotes itself to teens with the latest releases by British and American bands, Motown, Aretha Franklin and soulmen like Otis Redding, Wilson Pickett, Sam and Dave. Does he know or care the past two minutes and 50 seconds change my musical life? And not just mine, or my friends', but the lives of our entire generation?
He'd introduced us to a true musical genius whose recordings and performances will never be forgottenand perhaps never surpassed: Jimi Hendrix, the improbable American, an unlikely hero, a genuinely freaky original, a blazing star.
You can read the comprehensive bio of James Marshall "Jimi" Hendrix, who died on September 18, 1970, elsewhere. I can tell you how he sounded to a high school senior and college freshman while he was alive, because I saw him in concert three times during the brief flash of his career. I heard him in Chicago where his opening band was the original grunge trio version of Soft Machine; in Syracuse, where Hendrix was at the height of his powers, and in New York City, a show I don't remember, which to some of my age group proves that I was there.
But first: "Purple Haze" – what did it mean? Me and my buddies had to know, because the sound was so compelling, enlivening, uproarious and such fun we all had to hear it again, and more of the same if such music was possibly available. Purple Haze was a glorious, hilarious mystery. Was it about drugs? An expression of chaos from inside a messed-up mind? But if the singer – Jimi Hendrix? what kind of name was that? – was so messed up, how could he play such stunning guitar? Or: Was it possible to play such stunning guitar without being messed up? We had to hear it again, right away.
My memory can't be exactly right, that we end up at another friends' house who just happened to have already bought the album. Are You Experienced by the Jimi Hendrix Experience, reads the hand-drawn letters on the cover, in purple against a mustard-colored background, surrounding a round photo taken with a fish-eye lens of three dudes with bushy hair, washed out color-wise except for yellow highlights on their Carnaby Street clothes. The guy in the middle has a Fu Manchu mustache and dark skin. The black and white back cover photo suggests he has acne on his cheeks. He's got a heavy gaze, slightly opened thick lips, a broad nose, busy eyebrows, an ascot knotted around his throat. This is Jimi Hendrix?
Yes, the world was about to find out. Briefly: Jimi Hendrix was 25 years old, a high school dropout who joined the paratroopers instead of serving two years in prison for riding in stolen cars but had managed to get himself discharged early as a generally bad soldier. He's grown up in Seattle, the far -northwest US port city and freight hub, poor but in racially integrated circumstances. He was a self-taught guitarist who'd grown up listening to his father's Muddy Waters and B.B. King records, learned showy guitar moves by watching an older acquaintance, started gigging professionally but irresponsibly while a teenager, and had kicked around since 1962 in the lower echelons of the rhythm and blues circuit.
Hendrix, sometimes calling himself Jimmy James, had worked his way up as a guitarist from playing the TOBA (Theater Owners' Booking Association, also called "tough on black asses") southern "chitlin circuit" of venues meant to draw black audiences. He'd played guitar for the Isley Brothers, Curtis Knight, Little Richard and King Curtis. He'd made it to New York City, where Keith Richard's girlfriend had heard his band The Blue Flame at the Cafe Wha? in Greenwich Village. She liked Jimi and introduced him to rock 'n' roll impresarios including Chas Chandler, bassist in the gritty British group the Animals, who was intent on becoming a manager and producer.
Chandler took Hendrix to London, where he flourished in association with newborn guitar gods Pete Townsend and Eric Clapton. Hendrix built up his stage chops, contacts and charisma by playing Paris in a show headlined by Johnny Hallyday, jamming with Cream, meeting the Beatles. In June 1967 "Purple Haze" was issued in the US; Are You Experienced had been out in the UK since May. The Beatles' masterpiece Sgt Pepper's Lonely Hearts Club Band was released on June 1 that year. In Chicago's upscale suburbs, we kids were into that, too.
Chicago's own music, as I knew it then, was exciting even without imports. Muddy Waters, Howlin' Wolf, Rice "Sonny Boy Williamson" Miller and many of the other bluesmen and women who had electrified repertoire that came out of the black American south were still playing in the neighborhoods. A generation of their younger sidemen – Junior Wells, Buddy Guy, Otis Rush, Son Seals – were on the rise, as were white kids like harmonica playing Paul Butterfield and guitarist Mike Bloomfield who had learned from their idols' records and club performances. By 1967 avant-garde keyboardist Sun Ra had left the city, but the AACM (Association for the Advancement of Creative Musicians) had established itself with composer/improvisers Muhal Richard Abrams, Fred Anderson, Roscoe Mitchell, Anthony Braxton, Kalaparusha Maurice McIntyre, Amina Claudine Myers, Leroy Jenkins, Wadada Leo Smith, Lester Bowie, Henry Threadgill and about three dozen others experimenting in large and small ensemble formats.
There was rock 'n' roll, too: bouffant-haired Wayne Cochran and his rhythm and blues backing band the C.C. Riders had a long engagement at a downtown venue. The local Shadows of Night scored such a hit with the song "Gloria" that few of us realized it was a cover version, because we never heard the Van Morrison original. A group called The Flock with electric violinist Jerry Goodman (who eventually joined John McLaughlin's Mahavishnu Orchestra) was popular, headlining at the Kinetic Playground, a hall patterned after Manhattan's Electric Circus which had pulsing light shows, no seating so everyone wandered around, and an admission policy that allowed even teenagers under legal drinking age (like me) to hear the Jefferson Airplane, Vanilla Fudge, Iron Butterfly and other touring psychedelic groups.
In the 12 months between summer 1967 and ' 68, my friends and I mixed music with politics, because we had to. The Viet Nam war was going full tilt, we guys were all afraid we'd be drafted and we marched against it. The Civil Rights struggle was still in process, Martin Luther King, Jr. was assassinated, urban riots erupted across the country, we read about and thought about and talked about what changes in race relations had to come about. We all loved black music — blues, jazz and soul. Not only music made by black people, of course.
After one major protest rally a bunch of us went to hear the Mothers of Invention and Cream at the Chicago Coliseum. But those bands were informed by black people's music, too. I was at the movies watching the Marx Brothers when the whisper ran through the audience that President Lyndon Johnson, the vice president who had become president when John F. Kennedy was shot dead, had announced he would not run for re-election. At a Doors concert Jim Morrison urged ticket holders in the balcony to throw their folding chairs down to the main floor as an act of rage. I was on the main floor, and didn't want to be hit by a folding chair, so that seemed like a bad idea. Fortunately, not many people up above thought it was smart, either.
Hendrix never incited anyone to such violence, symbolic or otherwise, and other than giving voice to "peace and love" was seldom overtly political. Everyone knew where he stood – we all stood together then — and his music was clearly about some sort of transcendence. Throughout Are You Experienced he sang mostly about extreme states of mind.
Song titles included "Manic Depression," "Love or Confusion" and "I Don't Live Today." "Foxey Lady" and "Fire" ("Girl, let me stand next to your fire") were about intense lust, though Jimi had an enviably cool approach to letting his objects of desire know of his need. "The Wind Cries Mary" seemed to be about devastating loss. "Hey Joe," his breakthrough single in England, was about a man driven by jealousy to murder. Only "Third Stone From The Sun" was a relief from all this. It was the spaciest track of all, a serenade for stoners with a few words distorted unto incomprehensibility and quavery guitar that opened once for a pure rock chorus, later for a wild episode of slide, delay and feedback.
The feelings Jimi evoked were much more tangible than the subjects that seemed to stimulate them. Maybe that's one reason I took myself to his show at Chicago's Auditorium Theatre on August 10, 1968, just three weeks before I left my parents home to enter Syracuse University.
I was in a restless mood in those days, questioning everything, sure of nothing, open to experience but also a little afraid. I'd recently heard Dr. John the Night Tripper on a bill with Linda Rondstat, going with my pal Charlie, a drummer with whom I jammed. Why didn't he go to hear Hendrix with me? Maybe he was broke. I didn't have much money, myself, just enough to buy the the cheapest ticket, which took me to the highest row in the ornate architectural masterpiece that had been recently restored. Before the music started I gazed on murals idealizing local history, including the expulsion of Indians tribes that had lived here. Once The Soft Machine began, I concentrated on the music. But I didn't like what I heard.
Drummer Robert Wyatt, bassist Kevin Ayers and organist Mike Ratledge offered what I recall as grunting, clunky, intermittent burst of sounds that didn't add up to songs at all. If they intended this to be avant garde jazz, they had nothing on the AACM members I'd been listening to, who developed intricate if often long and oblique pieces that highlighted ferocious virtuosity rather than ugly noise. I sat through the opening set, impatient.
When Jimi, bassist Noel Redding and drummer Mitch Mitchell came onstage, it was instantly a different story. According to a website (http://home.earthlink.net/~ldouglasbell/dir1/tapelis2.htm) that documents Hendrix's set lists, the Experience opened up with "Are You Experienced?," went into "I Don't Live Today" and then "Fire" – then and now one of my favorites for its bouncy bass line, relentless pace, lewd lyrics, Jimi's bold vocals and piercing guitar breaks. From where I sat it felt like I was looking straight down on the band, and whereas the three members of Soft Machine had seemed to play disjointedly, each from his own space, Hendrix's trio was a unit, bassist and drummer raptly attentive to their leader.
Who wouldn't be? Hendrix was flamboyantly dressed, and moved fluidly. He was utterly at ease, seldom looking at the guitar he played left-handed, occasionally glancing back at Redding and Mitchell but mostly beaming straight out to the crowd. I assume people in the good seats where bopping with him, captured as I was. Here was a lanky, Afro-topped proponent of a new cultural tribe, who made headbands, paisley shirts with foppish cuffs, beaded bellbottom pants, brocaded vests, leather fringed jackets and furred or feathered hats look natural, not ridiculous. He played sawtoothed legato lines on straight blues like "Red House," had fun with all the cute little heartbreakers and sweet little love-makers he sang about in "Foxey Lady," following up with the dynamite Purple Haze," ending his set – all too soon for my taste, I wanted more — making fun of himself and all other rock stars and their groupies with a sarcastic version of "Wild Thing."
Years later I'd watch Jimi on film tear up that dumb tune (written by the brother of actor Jon Voight) during his introductory and breakthrough performance at the 1967 Monterey Pop Festival. In Monterey Pop, the film of the historic 1967 Monterey Pop Festival, Hendrix pretends to chew gum while uttering the idiotic mumblings in that tune of a teenager struck by a crush: "Wild thing, I think you move me/But I want to know for sure . . . " At Monterey he ended by squirting lighter fluid onto the red Fender Stratocaster he'd painted himself with vines and love hearts, setting it afire and smashing it against the floor until its body split from its neck. I doubt he was as inspired at the Auditorium as he'd been a year before, establishing his new persona before the royalty of rock (Brian Jones of the Rolling Stones had introduced him) in the first ever three-day convention of youth-oriented bands. He didn't burn his Strat the night I heard him, but did mangle it beyond use, swinging it like a bat against his stack of Marshall amps. Was it love, or was it confusion? I couldn't guess, but left the Auditorium exhilarated, free for a while at least of worry about life changes I was facing. Hell, Jimi Hendrix played his funky stuff without a stitch of reserve, sang tenderly but also with his tongue-in-cheek and destroyed equipment like there was no gig tomorrow. What was it I was so concerned about?
Actually, college was kicks. Oh, I was homesick, couldn't drag myself to a 9 a.m. calculus class and didn't understand what I was doing in school. But there were parties nearly every night in my dorm, lots of funny, smart people to meet and, of course, rock concerts to help us get past the academics. At the War Memorial, a big multi-use convention center like every medium-sized American city has, I heard Janis Joplin with Big Brother and the Holding Company (who couldn't play in tune), Steppenwolf (using taped motorcycle sounds in their hit "Born To Be Wild") and Sly and the Family Stone (super tight, and Sly came out from behind his organ to do a high-stepping dance). In May 1969, like an award for getting through my first year, the Jimi Hendrix Experience came to town.
About 5500 people attended the 7:30 pm show. Tickets cost $4, $5 and $6. Cat Mother and the All Night Newsboys, a surprisingly sophisticated group I didn't know much about – though Hendrix had produced their debut record — opened up, playing well. The Experience came on and played better.
Between the show I'd seen nine months earlier and now, Hendrix had become bigger than life. Axis: Bold As Love, the second Experience album, had been released the year before. It was another winner in my opinion, though it began with a silly sketch in which Jimi portrayed an alien being interviewed on the radio, which climaxed with some fancy stereo channel panning. That ended quickly, so the first song could set a tone of quizzical and lyrical science fiction. "Up From the Skies" launched its theme of quizzical, lyrical science fiction with exquisite rock/pop/rhythm & blues music: Hendrix's spongy wah-wah guitar underlining his assertion that he'd come without malice in mind.
"I just want to talk to you," Jimi sang; to overcome resistance, he urged listeners to "Let your fancy flow." In the bridge he noted the world had changed, and not for the better, since an earlier visit "in years gone by. . . That's why I'm so concerned." As a traveler from outer, he had great curiosity: "I want to hear and see everything," he repeated, quite believably. And his guitar playing was just perfect, though he took pains to downplay it. "Aw, shucks" he muttered after an extraordinary passage toward the end of his second solo. "If my daddy could see me now!"
In track after track – "Spanish Castle Magic," "Wait Until Tomorrow," "Ain't No Telling," "Little Wing," "If 6 Was 9," "You Got Me Floating" and "She's So Fine," Hendrix, Redding, Mitchell, their manager Chas Chandler and their creatively contributive studio engineer Eddie Kramer crafted songs that remain able to inspire awe, delight, grins, passion and even an occasional idea. Jimi spoke-sung some lyrics, crooned others, and delivered so much personality that 38 minutes of music required multiple listenings for true comprehension. Melodies, rhythms, vocal blends, echoes, slashes, zigs and zags that skimmed the surface of the songs then dipped in and out of them like dolphins . . . Axis has many levels of sonic information, all worth exploring.
Hendrix, Chandler and Kramer devised these pieces originally for radio play – all but one were at or under the three-minute length, the longest duration commercial radio would at that time accept. With their multi-track tricks, the compositions were difficult even for someone with Hendrix's mastery of live performance techniques, to bring to the concert stage. But at the Syracuse War Memorial, the Experience demonstrated the breadth and depth of what they could do.
According to Jym Fahey's liner notes for the 2010 reissue of Axis, "only 'Spanish Castle Magic' and sometimes 'Little Wing' were ever regularly performed by the group." According to the French online Forum Jimi Hendrix (http://jimihendrix.forumactif.net, the set list for Syracuse comprised "Spanish Castle Magic," songs from Are You Experienced?, the transformed traditional blues "Red House" and "Voodoo Child (Slight Return)" from Electric Ladyland. (Oh, I didn't mention that Electric Ladyland was released in fall of 1968? Just around the same time as The White Album by the Beatles and Beggars Banquet by the Stones? That I used to skip classes for a whole day to listen to these albums at full blast, high as a kite in my dorm room? And that all the longhairs did that then?)Well, I remember distinctly Hendrix at the War Memorial doing "If 6 Were 9," with its dramatic recitative: "White collar conservative flashing down the street/pointing that plastic finger at me/They're hoping soon my kind will drop and die/But I'm going to wear my freak flag high, high!"
For once Hendrix posed himself directly as anti-conservative. Yeah, I knew that. What I hadn't realized up to that point was that Hendrix could actually sing and play a complex guitar part simultaneously. Not as B.B. King did, in call and response; not as Eric Clapton did, also alternating singing and playing. As Jimi Hendrix did, able to pat his head and rub his belly, sing and play, juggle and whistle, smirk and be serious, trip out and remain collected, all at once. Or so I surmised.
I can see Hendrix onstage in Syracuse still, a man of enormous talent, artistic as well as entertainment distinction, obviously a gypsy and a sensualist, probably a rascal, possibly a narcissist – but evidently not out of control. He commanded my ultra snobbish musical interest, he fascinated me as a cultural radical with an enormous popular following and he was just damn fun to listen to.But the late '60s and early '70s were treacherous times years in which the peak achievements of my generation's pop music heroes were created, and years also in which they all fell down. The failings of the counter-culture seemed sudden, as if accidental and unrelated. They were noticeable, but we wished for the best and hoped that changes were transitional to some even better era. The changes were profound, though, and brought on effects we may be reeling from to this day.
Let me say that if you could only have one Jimi Hendrix record, I'd have to recommend Electric Ladyland, because it is the most lush of his albums, offering him the largest canvass upon which to splash his guitar artistry and his ever-better singing. It represents Hendrix's most expansive experiments with abstract electronic sounds, removed from song forms as well as his most bluesy, most intimate guitar brilliance. On it, he is both in the pocket with Mitchell (Redding and Chas Chandler were unhappy with the sessions, and gone before their completion) and also free to dabble with other players and Kramer, perhaps his most receptive partner.
Electric Ladyland also demarcates Hendrix's steps away from disciplined creativity into self-indulgence. One may hate the electronic tracks ". . . And the Gods Made Love" and "Moon, Turn the Tides Gently, Gently," as much as one loves the whiplash of "Crosstown Traffic," the finger-and-foot-pedal dexterity of "Rainy Day, Dream Away," the drama of "House Burning Down" and prophetic vividness of "All Along The Watchtower," surely the most enduring version of a Bob Dylan song anyone but Dylan has ever made. Hendrix produced in Electric Ladyland a work of multi–dimensions every bit as contradictory as The White Album and more multi-faceted than just about anything else. It is his crescendo, and everything that comes after is anti-climactic, though some of it has merit, too.
I've never been big on Hendrix's Band of Gypsies album, for instance, recorded over the two nights December 31, 1969 and January 1, 1970 at the Fillmore East, with his army buddy Billy Cox on bass and lumbering Buddy Miles on drums. Cox was with Hendrix, Mitch Mitchell on drums, the final time I saw him, at Madison Square Garden in later January, '70, about which no matter how I try to remember, I draw a blank. Doing some research, I've found out why: This concert was a cavalcade of bands, Hendrix went on at three in the morning, had a problem with someone in the audience, played two songs and left the hall. For all I know I left before he did. Or had fallen asleep in my seat. I recall nothing at all. (However, my friend Steve Bloom attended that event as his first rock concert and wrote about it here).
I did enjoy and still value another sighting of Hendrix, in the movie Woodstock, where he plays "The Star Spangled Banner," to stragglers awake in the morning after a tumultuous weekend. He had planned to play last, and left a unique impression on film, with a gut-wrenching rendition of this national anthem of the U.S., complete with siren roars, the screams of bombs dropping, explosions, and the stately theme carrying on, wounded, maybe shamed through it all. It's wonderful that this performance was recorded; it is one of the very few moments in my lifetime when pop culture and avant-garde music have connected, and been documented for mass consumption. I show it to classes and younger people who don't know it whenever I can.
But the very end of Hendrix, as you probably know, was a bring-down. In September, at age 27, he died as a result of combined drinking and drugging, choking on his own vomit while he slept. What a waste, was all I could think of at the time. What a disappointment. What an inelegant way to go. Jimi Hendrix wasn't as on top of the game as I'd thought after all.
Of course, Janis Joplin died two weeks later. Brian Jones had died in July the year before. Otis Redding was already long gone, in a plane crash in 1967. Jim Morrison died nine months after Joplin. Louis Armstrong – it's backwards to call him the Hendrix of the trumpet — also died in July 1971. In September '71, a bunch of burglars sent directly or nearly so by President Richard Nixon broke into a psychiatrist's office to find files of a national defense analyst who has leaked the government's secret history of the still-raging Viet Nam war to the newspapers. The '60s were over and the dispiriting '70s well under way.
It often feels to me, since I've grown older, that those years were a watershed. Prior to Hendrix's death, there was some genuine progress towards peace, love, understanding and music that could speak to the realities, hopes and dreams of a world in regeneration. The progress came at the cost of significant lives, yes, and with dislocations in the way things had been since I was born, after World War II. After Hendrix's death and Joplin's and the beginning of the end of the Beatles, Bob Dylan grabbing at straws to sustain himself, the Stones descending further into debauchery, and some other cultural bummers I'm sure we could come up with, that movement began to suffer a turnaround. The decade that followed – musically ending in disco, the birth of punk rock and nascent glimmers of rap – seems in retrospect pretty bleak.
Ok, I'm a baby boomer, of that age when we get downhearted and nostalgic, and that's kind of a drag in itself. In the '70s, the '80s, the '90s and now there's been great, great music. In rock and soul: Aretha carried on as did James Brown, Stevie Wonder was at his best, Al Green, Bruce Springsteen, Elvis Costello, the Clash, Earth Wind & Fire, George Clinton, Michael Jackson circa Off the Wall, the good old Grateful Dead – what, I'm still demonstrating that I'm old?
I don't mean to be a wet blanket and spoil anybody's idea of fun, and yet I insist Hendrix has not been equaled or topped. Stevie Ray Vaughan borrowed much, without nuance. I saw Prince perform in 1980 on his Dirty Mind tour and thought he was a Jimi-wannabe; I saw him again last January (2010) and he was thrilling but no . . . No guitarist-vocalist has turned up in 40 years who can grasp the moment and improve it to unite people in the imaginative way that Jimi did.
I dig George Benson when he's on, Buddy Guy, Marc Ribot, Vernon Reid, Mary Halvorson – and there's much good music now in the realms of soul (aka rap, hip-hop) jazz and blues. Pop I'm not so sure of. Art doesn't stop when one person leaves the planet. And yet, if you want to know where the art of guitar-slinging is, of songwriting, of studio composition, of fantasy as it takes off from reality, you've got to check out Jimi Hendrix. Are you experienced? Mind you, "Not necessarily stoned," as Hendrix put it in the title track of his debut album, issued (gasp!) more than four decades back, "but beautiful."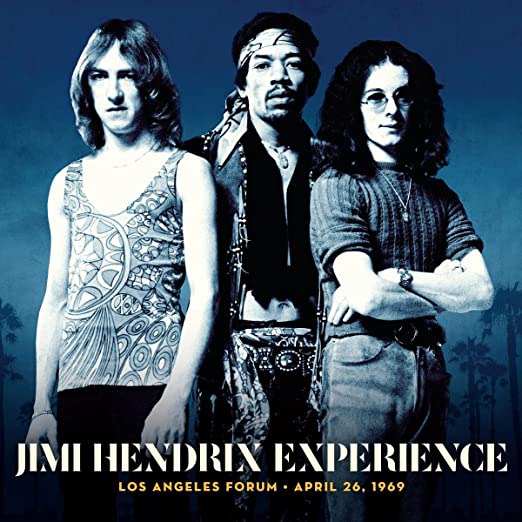 He was, for too brief a time – not necessarily stoned but beautiful, and shared the best of it all. I'm so glad I was there and think you would have been, too.
CODA: Hear Jimi Hendrix Experience – Los Angeles Forum, April 26, 1969, released Nov '22, still great. . .