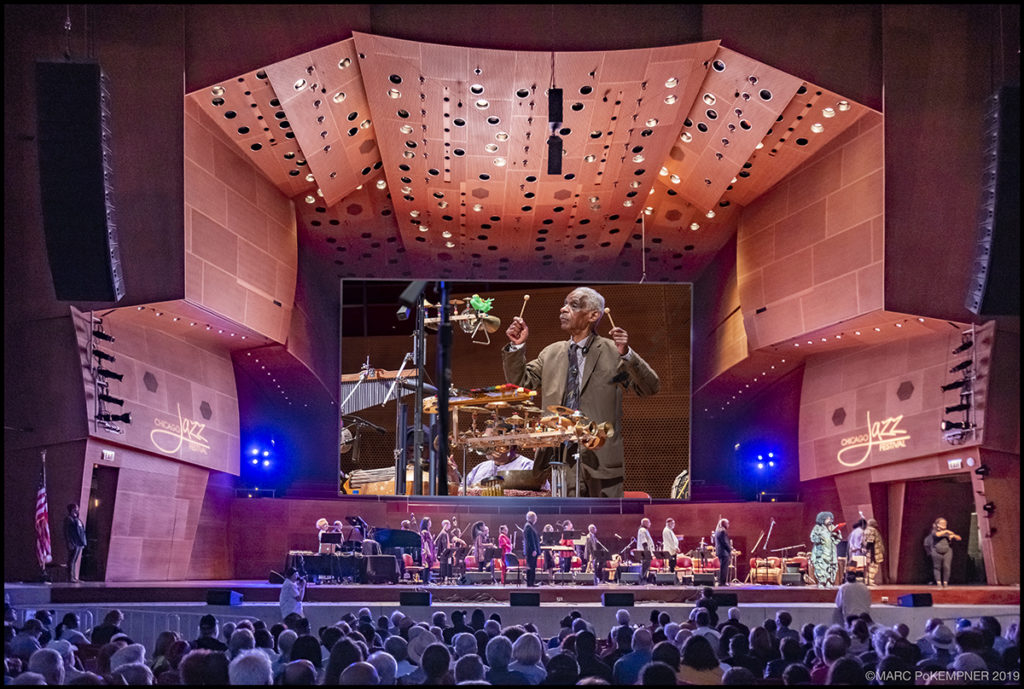 The 41st annual Chicago Jazz Festival has come and gone, as I reported for DownBeat.com in quick turnaround. I stand by my lead that the music was epic — cf. Marc PoKempner's beautiful image of the Art Ensemble of Chicago at Pritzker Pavillion, facing east towards Mecca just before their African percussion-driven orchestral set.
And epochal, yes: the Art Ensemble is 50 years old, as discussed in my radio piece for NPR's Here and Now). Such longevity is remarkable for any jazz or improvisational unit but the more so as the AEC in its current incarnation is resolutely looking ahead, with younger players (Nicole Mitchell, Tomeka Reid and Christina Wheeler among them) taking the responsibilities of fallen members (co-founders Lester Bowie, Malachi Favors and Joseph Jarman now all deceased).
There was grumbling re the AEC set as having abandoned favorite themes and leaning towards surviving founder Roscoe Mitchell's involvement with Western classical compositional and vocal traditions. I say hooey.
Of old repertoire "Dreaming of the Masters" ended the performance, and "Chi-Congo" was a charged percussion episode, organized by longtime AEC drummer Famadou Don Moyé. There was little-instrument play, as introduced into jazz by the Art Ensemble, and so a broad dynamic range. Roscoe Mitchell focused on bells as well as his sopranino saxophone, blowing uninterrupted streams of notes. Two excellent trumpeters, Hugh Ragin and Fred Berry, supplanted by trombonist Dick Griffin, stood in for Lester Bowie; three bassists (Junius Paul, Jaribu Shahid and Sylvia Bolognese) were required to fill the pulsating role Malachi Favors originated.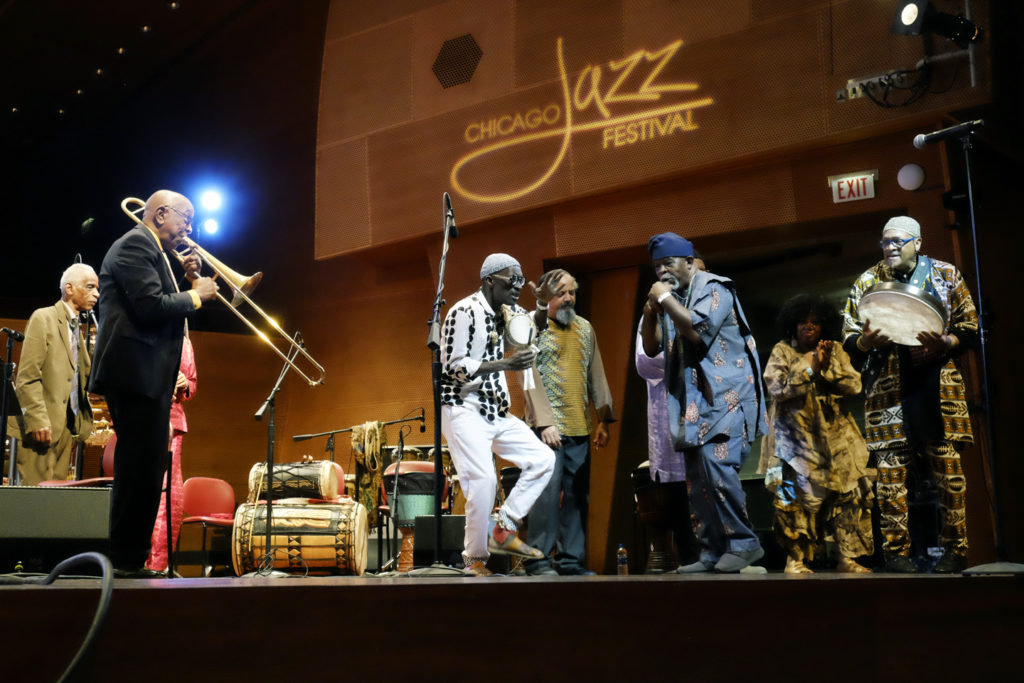 I admit, however, that my DownBeat report underplays the immense contribution of local musicians to the popular and aesthetic value of the Chicago Jazz Fest. It's understandable the jazz-mag-of-record concentrates on nationally touring acts comprising well-known artists, but in fact this festival has its greatest impact immediately and down-the-road by presenting players from the extraordinarily energized current scene.
Several — including singer Dee Alexander, saxophonists Geoff Bradfield, Ari Brown, Rajiv Halim, Greg Ward and John Wojciechowski, trumpeters Russ Johnson, Rob Mazurek and Pharez Whitted, guitarist Mike Allemana, pianist Miguel de la Cerna, bassists Clark Sommers and Anton Hatwich, drummers Dana Hall, Avreeayl Ra, Mike Reed and Charles Rumback — showed up in more than one group, demonstrating flexibilities and abilities to attend to specific materials.
Reed's obscurely named Jazz Institute of Chicago 50th Anniversary band actually brought together composers represented in his newly published Chicago "real book," The City Was Yellow. (I wrote some artists' bios for this volume, whose profits go to Jazz Institute of Chicago music education activities, but the greater value is the lead sheets of some 50 tunes written between 1980 and 2010). But that was only one of several deliberate celebrations of Chicago's jazz past folded into its present.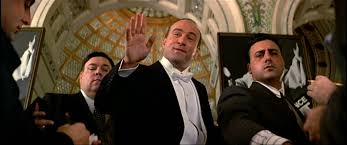 To walk into the Chicago Cultural Center (setting for key scenes in Brian dePalma's The Untouchables), for instance, on a Thursday morning to the sound of trumpets is to be swept back 100 years, to the arrival of first generation New Orleans jazzmen eager to expand their audience. To hear the Fat Babies play classic jazz, as they do every Tuesday night at Al Capone's long ago speakeasy the Green Mill, is to catch an old style imbued with new life. When Ernest Dawkins leads current members of the Association for the Advancement of Creative Musicians in a tribute to the Art Ensemble's late Jarman, drummer Alvin Fielder and Saalik Ziyad, who died unexpectedly, very young, the conjunction of time is crystalized.
When guitarist George Freeman, 92, jokes with harmonica master Billy Branch, 67, with an enthusiastic contingent of Southport Records principals behind them, the continuity of distinctly Chicago music is manifest. When players in their 20s such as vibist Joel Ross, the Collier brothers (saxophonist Isaiah, bassist Micah and drummer Jeremiah) and drummer Isaiah Spencer, or a bit older like pianist Richard Johnson, saxophonists Sharel Cassity and Juli Woods, multi-instrumentalist Ben Lamar Gay, trumpeter Jaimie Branch, etc. take over the stage, tomorrow's arrived.
The fact that a jazz festival happened 10 days ago doesn't mean it's over. People are still living with the reverberations. Those fading sounds have something to say about what comes next. In fact, thanks to WDCB-FM and WFMT's connection to a global radio network, recordings live from the 41st Chicago Jazz Festival of Freddy Cole, bassist Christian McBride's New Jawn, and the Art Ensemble of Chicago will be heard, in coming months, throughout the world.