Photo-journalist Marc PoKempner's images from the Chicago Jazz Fest, as featured in my previous post, and these from Senegalese superstar Youssou N'Dour's rousing who two weeks earlier, exhibit how he's dealing straightforwardly and creatively with the screen backing musicians at the Pritzker Pavilion of Millennium Park. Giving us eyefuls to enjoy.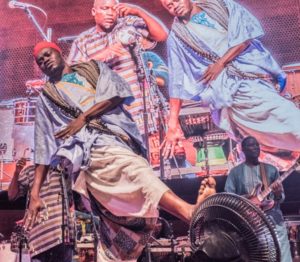 Here's what we can see — as PoKempner proves, without post-production; the double images are the videographers' superimpositions — when visually-conscious, kinetic performing artists are video'd and magnified in near-real time, presumably so audiences far from the stage can better appreciate their costumes, moves, expressions and expression.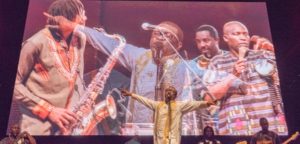 Dazzling effects, new visions when those moments are captured in the snap of a photograph, too.
The colors and rhythms of these image seem related, naturally, to those of the elegant, graceful, melliflous singer-composer-bandleader-politician's lastest album, Africa Rekk.
His songs on it include "Goree" (for the island off Dakar from which slaves embarked to the Americas), "Be Careful," "Exodus," "Conquer the World," "Food for All" and "Money, Money." One can discern his messages simply from the way Youssou N'Dour and troupe looks, dancing, playing, singing. PoKempner's photojournalism takes us there.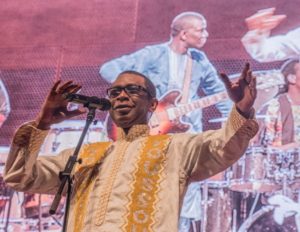 howardmandel.com
Subscribe by Email |
Subscribe by RSS |
Follow on Twitter
All JBJ posts |