Chicago's jazz/improvised music scene contains multitudes, last week ranging from the wild yet earnest Liberation Music Collective to veteran piano sophisticate Michael Weiss in trio, as two of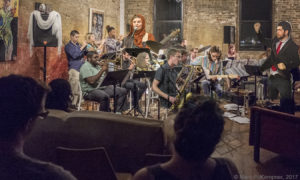 Marc PoKempner's photos document (and more of his vision, focused on links between local music and politics — Obama included — is on exhibit titled "Harold's Got the Blues" for the next month at the restaurant Wishbone).
The Liberation Music Collective, a young ensemble led by bassist-vocalist-lyricist Hannah Fidler and trumpeter-conductor Matt Riggen, celebrated the release of its new album Rebel Portraiture in performance at the Jazz Record Art Collective which runs a terrific series at a loft called the Fulton Street Collective. The music, like PoKempner's photomontage, had outsized elements — songs and raps about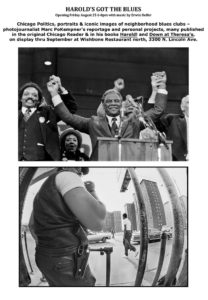 martyred freedom fighters, set and offset by strong solos and big band climaxes in the manner of Gil Evans or maybe David Baker (several LMC members have studied at University of Indiana in Bloomington, where Baker launched one of the first college jazz programs).
Weiss, perhaps best known from his years accompanying Chicago-born tenor saxophonist Johnny Griffin but with scads of other credits and works under his own name, is deeply in the tradition defined by revered elders such as Barry Harris, derived from breakthroughs of Bud Powell and Thelonious Monk. Leading a trio with bassist Jake Vinsel and drummer George Fludas at Andy's Jazz Club and Restaurant, Weiss played several original songs as well as "Green Dolphin Street," but the repertoire was less memorable than his fleet right hand runs, intricate voicings and harmonic explorations in which complex incidents followed fast upon each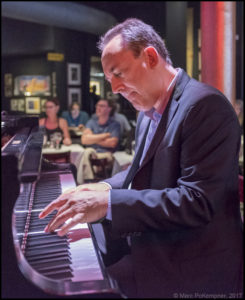 other. Not to be simplistic, but Weiss, age 59, is all about his instrument, and what he can do with those hands.
That's not all I heard in the past several days — Danish alto saxophonist Laura Toxvaerd, visiting the city briefly, threw out horn conventions to improvise sonically with a trio at Elastic Arts. Saxophonist Gary Bartz was at the Jazz Showcase, playing it relatively straight, with local great pianist Willie Pickens in a combustable quartet; bluesy, sardonic yet hopeful vocalist/songwriter/pianist Ben Sidran led his four-piece group at the Green Mill, and of course a lot went on that I missed entirely.
What matters more is what's coming up: the Chicago Jazz Festival starts with a Club Tour during which trolleys convey ticket-holders to venues all over town on Wednesday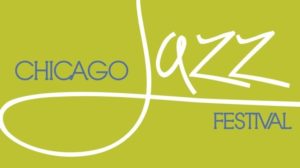 night, and then four days of free performances by artists ranging from Roscoe Mitchell to Sheila Jordan to Jason Moran to Dr. Lonnie Smith to Mary Halvorson in Millennium Park. Then there's the Englewood Jazz Festival all day Sept. 16 — I'm honored to have been chosen to receive a Spirit of Jazz Award there! — and the Hyde Park Jazz Festival  (I'll present flutist Nicole Mitchell with a Jazz Journalists Association Award at her Bamako-Chicago Sound System performance Sept. 23). Wonderful lineups at all these free (did I mention free?) events. Not to be missed, so I'll be there — probably with my buddy Marc PoKempner, working together as we have for years.
howardmandel.com
Subscribe by Email |
Subscribe by RSS |
Follow on Twitter
All JBJ posts |