I'll never be an avid fan, much less an aficionado, of gospel music — but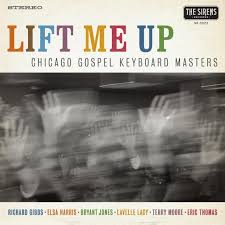 Lift Me Up, Chicago Gospel Keyboard Masters, new from The Sirens, a local independent label, is clearly full of joy and inspiration. It also is notable for documenting a seldom spot-lit but obviously thriving American roots music scene.
Art arising from or meant to beget religious transcendence makes me uncomfortable, but many others aren't so biased, and all kudos go to Steven Dolins, The Sirens producer and my co-religionist, who says, "[G]oing back to Thomas Dorsey (Georgia Tom), Chicago gospel is also about community and passing down the tradition.  . . . I appreciate gospel is an acquired taste, but the gospel melodies are a lot more interesting to me than 12 bar blues.  I love the thick, rich gospel chords and the bluesy melodies.  Also, I look at the lyrics like love songs."
Especially resisting gospel vocals, I gravitate to the instrumentals on Lift Me Up, of which there are plenty. In "Swing Chariot," "Walk with Me Lord," "I'll Say Yes to the Lord," "I'll Fly Away," "He's My Everything," "I'll Overcome Someday" and "The Lord Is Blessing Me," keyboardists Richard Gibbs, Bryant Jones, Terry Moore and Eric Thomas switch off between organ and piano (Elsa Harris and Lavelle Lacy play piano only), engaging each other in energized interactive duets, backed by drums, tambourine and (on two tracks) bass. The performers are all expert professionals with impressive credentials and affiliations, if any certification is required beyond what they play. Their squishy chords, driving left-hand parts, filagreed right- hand runs, pronounced backbeats and rhythms building chorus by chorus are the raw materials of r&b, rock 'n' roll and much pop, brought out of the church by the likes of Fats Domino, Ray Charles and Charles Brown, demonstrably still able to get people to move and testify. This spirit is nearly irresistible and certainly infectious.
Regardless of its godliness, gospel music is the opposite face of the blues coin (as Dolins mentioned above, Thomas A. Dorsey earlier in his career was "Georgia Tom," playing bluesy hokum with Tampa Red). My personal tastes run deep for secular boogie-woogie, blues, stride and ragtime piano styles, celebrated by The Sirens in its other current releases: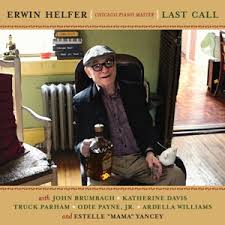 Last Call by pianist Erwin Helfer (full disclosure: I've proudly considered Erwin a friends for decades) — and Remembering The Masters by his close associate Barrelhouse Chuck.
Eighty-year-young Helfer's album includes three historic tracks with singer Mama Estella Yancey, dating from 1957 and 1979 (further disclosure: in 1983 I produced Maybe I'll Cry, Yancey's last recording — she was 87 — on which she's accompanied by Helfer, for Red Beans Records). He also features his longtime tenor saxophonist John Brumbach and vocalists Katherine Davis and Ardella Williams, but my favorite track is his introspective solo version of "St. James Infirmary."
In contrast to Helfer, Barrelhouse Chuck is generally gregarious, and sings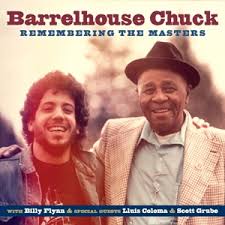 as he plays with warm confidence. He's also accompanied by guitarist Billy Flynn, and generously turns over two tracks to fellow pianists Lluis Coloma and Scott Grube). Remember The Masters has the loose feel of party blues recordings made decades back by such important mentors to Chuck as Sunnyland Slim, Pinetop Perkins and Little Brother Montgomery.
Until a recent health setback when he was on tour in Sweden, Chuck was playing on Wednesday evenings upstairs at Chicago's Barrelhouse Flats. Helfer has taken over the gig, with his acolytes and students sitting in. Producer Dolins laments that other than Erwin, Chuck and some "record copiers," there are no Chicago blues pianists left. I hope he's wrong — as Muhal Richard Abrams, a founder of the AACM, once said, if you're from Chicago you're expected to play some blues.
Whether or not you can or do, Barrelhouse Flats on Wednesday nights is the place to delve the eternal verities and infinite variations of ten fingers over 88 pitches grouped around a three-chord progression. The music's happy even when it's sad. Note: Erwin Helfer, Barrelhouse Chuck and at least some of the Chicago gospel keyboard masters on Lift Me Up will concertize at the Old Town School of Folk Music on Saturday, September 10 — shows at 6 and 8 pm.

howardmandel.com
Subscribe by Email |
Subscribe by RSS |
Follow on Twitter
All JBJ posts |