Bob Belden, the saxophonist-composer-arranger who died of a heart attack May 20 at age 58, was an enormously gifted, brave, original and productive musician. Last February he led his band Animation on a four-day performance tour of Iran, the first American to do so since 1979 — and videos he created with Bret "Jazz Video Guy" Primack, one of which I've embedded below, provide clear examples of his individualistic, iconoclastic point-of-view.
I admire and enjoy Belden's album Miles From India, and several of his other jazz-related re-interpretations of popular and classical works (the music of Prince, Puccini's Turandot), but his most personal work is Black Dahlia. I interviewed Belden about that production for DownBeat in 2001, and reproduce the article below.
Profoundly Real — Bob Belden traverses the edge of his personal emotions with Black Dahlia.
Bang – you're dead! And now flashback, relieve your life as you've approach this death, which is an inconceivably savage one. Hear how you fell from childhood innocence through calamity and strife to what seemed like a gateway to your dream world, then lost is all in one drastic and elastic last moment of tortured consciousness. Can immortality be secured by victimization? If so, yours is a romantic tragedy, depicted in a jazz drama of operatic grandeur, realized by a cast of blazing soloists amid a 65-piece orchestra.
To know the plot and names of the actors of Bob Belden's Black Dahlia (Blue Note) doesn't spoil the suspense or listening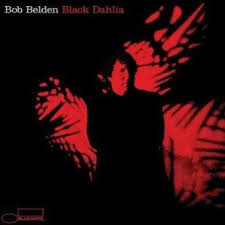 thrills of this long-anticipated recorded event, a concept album composed, produced and (mostly) conducted by a reformed Wunderkind who's gratefully found a new lease on life. But brace yourself.
"It's not one of these 'I want to make you feel good' records," Belden says bluntly. "In my music, people are able to express their feelings about life. It's not the greatest thing all the time."
At first glance, Belden isn't an obvious guide for a walk on the wild side. He appears to be a ruddy South Carolina-born, raised and transformed New Yorker in his mid 40s, riding well if not high, neither tough guy nor pussycat, not rich by on the scene. He's lived and worked for the past 18 years out of a small Upper West Side Manhattan garden apartment cluttered with books, scores, tousled loft bed and dresser, chair-on-wheels up close to a not-fancy computer/tv/audio console, shelves of CDs arranged by label catalog number, writing surface and phone. He's a candid yet practical composer/arranger/producer/saxophonist/historian who in the past 18 months has composed his first independent film soundtrack, embarked on a second, and earned a Grammy nomination (for Re-Animation Live! with trumpeter Tim Hagans, his 11-record partner).
Yet Belden has also survived a serious health threat, a near-fatal car crash and now the release of his most personal, ambitious and cherished work, CD opus No. 15 by his own count.
"Do you think you're her, the Black Dahlia?" is the obvious first question. "And is your sonic Los Angeles of 1947 a metaphor for New York in 1999?"
"Yeah," he says tentatively, as if he's considered saying no. "1999 is a year I'd rather forget but I'm not going to be able to. I can't talk about it for publication . . .essentially, I was exhausted. Put it this way: The music has a lot to do with you coming to this place searching for your dreams and making great choices or some of the most terrible choices that will haunt you for the rest of your life. Because everything is on the edge here. And L.A. in the '40s was like that – hiding behind blues skies and palm trees, but on the edge. What happened to Elizabeth Short was not a common thing to happen to a human being. It was a one-of-a-kind kind of hurt. Her circumstances were unique."
Black Dahlia is Belden's first attempt at an original musical drama. It's a 56-minute through composed narrative in which Hagans, tenor saxophonist Joe Lovano, pianists Kevin Hays, Scott Kinsey and Marc Copland, trombonist Conrad Herwig and drummer Billy Kilson, among others (including Belden himself) expand on themes eliciting the brief, obscure existence and vicious, infamous murder of Elizabeth Short. A Hollywood bit player of the decadent 1940s, her body was found brutally mutilated, sliced in two at the waist and horrifically "posed" in Leimert Park in 1947. Posthumously dubbed "the Black Dahlia" by Los Angeles' police investigators and tabloid press, Short's never-solved case has inspired novels, true crime books and movies, including James Ellroy's The Black Dahlia, John Gregory Dunne's True Confessions and John Gilmore's Severed.
Belden doesn't care much about the crime, nor is he concerned with the crime's aftermath. Instead, he's interest in the human who suffered he. He's touched by her travails, the calamities that could befall anyone, and considers Short a figure like Alban Berg's heroine in the opera Lulu, "a contessa who goes slumming and ends u disemboweled by Jack the Ripper.
Short was no contessa. Indeed, her Depression-era childhood and limited Hollywood credits stand in bleak contrast to Belden's experience as a proud alumni of the University of North Texas, the saxophinist who took over Joe Lovano's chair in Woody Herman's last great touring Herd. Since making New York the base of his activities in the early '80s Belden has become an acclaimed all-around music professional. He's in jazz for the long haul, having started playing piano at age three. He studied music through high school and college, graduating to positions as a commercial session-meister, a&r man at Blue Note Records, reissue producer/annotator and contracted arranger stealing studio time to cut tracks for his own speculative projects. But the end of the '90s, the decade in which he firmly established himself, Belden had pursued the highs that come with constant creative engagement, coped with the lows that follow creative release and reached an obsessive state on the cusp of breakdown.
"In 1994, '95, '96 I was in the studio 150 days a year, maybe close to 200, plus took two trips to Japan, a couple to Europe, was on tour with my ensemble, playing . . .and add that to what I did when I was home, writing so many arrangements. Toward the end of that time I was doing a session every other day, or a reissue, or liner notes, or whatever I could. Jazz musicians complain about starving, and I didn't want to starve. I was a musician 24-7, which was great, but I was mostly making my living doing other people's music, which led to some frustration." Radical revisions of the works of Sting, Carole King, Prince, Lennon and McCartney, "The New Standards" and the Italian masters Vivaldi and Puccini notwithstanding, Belden recorded little music he calls his own – composed, not arranged/orchestrated – for a dozen years, excluding two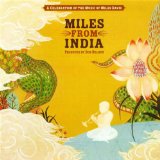 ensemble dates on Sunnyside Records.
"Eventually everything collapsed," he confesses. "I'd been working so hard. All I did was work – all day, all night, I was constantly working. I'd gotten to that point because I like to work. I'm a workaholic, still am, but all I thought about was music. Nothing else mattered. That was it.
"Then it happened, on May 29, 1999, at 12:20 pm, on a highway in South Carolina. Oh man, I have pictures." He shuffles some snapshots. "These are the skid marks, this is where we went off the road, where we landed, flipped a couple of times. The other car's skid marks, the back of my car, his bumper. I was driving. Thank God Toyota makes a good car. My mom was 79 at the time; it was terrible that she had to go through that, but great that she wasn't hurt, either.
"They say in a car wreck things flash in your mind. No, what happens is you start thinking about everything in your life that led to that moment, and why you lived. You could have died, why did you live? If you survive, you know how quickly things canhappen. Everybody goes around just living their day, and when you have an accident you stop and think.What if we had gone faster, if we had been in another part of the road where there were trees in the way, if we had not crashed in a place where a guy who was moonlighting was a Navy medic? He saw what happened and ran out to help us. Looking at these little, coincidental things you see how fragile day-to-day existence really is.
"After the accident I could barely walk. I didn't feel very good. It was a hot summer, and I was really shaken up. It was a struggle for me to do little things. I had started working on this Black Dahlia thing in '95, '96, filling notebooks with scraps of music for it, keeping it around. I got back into writing it, finishing it up, because I had to. I couldn't do anything else."
He pulls out manuscripts of hasty notes, lead sheets full of corrections and rewritings, a folder with an outline of the entire piece in early stages.
"This is from just after the accident and my handwriting is shot, as you can see," he apologizes. "But most of the stuff on my record is organized around the melodies, the themes. The way I treat them goes back to Strauss and some weird Wagner, where characters have melodies and parts of these melodies merge with part of other characters' melodies, and transform.
There are certain motifs of Elizabeth Short's melodies that appear throughout the entire album, all 12 pieces, because she appears in everything, she's part of everything, it's her story. Yet there are also little themes that are different. 'Danza D'Amor,' for instance, Lovano's feature, uses fragments of the main Dahlia theme, but the improve is based on this moment in the beginning of 'Genesis' [Black Dahlia's first track]. It's just a taste, but I use it because it ties the beginning of her life into this crucial phase, where she's trying to fall in love.
"The 'Danza' melody keeps moving forward, and when it gets to the main theme, it becomes totally dark. I see this music as dark colors – blues, purples, reds. This woman became a complete night creature, a wholly different person; she freaked out. You've seen movies, especially black and white ones, where if they want someone to look evil they make 'em look 'evil'? The end of 'Danza D'Amor' is the sound of a person having evil overtake their body and mind."
The subject of evil leading to murder is unusual but not unique in jazz repertoire. Think "Mack the Knife," though that Brecht-Weill song, whether sun by Ella Fitzgerald or Louis Armstrong or Bobby Darin is a public view of the killer rather than a portrait of the victim from her own perspective. It's arguable whether or how well Belden inhabits his chosen point-of-view; what's undeniable is his mastery of the flowing, hour-long symphony that also stands as 12 distinct, complete tracks, 53 seconds to eight-and-a-half minutes in length, with varied melodies, developments, treatments and exciting performances.
Belden's writing knowingly uses soundtrack strategies and glories grandeur, as befits his subject: the bad and the beautiful, deep shadows from harsh sunshine, the irrevocability of fate. He's been influenced by directs and composers both, and specifically cites Jerry Goldsmith's soundtrack for Roman Polanski's Chinatown, the "Gothic big band" styles of Dizzy Gillespie and Stan Kenton, and the perfection with which Gil Evans set soloist Miles Davis, particularly on Miles Ahead. But Belden's his own auteur here. His ace players, interpreting his scores for one-time only recording, serve him well.
"The whole date was done without rehearsal, and the orchestra was finished after two three-hour sessions, "Belden says without conceit. "My method has always been show up at the date, put the music in front of the musicians, turn the tape machine on. Go over the tune, run it down, record it just to hear it, and play it! If it doesn't sound right, do it again, change it."
Where is Belden while this is going down? Conducting. "I produced an orchestral record for the Hollywood Bowl orchestra, and working with Michel Legrand a few years ago I saw how he conducted, feeling the music, so I conduct my music that way, too." And also playing – as in his aching tenor passages in Black Dahlia's finale, "Elegy." "You have to play your horn, solo in front of your band," he says. "That's more meaningful than just writing. You get to understand what the soloists want, what they need, as one of them."
Empathy with Elizabeth Short on the one hand, with his musician colleagues on the other – does that make Belden the omniscient observer, a god coolly observing an innocent's self-destruction? "Oh now," he says, astonished at the suggestion. "In something like 'Dreamland,' I'm just more like a tourist, one of the people around this woman, who's evidently found herself where she's always dreamt of being. I'm a witness, I guess, but I don't will this to happen to her. I just see it happen.
"You look at musicians, some of them come to the city and get caught up in things that go way beyond them because this is a terrible place sometimes. Tragedy is part of our daily life. It's part of the fact that most people live in sorrow. Because they so much love the moments of happiness, and those moments are always buffeted by indifference or complete depression."
Belden, for all his current hearty disposition, retains the compassion he earned through crisis, and hopes Black Dahlia will be respected for expressing it. "You've got to distinguish between easy sentiment and heart-felt emotion," he insists. "Some cats can't take real feeling in music – 'Schmaltz!,' they call it, 'Saccharine!' I bet the criticism leveled at my record will come from people who won't understand that all I want to do is get into your heart.
"I don't want to impress you with technique, with a lot of notes on the page, or claim that because of those notes the music is profound. Human life is profound enough as it is. This is a story, and as music, it's about something abstract: exciting air molecules to create what we call sound, and then getting a human emotional response to that.
"Jazz music can tell a story. The idea that melodies can do that has been around since the mid 1870s, back to Wagner. And when conceptual albums started getting very popular, that wasn't a big deal to me, either, because if you study classical music you learn that operas, tone poems, symphonies are all like concept albums, with ideas that thread through the entire piece. I studied composition. I was into that idea. I'm affected by that element from the European tradition that frightens a lot of people, but allows me to work on music for the rest of my life and not be bored. Why can't jazz, if you mix enough composition and improvisation and atmosphere, tell a story?"
Then should we "read" Black Dahlia like a book? "The listener, I hope, will feel it first," Belden says, "because the music is sad. It's filled with feeling. All through the piece, I hope, you'll be drawn in as if you're hearing a story, and then maybe you'll go back to the liner notes and see that is a story. Then you may want to actually read the story while the music goes by."
Bob was a friend — I'll miss him.
Subscribe by Email |
Subscribe by RSS |
Follow on Twitter
[contextly_auto_sidebar id="mnzo8iSTOFdnjdU7b8jY4bpwnYQG5MON"]