A moderate modernist with beautiful touch and exquisite taste, Hank Jones was a beacon of gentle authority, genuine modesty and jazz grace at the keyboard. Oldest brother of the more unruly trumpeter-composer Thad Jones and drummer Elvin Jones, Hank epitomized balance, consistency and flexibility. It was a joy to be in his company, whether listening to him or speaking with him. I was lucky to interview him in tandem with pianist Geri Allen — generations apart, but both from the Detroit area — as published in my book Future Jazz, and to sit with him at length again in 2009 for Down Beat. Here's a photo by Enid Farber from the 2009 Jazz Journalists Association Jazz Awards of Hank with the picture of himself by Kris King that won the Award for Photo of the Year.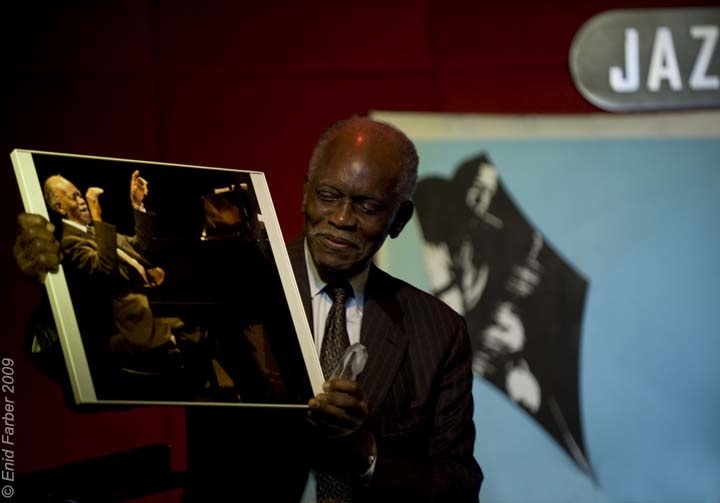 What follows is my (long) article from my 2009 interview — with links to Amazon of some of his best albums, in case you're moved, as I hope you will be, to hear him play . . .
Pianist Hank Jones is a
courtly gentleman of the old school, who wears a coat and tie for an interview
conducted in his own lodgings and is forthright about his approach to music in
the 21st century.
"I try to play
evenly," Jones says with genuine humility about his style, which is widely
regarded as maintaining the highest standard for keyboard playing in the
contemporary vernacular. "I don't take too many excursions, I don't go too
far away from the melody, I don't go out in the deep water. I want the listener
to understand what I'm doing. I try to stay pretty much right down the middle
and yet keep it interesting."
In these efforts he has
succeed magnificently, though he understates the depths he's mastered — as
well as the progressive broadening as well as continuity of what's "right
down the middle" of jazz that he has established and documented in more
than 450 recordings under his own leadership and with the greatest vocal and
instrumental stars from the '40s through today. At age 91, Hank Jones is
universally acknowledged to be what his frequent collaborator Joe Lovano calls
"a treasure": a man of experience who embodies the wit, warmth,
elegance, swing, sagacity, ongoing productivity and open-minded creativity we
hope for from all artists and too rarely find. Besides the respect — no, awe
— of his colleagues and international audiences, Jones has been the recipient
of numerous honors, being designated a Jazz Master by the National Endowment
for the Arts, given a Grammy Lifetime Achievement Award and now inducted into
Down Beat's Hall of Fame.
The pianist takes this
all in stride (pun intended) as befits a man who began professional life at age
13 under the esthetic sway of Fats Waller, Art Tatum, Earl "Fatha"
Hines and Teddy Wilson. "I'm just trying to keep up with the other
guys," he insists, those "guys" being the pianists he's known
and admired. His conversation is laced with references to the late Oscar
Peterson, Erroll Garner, Bill Evans Tommy Flanagan and John Lewis, as well as
George Shearing, Barry Harris, Marian McPartland and diverse next-generation
players. But one wonders: Who can keep up with Mr. Jones?
His schedule of bookings
is the envy and would be a challenge for much younger musicians. When he sat
down to talk for an hour in the comfortable but unfussy apartment he sublets in
Manhattan while his home in Cooperstown, New York undergoes long-term
renovations, he was in preparation for a concert in The Hague with the
Metropole Orchestra. He was scheduled to perform in July in Donostia-San
Sebastian, Spain, fronting his trio with bassist George Mraz and drummer Willie
Jones III, as well as at the San Sebastian Jazz Festival in duet with Lovano
(they issued Kids: Duets Live at Dizzy's Club Coca-Cola in 2007).
He and Lovano are
performing at George Wein's reconstituted Newport Jazz Festival, and in
Monterey with a co-led quartet completed by bassist John Patitucci and drummer
Brian Blade. Jones is also the guest of honor at the 30th Detroit International
Jazz Festival, which has built its Labor Day weekend programming around the
theme "Keepin' Up with the Joneses: A nod to Thad, Elvin and Hank, and a
celebration of other family dynasties."
While it's accurate to
describe Hank Jones as a titan of a dynasty, and he grew up with musical parents
and siblings, his status does not rest on the achievements of a family band.
Rather, he is a "patriarch of the Detroit piano legacy," as the
pianist Geri Allen, a fellow Detroit-area native and one of Jones' most ardent
followers, puts it. Hank worked only occasionally with his younger brothers
Thad and Elvin, innovators of big band composing and traps drumming,
respectively, over the course of their parallel careers. They're deceased —
Thad since '86, Elvin since 2004 — and Hank misses them, of course, speaking
enthusiastically about their unique sounds. "I'd rather listen to what
they do than play myself," he mentions. But Hank Jones doesn't live in the
past so much as the present and foreseeable future. He knows who he is, where
he's come from, what he's done and how to continue.
"You've got to live
your age," he says — wisdom that has many possible interpretations, but
seems to mean to him mostly that time travels on and if we're lucky, we go with
it. He's been lucky and isn't about to stop.
"It takes a lot of
concentration," Jones continues, in response to a comment that he seems to
be capable of every opportunity, collaboration and repertoire directed his way.
"If there's any secret — and I don't think there is — it's certainly
that: Whatever you're doing, give it 100 per cent concentration. Really focus
on that thing. That's what I believe, that's what I have to do.
"I took that idea, I
think, from my father, one of the most upright men I've ever known. He used to
play a little guitar around the house, not professionally, but he served as a
great role model. He was a clean living person. He didn't drink or smoke, and
he was a Christian. I've followed his way of doing things, and it's worked out
pretty well for me.
"You see, there is
no magic involved in playing the piano. It takes hard work, continuous hard
work. Whatever skills are involved, it's a matter of practice. You can never
say reach a point where you don't think it's necessary to practice anymore.
It's always necessary to practice everyday. If you can do that, then you can
maintain whatever skills you have, and perhaps even increase your
skills. To me, that's the only way to do it.
"That's something I
learned over time. At first I hated to practice. My mother had to threaten me,
saying 'Either you practice or you don't have dinner.' At that time, I
practiced because I had to. I practice now because I want to. And
it's been that way for many years — a minimum of two hours a day. If I have
more time I'll spend more time. If I'm working on something specific, like
songs I'm going to be playing, I'll spend a lot more time. I work on technical
things like scales and exercises, then combine them with the tunes I'm going to
be playing that I may be learning. I can spend eight hours at the piano easily,
and not even know where the time went.
"A performance
depends on how much I practice. It works that way. If you want to be able to do
the things you want to do, you have to practice. Then the performance comes
easy. I think if you're really going to play to your best, in any style, you
have to be aware of what your fingers are doing. Your fingers have to be in
shape or you can't play anything. That's why it's necessary for me to practice.
I feel that in order to do anything — certainly to play my own ideas — I have
to practice. Otherwise I can't execute properly."
He emphasizes the most
tried-and-true dictums of music pedagogy. "When I first started I studied
classical music," he recalls. "I think that gave me a foundation,
something every pianist needs. If I were asked for some guidelines, they would
be: Study, know the piano, study with the best teacher you can find at the very
beginning. That's important, because if you don't learn the right way to play,
it will be pretty hard to change that way later. If you use the wrong
technique, it's very hard to get rid of. Yes, that's what I would advise young
people."
As a young person
himself, Jones evidently practiced what he preaches, because he began gigging
with upper midwest "territory bands" while in his teens. In his early
20s he left home on saxophonist Lucky Thompson's promise of a gig on 52nd
Street with Hot Lips Page. Promise realized, Jones went on to work with Andy
Kirk, Billy Eckstine, Coleman Hawkins, Ella Fitzgerald and Ray Brown, enlist in
Norman Granz's Jazz at the Philharmonic touring cast with Brown and Max Roach
supporting Lester Young, Charlie Parker, Roy Eldridge, Flip Phillips, et al.,
and by the 1950s was much in demand.
He accompanied, recorded
and toured with Sarah Vaughan, Artie Shaw, Benny Goodman and Cannonball and Nat
Adderley's band. He anchored the rhythm section for virtually everyone who
recorded for the Savoy label (Stan Getz, Milt Jackson, Frank Wess, Kenny
Clarke, et al). Then he served for 17 years in the CBS television studio band,
limiting himself to sessions close to home — Billie Holiday's Lady in Satin,
John Coltrane's Bags and Trane, Dakota Staton's The Late, Late Show, Wes
Montgomery's So Much Guitar, Roland Kirk's We Free Kings, dates
with Johnny Mathis and Bobby Darin. He sat in with the Thad Jones-Mel Lewis
Orchestra when it was established at the Village Vanguard in 1968 (Roland Hanna
took over his chair). In the mid '70s Jones emerged from his staff job to labor
on Broadway in Ain't Misbehavin'. That lasted five years. One might say
Hank Jones two-handedly restored Fats Waller's reputation — hear his utterly
enjoyable Waller tribute album A Handful of Keys.
After leaving the show
over a contract dispute, Jones re-engaged with personal pursuits that he'd put
on hold during his CBS tenure (among the advantages of steady employment he
counts learning discipline, improvising his sight reading and being able to have
a homelife). He immersed himself in solo piano club and concert bookings and
albums, acclaimed duets ("A very difficult format to work with. . .the
problem being two pianists seldom think alike harmonically"), tours and
records with the Great Jazz Trio (combinations of Ron Carter, Buster Williams,
Eddie Gomez and Tony Williams, Al Foster, Jimmy Cobb), one-offs with brilliant,
original talents (for instance, Charlie Haden on Steal Away, Dave
Holland and Billy Higgins on The Oracle, Mandinka bandleader Cheick-Tidiane
Seck on Sarala,). He also sustained long relationships such as that he
has with tenor sax and flutist Wess ("he still sounds great after all
these years") most recently co-starring on Hank and Frank (2004)
and Hank and Frank, Vol. 2 (2006). Whatever he does bears dependable
attributes: the Hank Jones stamp of excellence, style and taste.
"My style? How did
it come about?," Jones is surprised to be asked. "What happens is,
after you've heard a lot, when you've digested many different styles, sooner or
later you develop an idea of your own. You want to play your way. Which may or
may not be similar to somebody else. If you're lucky, it doesn't sound like
somebody else. That's what students should aspire to: Develop their own style,
their own interpretations. They can play the same compositions, but their own
way. And it should be pleasing to listen to. Although that's another matter, a
matter of taste, and how you develop that. I must say most of my ideas come
from listening to people like Tatum, Teddy Wilson, Earl Hines, Fats — the
piano players of my day.
"The way I look at
it, taste comes from listening to a great variety of people, and either
accepting or rejecting portions of it all. What you retain is what you embody
in your conception of what that particular composition should sound like. That
becomes known as taste. The method you use, the dynamics, everything that goes
into performing, that becomes you, your taste. That's what I bring to every
situation, even when I played Fats Waller's music in Ain't Misbehavin'.
I took some liberties with it. You're not supposed to do that, but if it
enhances the performance, or let's say the likability of the audiences towards
what you're doing, then it's proper. I don't think you should go too far out,
though. I try not to do that.
"My idol is the
great Art Tatum, there's nobody like him. Maybe somebody will come along years
from now or who knows, maybe they're already here and I haven't heard them. But
he is absolutely the greatest pianist I've ever heard for ideas, technique,
stamina, everything. He has a wonderful sense of humor, it's there in his
interpolations, and he plays in such a way that anybody who never heard him
before can understand what he does. He's always listening carefully, and he has
a great ear. He has that blinding technique, can do anything he thinks of, and
with either hand. His technique, I think, is a gift from God. Put all that
together, you've got an Art Tatum. That's how he was.
"I don't have
anything like that kind of technique. I usually focus on the melody. I
establish the melody because unless you do, nobody's going to know what you're
doing. Then the harmony may or may not stay the same. You may find instances
where you vary the harmony, but you don't get that far away from it.
"I try to use my
imagination and try to think of something that's relevant, not only to the
harmony, but to the melody, then you try to make something out of it. It's like
building a house or anything. You start with a basic design, then you try to build
it and embellish as you go.
"You've got to use
common sense about it. You should always keep in mind that somebody is
listening to what you're doing. If you're going to play something that nobody
understands, it's pointless. I believe you play for yourself but you're also
playing for the audience. If the audience wasn't there, you wouldn't
have any reason for being there. You want to play something the audience is
going to understand.
"I try to coordinate
everything, but I don't pre-plan everything. Whatever you do comes from what
you've learned in the past. What you've learned is on the way to where you are
at this time. Wherever that performance takes place, it involves everything you
know at that point of time. What you do may change over time, because you may
absorb something else into your style. You may always say, 'I'll go in that
direction, or this direction.' Nothing really stands still. Time moves
on.
"It seems to me that
one of the basic tenets of jazz is that you have to listen to what's going on.
How can you adapt to or accommodate something or someone if you don't listen,
and very carefully? It's critical, absolutely essential, if you're working in
the duo piano format, But even if you're working in a trio or quartet, you have
to listen to what the other musicians are doing.
"I think the rhythm
section is really the key to what the horn players play, because the horn
players react to what the rhythm section is doing, harmonically and
rhythmically. That's just my interpretation of it. Maybe in some groups they
don't think that's true, but I think the piano and the bass are the most
important instruments in the band. The pianist and the bassist must be in
total, complete harmony. If they don't play the same notes, they must
play the same chords. There are a lot of bassists I've really enjoyed playing
with," he says, dropping names from his early days (Tommy Potter) and his
current engagements (Mraz, John Clayton).
Asked about what he wants
to do next, Jones says, "Oh, so many things," but doesn't detail them
beyond, "I have more records in mind." Asked what he likes to do
besides make music, he pauses.
"I like to watch tv,
certain programs I like. I used to play golf a little bit, but I don't do that
any more. I never played any other sports. I don't drink, don't gamble, don't
play cards, don't smoke, don't do anything like that. Chase girls? No, I don't
do that!
"But you know what?
We were talking about concentration, right? What does it take to concentrate?
First of all: Interest. You have to have interest in what you're doing,
absorbed in what you're doing, completely focused. That, combined with
knowledge, with ability, with perception, with creativity — all of that's
involved. But when you sit down to try to think about it, I don't think you do think
about it.
"You think about
what's put before you, that's what you concentrate on. You don't think about
why you're doing it or how you're doing it, but when you are doing it,
you see the results. It's a very strong force. I don't know what's involved.
But when you have it, you can hear it. If you don't have it, you can hear it.
You can't hear it if you don't have it."
Hank Jones has it. You
can hear it.
* * *
At the 2009 Jazz Awards, Hank in accepting his statuette for Pianist of the Year mentioned that as far as his music went, he promised to keep trying. He had hopes that he would improve over "the next, oh, 25 years." That is not to be — because it's quite hard to improve on perfection. Thankfully, we have a lifetime of perfect pianism by Hank Jones to enjoy.

howardmandel.com
Subscribe by Email |
Subscribe by RSS |
Follow on Twitter
All JBJ posts |