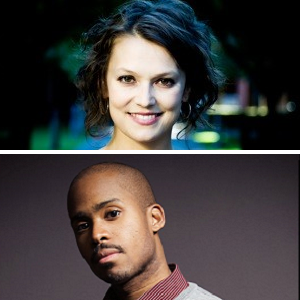 This week we will be featuring conversations with leaders working in communities. Julie Rada is a contemporary performance director using art to create enrichment opportunities for prisoners in Arizona. Chris Webb, originally from Cleveland, Ohio is currently working as a poet, actor and public speaker in LA. Both are Creative Community Fellows. The following is a recounting of what they learned from their conversation.
City with a C
By Julie Rada
I hold an image: of artists and neighbors painting their anger and resentment into a wall designed to mask their homes, split their community, and leave them behind.
Cars speed by. The City with a C settles its skirts out, out. And, for the sake of "diversity" her denizens paint murals while a young man worries about the City with a C from a courtyard between apartments that nudge the Pacific and remind me of Pulp Fiction.
I hold an image of two people, smiling, laughing. Emerging artists trying to fit buzzwords in their mouths like dry crackers, pointy at the edges.
Two people connected over technology that takes up too much space in the conversation, but the people have forgotten how to use the telephone with their voices so they take this route, more cumbersome and inefficient, for the sake of "progress." Progress like an echo chamber, a neverendendendending feedback loop.
But they are two people who know their own voices.
But they are two people who understand that connection trumps a list of questions and mutual friends matter more than rules.
And the man quells the woman's cynicism. "Entrepreneurship is not about money; it's about innovation."
A revelation.
In so many words, they agree: community is doing something specific together.
Community is, quite simply, a matter of survival.
(And as I write this, I try to make up metaphors. A first aid kit. A safety net. Cash stuffed in a secret hiding place in your car. I have none of these things, I'm startled to realize.)
Community is active. And requires a kind of joyful maintenance. With more doing than talking.
Wrinkled hands draw a stream of yellow paint across the wall. Cars speed by. The connection is cut. For now.
Communities Helping "Community"
By Chris Webb
Its been difficult for me to define what a community is because the blocks, streets, and buildings that I was born and raised around never screamed community to me. I've heard other screams, yes. Other voices in the night yelling over car stereos and tire squeals, neighborhoods with the "neighbor" dropped off of the word, and buildings as tired as the people traveling in front of them each day. I know my hood. I know my ghetto. My news reports. My school district. My lack. I didn't find community in my community. Where I found community was in art. My community sat on floors cross-legged in rehearsal halls and quoted lines in the stalls of broken Cleveland theaters. My community also sang hymns and swayed to the rhythm of church organ swells. Where my literal city failed to show me what community was, I found a definition of community at the intersection of faith, and art.
It was there that I began to grow and develop; to become comfortable with who I am and what I could do. My communities were a place of refuge, a place of acceptance and common interest. My communities became my passion. The interesting thing was that these communities would very rarely spill out into my actual community where I lived. Yes, there was a church on every corner, and yes, even the roughest, most hardened criminal had a favorite song and movie, but the power that I experienced from these groups seemed misplaced in the streets and storefronts of my neighborhood. That's where I believe I come in as a "cultural entrepreneur", to help bridge that gap and allow the power of my communities to affect my community. I think now is a prime time as well.
Every organization in my city is having a conversation about "giving back", or "affecting the immediate community." I don't know why these conversations are currently being had, (and unfortunately I've only heard the term from the big businesses in my city) but I do believe that in the business sphere where I've seen these conversations occur it is mainly for the purposes of face value; of appearing to be an organization who gives back just to attract more business. With this current model of "business creative placemaking" that I've experienced it seems detrimental in one facet, but beneficial in another. I know that in some cases businesses will try to culturally affect an area without understanding the culture. I've seen many programs come into my city without an understanding of the needs, likes, and atmosphere that they came in to. These such initiatives and activities are usually excellent, well-funded, ambitious and zealous, but not grounded in the community and therefore useless. On the other hand there are homegrown projects that understand the heart and needs of the community, but unfortunately these efforts often lack the resources and know-how in order to be done in excellence. What I would like to see my "community" receive is something that affects it in excellence, integrity, truth, and knowledge of situation. That is what I would like to provide.
I feel as if I stumbled upon my life's work in the spring semester of my final year in undergrad, 2011. I was a "Cleveland success story"; a young man who graduated high school with a reputation of arts excellence, recently accepted into the California Institute of the Arts (Calarts) to pursue an acting career. After realizing that money would be a roadblock in allowing me to attend CalArts, my city literally pulled together and held drives to pay the rest of my tuition for my first year. Between the churches I recited poems at, the theaters I did plays in, and the organizations I performed pieces for I was pretty well known by senior year; well known enough that in two months these entities collectively raised 14,000 to bridge the financial gap that withheld me from my first year. My undergrad then became a back-and-forth of spreading my wings and staying connected to the city that I loved so much. It was the most difficult back-and-forth one could imagine.
I would check my city's online news and read of murders on my street, then leave to recite monologues from Julius Caesar. I would check facebook only to find that a close friend or relative was murdered the night before, and then drive to Hollywood to film an Adidas commercial. I'd study abroad in Scotland, knowing that my hometown was yet again labeled the poorest city in America, and so on and so forth from my freshman down to my senior year. But the turning point came the morning of registration for my last semester. I woke up ready to tackle the process and get all of the "good" classes for my exit from the school, but when I checked my phone, things changed. To make a drawn out story short, my mother was almost murdered in the city, and ended up in critical condition from a drug dealer attempting to flee from police. She had broken bones, internal bleeding; the works. Around that same time a slew of my friends from my high school art days found themselves either incarcerated of grave-bound as well. And there I was. Preparing to meet agents and carve out a bold and brave future.
Fast-forward past graduation, I received outstanding agent response because of my Calarts work and was meeting with some of the top management companies in LA, but there was a problem. Every time we would speak about the potential roles that I could fill, and gigs that I could go out for, it would always seem to be something that made me snarl in my Calarts years as I read the news about my city! My potential roles would be "Thug #3", "Crack dealer", "inner-city child." The same things that some of my friends turned into. The very things that almost killed my mother. If I would've known that I would move out of Cleveland just to play the same things that I could've REALLY done in Cleveland, then I would've stayed in Cleveland! After a while my disgust grew to epic proportions, and I remembered how my "communities" of art and faith allowed me to navigate my "community" of brokenness. It was at that time that I wanted to begin to intersect the three. Thus my work was born.
My work is for my people, the forgotten ones that seem to drift by on corners with no productive business at all. It's for the single mother who looks into her son's eyes and prays that he doesn't grow to be a man like his father. It's for the moneyless, the inhabiters of "American slums", the black, the loud, the poorly educated, the gang-affiliated, the broken. My work is for the ghetto. I know that without the communities that I've found I would've met a similar fate like many of my childhood friends, so what I want to do is introduce my communities to my "community," and see if change can occur through this work. So what is this work you may ask? To tell you the extent of the projects, initiatives, programs, and artistic endeavors that I have planned would be to tell you my 10-year plan, so what I will do is outline my project for the National Arts Strategies' Creative Community Fellowship.
One in every 5 homes in East Cleveland is currently vacant (according to Case Western University), and a study from the University of Pittsburgh shows that the potential for violent crime increases by %15 within 250 feet of any abandoned structure, so what I came to realize is that Cleveland's vacant building problem is directly linked to it's violence problem. The idea that I want to develop through NAS is a project called "If These Walls Could Talk", and it will use the abandoned structures to speak on nonviolence, community history, and the legacy that some of the buildings themselves might have in their ruin. I'm researching the history of some abandoned buildings, acquiring photos and archival information to post on the light poles in front of the ruined structures. I want to leave a phone number for passerby to call and "talk to the buildings" to learn more information and leave questions, and I will connect interested parties with the local block clubs in their areas so a lasting conversation can spark about history, identity, and the art that fused the two. Finally, I want to host a special night where certain abandoned buildings "wake up", using projections and imagery I will find a row of abandoned buildings and project film on them that allows them to "converse" and tell viewers a story about the city and neighborhood.
This is one of literally hundreds of ideas that I want to produce. I'm new to this cultural sector and this life of creative placemaking. I just want to see my people whole, and art is the only way that I know how to communicate to them. If my quest to reach my people lands me to the cultural sector, so be it. Arts and culture? Sure. National Arts Strategies? Definitely. As long as I can acquire the skills, tools, connections, and resources to affect my "community", I'll go wherever the next step leads me. I see a renaissance of new art, and a revival of a largely broken people on the horizon, and I believe that right now I'm in a time of preparation for the task at hand. I guess my true "community" is the community-less. Let's see how this works out.