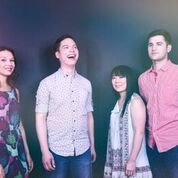 We had the Attacca String Quartet in residence here this past week.  Started things off with a 2-hour seminar on composer-performer collaborations, featuring performances of three Caroline Shaw quartets: Entr'acte, Valencia and Blueprint.  That evening, the quartet recorded three student compositions:
Alicia Bachorik: Tango
Tyson Davis: String Quartet No. 1
Nicholas Karr: The Flaw in Trying
The plan was for the quartet to choose one of these works to perform for a concert culminating their residency.  In the end, they graciously decided all three deserved the honor, so our three students got professional premieres.
At the end of their seminar, I asked them if they had any final words of wisdom to the performers and composers gathered.  Cellist Andrew Yee didn't hesitate.  "Kindness," was the one word he had for everyone assembled.  "We understand how terrifying it can be for composers to present their work to performers, and how terrifying it can be to play for the composer."  Kindness, understanding, on both sides, is always beneficial.
Their decision to premiere all three student pieces gave those students a huge boost on so many levels.  It was definitely a clear indication that the Attacca String Quartet was willing to walk the walk, not only advocating kindness but also making it a central part of their professional practice.