Opera lovers can be forgiven for imagining the works they love were born in a flash of inspiration.  Sometimes the journey is a bit more arduous.
The UNCSA Composition Department met with Jennifer Higdon via Skype on September 20th to talk about her opera Cold Mountain.  We got the two things we had hoped for: a rich and detailed rundown of the eleven-year process from conception to premiere, and a host of things to listen for when we attend the performance on October 1.
When the idea of composing an opera was first proposed to her, Higdon was very candid with us about the fact that she had never been particularly interested in opera – she was approaching it as a novice.  Ultimately, she decided to do it in part because, as she said, the idea terrified her, which meant it would be a worthwhile challenge. Once she committed to the idea, she made up for lost time, traveling around the world to attend major opera premieres, studying some of the great opera composers, getting a sense of what worked and what didn't work.  Two of the things she committed to: keeping the action moving and putting a 2.5-hour limit on the whole composition.
Early on she connected with librettist Gene Scheer, who had collaborated with Jake Heggie and Tobias Picker.  They spent years considering possible opera topics.  At one point, they dedicated about six months' work to an original story that was unfortunately rejected by a lead commissioning party – a heartbreaking detour on the long journey.  Finally they settled on Charles Frazier's 1997 novel Cold Mountain.
Getting the rights to use the novel was another long journey.  The publishers were unresponsive.  Higdon described using six degrees of separation to reach out to Frazier himself.   Thanks to early 21st century technology, she was able to track him down, and he gave his permission.  After that, it was a matter of getting Miramax to agree, since they held the rights to theatrical productions when they made the 2003 film of the same name.
Once the rights were secured, the all-consuming process of composing the music followed.  Higdon created charts and graphs showing everything from character arcs to opportunities for double-casting roles in order to limit production costs.  Creating a 2.5 hour musical composition was intimidating; to make it seem a bit more palatable she settled on working scene by scene, chronologically, which allowed her to monitor character development and break the work down into reasonable chunks.
At some point in the process, she suddenly realized that the high school she attended in Tennessee was not all that far off from the western North Carolina location of much of the action, which gave her confidence in her ability to give voice to the characters.  "I realized I know these people," she said, "I went to school with them!"
Benjamin Britten was a model for her conception of vocal writing and orchestral support.  As she completed the first act, she was able to get Curtis students to learn the roles and workshop various scenes, which she found enormously helpful.  As time went on, she found herself overtaken by the characters and the music, feeling as though they were following her as she walked the streets of Philadelphia, half living in that very dark, despairing world.
Once the music was completed, she learned a zillion things about stage production that she never would have guessed, probably more than she needed to know.  There was a two-hour production meeting about blood; there were the quick costume changes made possible by the miracles of Velcro.
All of these details were fascinating for us, especially the amount of research and preparation that went into her work.  Jennifer answered students' questions directly and candidly; as anyone who knows her can tell you she has a wonderfully unaffected manner, a genuineness that is both appealing and disarming.  I know the students came away from our session with a deeper appreciation for the craft and dedication this profession requires.  And they certainly came away with a lot to listen for when they attend the October 1 performance.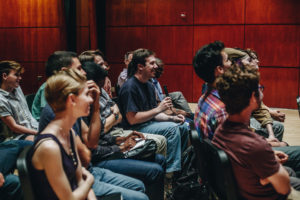 photos by Roxanna Peykamian