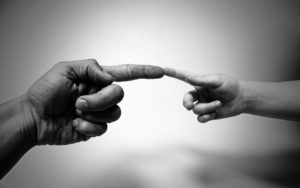 A friend of mine in grad school, a cellist, was close to graduation when his teacher suddenly died.  "What am I going to do?" he asked me. "There is nobody to help me get started in my career!"
I remember being shocked at his selfishness, seeing someone else's death only as an impediment to his own success.  I mentally chided him for ignoring the man who had died, and his family.
Two years later, my teacher Vincent Persichetti died.  I was not one of the students who was closest to him – I was egotistical enough to think I didn't have much need for a teacher – but I mourned his passing on its own terms.  I remember he used to say he didn't believe in death; he liked to deny its existence, using a slippery slope between humor and seriousness that marked much of his communication.  I missed that slope, which seemed rich in retrospect.
I suppose it was partly my ego that didn't allow me to see his death as having an impact on my career: I wanted to be the sole author of my success, and I didn't like to think I depended on anyone else.  It's only in recent years that I've begun to see that his passing had a very powerful impact on my trajectory.  His recommendation had led to my first recording release.  He spoke with Jacob Druckman at the NY Philharmonic about getting my music premiered by the orchestra (I foolishly didn't follow up, feeling the piece wasn't ready, and when Persichetti died the connection was lost).  Everything that came after I had to make happen myself – which suited my self-image.
In my early years of teaching, I assumed my students would want the same measure of independence I had needed at their age, and I let them find their own career paths accordingly.  Over the last few years, though, I have been increasingly concerned with being a force for their benefit in the years after they complete their degrees.  The majority of it is up to them, but I'm no longer ignoring my role.  I question whether that's the right thing to do, because I question everything, but it's the path I'm on at this point.
It's not that I regret the road my life has taken – things have worked out very well for me – I just see things differently from this angle than the one I had thirty years ago.  And that's the way it should be: if thirty years makes no difference in your outlook, you haven't been paying attention.