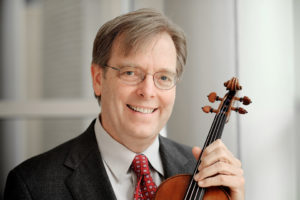 I'm a big fan of the people I am close to; I don't know how I would get along without them.  But I really cherish my time alone.  Solitude gives me the energy I need to interact with the rest of the world in a healthy way.  When I get enough of it – and I need a lot – I am more creative, more kind, more balanced.
This coming Saturday night, violinist Kevin Lawrence is playing a program here that investigates solitude through unaccompanied works by Prokofiev, Takahashi and Ysaÿe that will include the premiere of Solitude, which I completed in August.  The piece plays with pairs of opposites, described in the notes I provided:
Solitude can be both frightening and invigorating.  Left to ourselves, we are faced with feelings of isolation and loneliness.  Those dark feelings, though, can lead to an exploration of our inner resources, our self-reliance and the strengths of our imaginations.

Joy and sorrow are often seen as polar opposites, but there is a rich expressive terrain where the two meet, where we can't separate one from the other.  No musical genre captures this terrain better than the blues.

These two dichotomies find companionship in Solitude, a composition for solo violin that uses blues progressions to explore the paradox of opposites aligning.