How did Sotheby's manage to be deprecated on Monday for achieving a price of $157.2-million for a Modigliani reclining nude—the highest amount ever paid at that firm for a single artwork? The auction house was seen as under-achieving, because this indolent lady's $139-million hammer price was on the backside of her presale estimate—"in excess of $150 million."
As such, she had a "Me-Too" moment with another ballyhooed nude—Picasso's "Fillette à la Corbeille Fleurie" in last week's Rockefeller sale of Impressionist and modern works, which hammered at $102-million, against Christie's presale estimate of about $100 million.
Bidding on the Modigliani at Sotheby's opened at $125 million, proceeded sluggishly and stopped dead at $139 million. According to Kelly Crow's Wall Street Journal report, it was bought by its pre-arranged third-party guarantor who, as the symbols in the catalogue reveal, had offered an "irrevocable bid" prior to the sale. Such bidders (at both Sotheby's and Christie's) receive a fee for relieving the auction house of its risk, which means that they end up paying less than anyone else making the same bid—an uneven playing field. It could be that potential buyers are resisting being gamed in this manner.
For raising unrealistic expectations for its star lot, Sotheby's had only itself to blame. In a presale press release, the auction house had boldly claimed that this was "the greatest work from the iconic series in which Modigliani reinvented the nude for the Modern era." It may have been the largest painting from that series, but in the masterpiece market, square footage counts less than quality.
To my eyes (and, presumably, to the eyes of megabucks buyers), this example, sold by Christie's in November 2015, was much more of a "wow" picture. Estimated to bring "in excess of $100 million" it had hammered at $152 million ($170.4 million, with buyer's premium):
In this tweet, posted three weeks before the sale, I had suggested that Monday's Modigliani would fall short:
Not sure why people suggest that the @Sothebys Modigliani (est. in excess it $150m) will break artist's record set by the full-frontal example that hammered at $152m in 2015 @ChristiesInc https://t.co/0hh1gIJTjN We'll see… pic.twitter.com/7g73VH8Z8v

— Lee Rosenbaum (@CultureGrrl) April 24, 2018
The surprising sense of letdown from a rare nine-figure auction price was reminiscent of what happened last week to the star lot of Christie's Rockefeller sale—Picasso's "Fillette à la Corbeille Fleurie," for which similarly sluggish bidding stopped dead at $102 million ($115 million with buyer's premium) against a hammer-price presale estimate of about $100 million.
The rest of the Sotheby's auction was marred by the failure of 13 of the 45 works to find buyers. Hammer total for the sale was $277.5 million, far below $307.4-$378.1 million estimate of hammer total. The sale was 71.1% sold by lot; 89.3% by dollar.
Things went more smoothly last night at Christie's, whose Impressionist/Modern evening sale was 89% sold by lot and 99% by dollar (meaning that the four lots that failed to sell were of relatively small value). The hammer total was $362.2 million ($415.85 million with fees), comfortably within the $326.6-421.5 million presale estimate and exceeding the take at Sotheby's.
"It was a good, clean sale," David Norman, a private dealer (formerly co-chairman for Impressionist/Modern art at Sotheby's) told Katya Kazakina of Bloomberg.
But the damage at Christie's was done before the sale: By now you've undoubtedly read that this work, in a three-way tie for the highest estimate in that auction (in the region of $70 million), never made it to the auction block:
Seen above at the May 3 press preview, intact (and reportedly consigned by the hapless Steve Wynn), it was unaccountably damaged about a week later and was withdrawn from sale, along with another Picasso reportedly consigned by Wynn—"Femme au chat assise dans un fauteuil," estimated at $22 million to $28 million.
Christie's has declined to provide any details about the nature of the damage or how it occurred. Perhaps it's in the hands of the lawyers (as happened with Wynn's previous Picasso fiasco). The auction house did release a statement on Sunday that Picasso's self-portrait as a sailor was "accidentally damaged Friday during the final stages of preparation for Christie's May 12-15 exhibition," and would be restored. Unmentioned was whether it would be offered at a future sale at Christie's or elsewhere.
The highest price in Christie's Impressionist/Modern sale was $85.81 million for Malevich's "Suprematist Composition," which had been among five works restituted to the artist's heirs by the Stedelijk Museum, Amsterdam, in 2008, after having been displayed in 2003-2004 at two Guggenheims (Berlin and New York) and at the Menil Collection, Houston:
The Malevich set an auction record for the artist in 2008, and again last night, when it hammered at $76 million, against an estimate of about $70 million. That estimate is a lot less than was reported in this Christie's handout to journalists, which contained what the auction house later told me was a $20-million typo.
We all make mistakes, but this (which I relied upon in a tweet, later amended) was a whopper: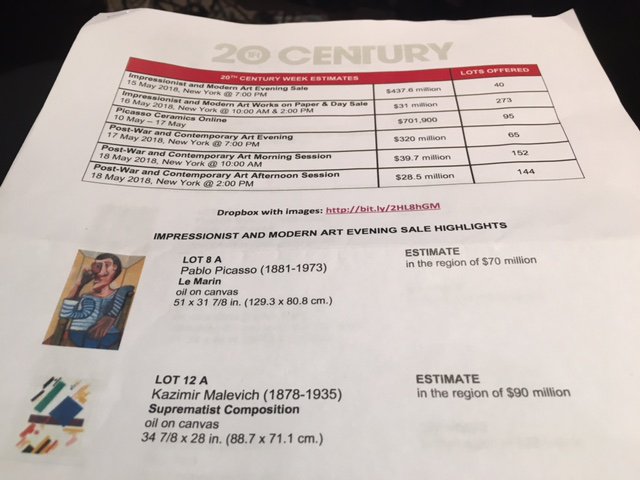 A NOTE TO MY READERS: If you value my coverage, please consider supporting CultureGrrl by clicking the "Donate" button in the righthand column. Contributors of $10 or more are added to my email blast for immediate notification of my new posts.