"Have you dreamed of getting VIP treatment at The Met?…Now you can."
That sounds like a quip I've used repeatedly on CultureGrrl. But the Metropolitan Museum is dead serious: If you wanna be a Met VIP, it'll cost you—$125 per "adult," defined (below) as ages 0-99. (I guess that discourages you from bringing the kids.)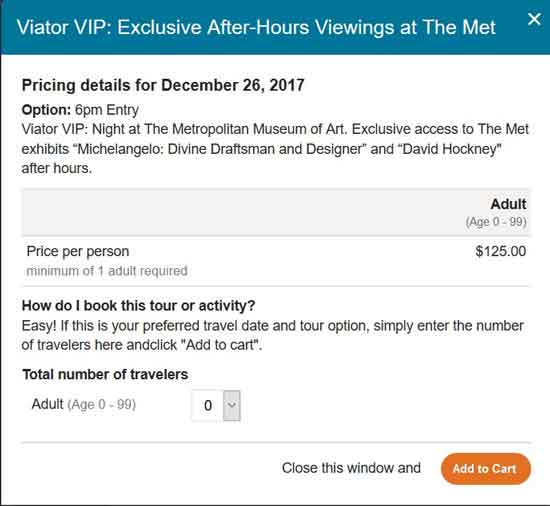 Here's the dubious deal:
Exclusive access to The Met exhibits "Michelangelo: Divine Draftsman and Designer" and "David Hockney" after hours. Complimentary audio guide (Available in English only). Next day admission to The Met, as well as The Met Breuer (Open Tuesday-Sunday) and The Met Cloisters [emphasis added].
Unmentioned is the fact that the audio guide is always complimentary, if you access it on your own smartphone from the Met's website. (You can do it right now, from home.) Free next-day admission to the Met's three facilities saves you a penny: For now (although change is under consideration), the Met has a suggested admission policy, which means that you can pay the fee that's recommended ($25 for adults) or whatever amount you choose.
What's more, there's a catch that could demote VIPs to suckers: "Any guest arriving 15 or minutes after their group has entered the galleries will not be permitted entry." Given the vagaries of public transportation and vehicular gridlock in Manhattan, that's a small window. (Not a word about refunds for latecomers.)
The Met has always emphasized that, unlike many other museums, it never charges "an extra fee to visit any of our world-renowned special exhibitions," in the words of ex-director Tom Campbell.
The advantage of VIP status is the chance to savor the two shows under less crowded conditions: "Each entry time [6, 7 or 8 p.m., on Dec. 26, 27 and 28; and Jan. 2, 3, 4, 9, 16, 23 and 30] will be limited to approximately 150 people, allowing visitors a more intimate experience of these enormously popular exhibitions."
The disadvantage is that duration of the tour is given as "60-90 minutes." Do those arriving at 6 p.m. get kicked out at 7:30? As for the 8 p.m. arrivals, no information is given as to what time is closing time (which is, perhaps, the reason for the "60 minutes" low-end of the duration range). To get a clearer idea of how all this works, people would have to call the museum for information that should have been made clearer on the website.
I popped into both "Michelangelo" and "Hockney" on Monday of last week: Hockney was far from packed (except for the substantial crowd following the docent tour). But the Michelangelo mob is always dense: You often have to wait patiently behind others who are gazing at the drawing you're trying to see:
Things will only get crazier during the holiday season. And if you really want to do full justice to the monumental Michelangelo show, one 90-minute visit (crowds or no crowds) just won't suffice.
Speaking of which, with all the breaking news I've been following lately, I haven't yet done justice on CultureGrrl to the Michelangelo show, which I've visited three times. (I do plan to write on it.)
Then again, nothing I write here could do it full justice. You have to see it (at whatever price point you choose).