This just in from Gary Tinterow, director of the Museum of Fine Arts, Houston, in response to my query about how his institution has been weathering the Hurricane Harvey maelstrom:
We did not have to evacuate any art out of our buildings. Our main campus facilities and our art storage building are in good shape.

We do not yet know when we will reopen; that largely depends on when streets become navigable. But our main campus buildings have fared well, thanks to the expert preparations of our hurricane task force and the dedicated staff who have worked round the clock since Thursday and continue to do so.

The gardens and outbuildings of Bayou Bend [the MFAH's house museum for American decorative arts and paintings] suffered the most, but the house and its collections are secure. Water was receding earlier today.

Our construction site [my link, not his] took on significant water, but all in all we have been spared the worst—again thanks to expert planning and extraordinary staff.
This gave me traumatic flashbacks to the effect of the much less catastrophic Superstorm Sandy in New York, which flooded the entire basement of the Whitney Museum's downtown facility when it was under construction, destroying mechanical equipment that was about to be installed.
Here's a screenshot of the Glassell School of Art from the MFAH's Project Updates live webcam, as seen this evening on the museum's Campus Redevelopment website. (A lone car was driving swiftly down that street.):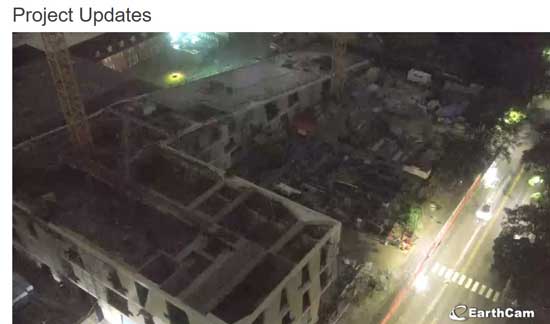 UPDATE: Here's a daytime screenshot of the same site. The street looks clear; the site looks muddy: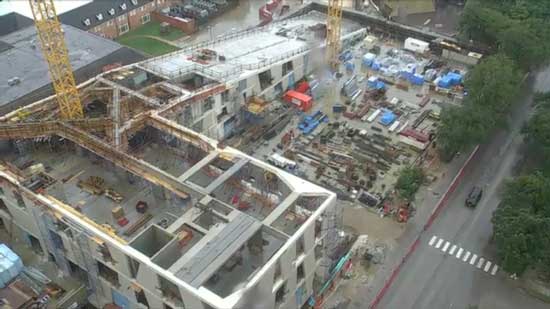 Here's how Tommy Napier, assistant director of communications for the Menil Collection, responded to my query this evening about the effects of the deluge on his institution:
Since Friday, the Menil has maintained an around-the-clock security and maintenance presence at the museum making regular checks on our basements in the main building and Menil Drawing Institute construction site and on the skylights in the main building and at the Cy Twombly Gallery. Periodic checks are being made at our other buildings, which include the Dan Flavin Installation at Richmond Hall and the Byzantine Fresco Chapel. We have done preventative sandbagging at buildings that require it.

At this time, and thankfully, our buildings have not been impacted by the storm. Our director, conservation, and registration departments, which includes art handling services, are receiving regular updates about building status. Other than security and maintenance staff, the Menil closed on Friday at 1:00 p.m. Central and remains closed to both the public and our staff. Safety of our staff is of course our number one priority, and the Menil uses an emergency alert system (phone, text, and email alerts) to notify staff regarding closures.

We are closed to staff and the public through Wednesday, August 30. We will monitor the storm closely and update regarding closures as needed. The Menil is always closed to the public on Mondays and Tuesdays. Our greatest hope is that our staff, wherever they may live in the Houston area, are safe and sound.
Houston suffered catastrophic flooding a little more than a year ago. This storm looks to be even more disastrous. For more information, ARTnews has a webpage on the hurricane that "is being continuously updated with details about Harvey's effects on Texas's art community."
UPDATE 2: For information of Harvey's effect on other Houston museums, see Sarah Cascone's report on artnet.