In my 2015 yearly round-up post, I crowed about a high point of my CultureGrrl career—the munificent Art Writers Grant awarded to my blog by Creative Capital | Warhol Foundation.
In keeping with the general gloom surrounding 2016, I'll introduce this year's round-up by confessing a low point: The likely end to my freelance gig with the Wall Street Journal, where I've been a proud contributor for several decades.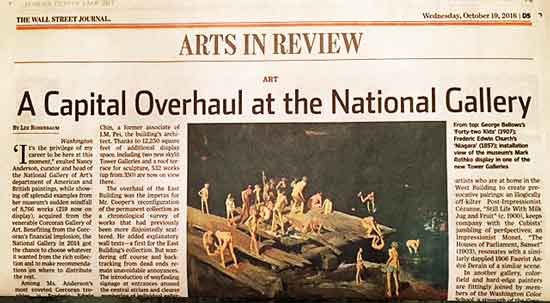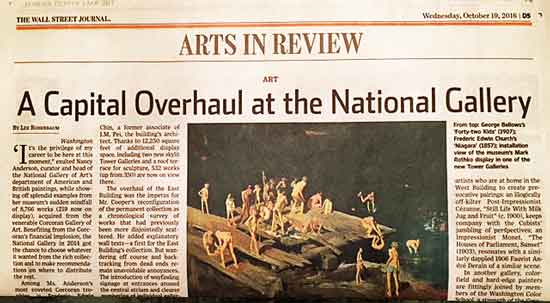 I've been struggling for a while with tighter wordcount restrictions, which forced me to shortchange the many curators and museum officials who generously gave of their time and insights, deepening my understanding of their innovations and exhibitions. I tried to make up for the extreme pithiness of my reviews by supplementing my WSJ pieces on my blog with Illustrated Companions. But now I feel stymied by a new development—the complete disappearance of some reviews from the hardcopy version of the paper.
That happened to me for the first time with my most recent piece, which examined the Virginia Museum of Fine Arts' fine exhibition devoted to the unexpected synergy between the work of Edvard Munch and Jasper Johns. Financial exigencies have greatly reduced the size of the hardcopy paper, resulting in the online-only availability of some pieces (including mine) that would formerly have appeared on the now defunct print version of the "Arts in Review" page, which was part of the also defunct "Personal Journal" section.
I wasn't prepared for how dismayed I felt in not being able to see my WSJ review in print or to pick up extra copies at the newsstand (previously an option for non-subscribers who wanted to see WSJ pieces that interested them). I recognize that print newspapers are likely to die with my generation, but, my dear, we're still here. At a recent NY Philharmonic concert, I ran into one prominent regular hardcopy reader who told me he had missed my Johns/Munch piece because he only sporadically looked at the WSJ online.
The hardships of WSJ employees who have been let go as part of the recent restructuring far outweigh my inconvenience in losing a nice freelance gig. At this stage of my life, having the opportunity to spend more time with my grandchildren is nothing to fret about, whether or not new professional opportunities eventually arise.
The New Year is a good time to count one's blessings. The best thing, by far, that happened to me in 2016 was this:
If you've valued the Journal's cultural coverage as much as I have, I encourage you to check the online paper (assuming that you have an online subscription, or know a subscriber who can email pieces to you). In the unlikely event that I continue to contribute in some way, CultureGrrl readers and my @CultureGrrl Twitter followers will be the first to know.
For now, dear art-lings, let me offer you my Best Wishes for an Art-Full New Year, along with CultureGrrl's Top 20 Stories for 2016, in chronological order, with an emphasis on the controversies that we've been following and the exhibitions and reinstallations that particularly caught my eye:
Sotheby's Eats Crow from the Taubman Sales: $6-Million Guarantee Loss & $6-Million in Expenses
A Milwaukee Walk: Photo Companion for My WSJ Review of the Milwaukee Art Museum
Vigée Le Brun: Flattery Got Her Everywhere, Including the Met (with video)
Sotheby's Shortfalls: What's Missing from CEO Tad Smith's Earnings Conference Call?
"Unfinished" Business: Met Breuer Engulfed by a Dark Cloud of Unknowing—Part I & Part II
Buoyant about Met Breuer: My Q&A with Metropolitan Museum President Daniel Weiss–Part I & Part II
My Q&A with President Daniel Weiss–Part I: How Did Metropolitan Museum Fall into Financial Hole? How Will It Climb Out? Part I & Part II
Contraction Action: Sotheby's & Christie's Confront New Market Reality (plus Koons "Deflatable")
Hard Times at NYC Museums: National Academy Homeless (with video); Staffing Cuts at the Metropolitan Museum, Brooklyn Museum, MoMA
The Met Mess: Parsing the Organizational Upheavals at the Metropolitan Museum
Robust App, Weak Tours: My WSJ Review of SFMOMA's Technological Transformation
SFMOMA's Seismic Fisher Fissure: "Integration with the Museum's Collection"?
Carmen Herrera, 101-Year-Old Overnight Success, Gets Her Whitney Close-Up (with video)
"Polemical History Lesson": Illustrated Companion to my WSJ Piece on the Brooklyn Museum's American Rehang
Ethereal & Otherworldly: Transported by Agnes Martin at the Guggenheim
Reshuffling the Deck: An Illustrated Companion to My WSJ Piece on National Gallery Reinstallations
"Showtime" at the Met for Kerry James Marshall: All that Glitters…?
The Cost of the Met Breuer (and other nuggets from Metropolitan Museum's FY16 financials)
Brett's Bet: What Gorvy's Sudden Exit from Christie's May Mean for the Art Market
"Meditations on Mortality": Illustrated Companion to My WSJ Review of Jasper Johns/Edvard Munch at VMFA