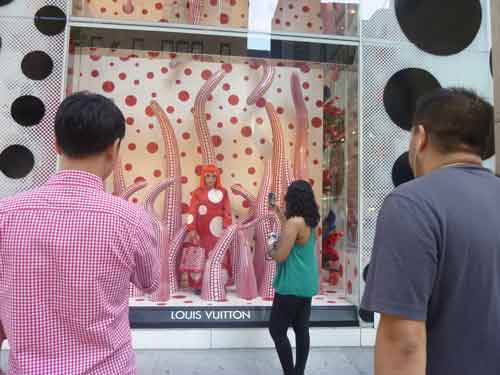 Kusamania: Lifelike Yayoi Kusama mannequin in window of Louis Vuitton flagship store, Fifth Avenue, New York. (LV sponsored the Whitney's show and collaborated with Kusama on an extensive, expensive product line.)
Photo by Lee Rosenbaum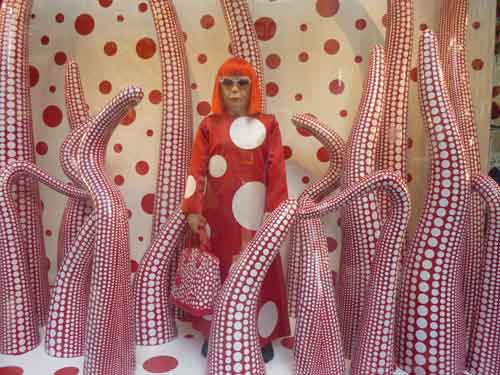 Kusama avatar's glossy, tacky LV handbag: $3,650
Photo by Lee Rosenbaum
The return of the resolutely unconventional, relentlessly self-promoting Yayoi Kusama, 83, to New York, the scene of her greatest notoriety and best work, is a mixed blessing. To me, the evidence of the pieces in the Whitney Museum's retrospective (to Sept. 30) doesn't live up to the expectations raised by the compelling storyline of the psychologically disturbed artistic genius, living in self-imposed isolation in a mental hospital after a whirlwind turn, beginning in 1958, as a New York art star and agent provocateur, and feverishly exorcising her demons by obsessively creating art after she returned in 1973 to her native Japan.
Her most recent work—large-scale, trippy acrylics from 2009-10, which surround you as you turn right off the elevator—has an immediate "wow" impact but little staying power.
Here's one of that room's four pulsating walls: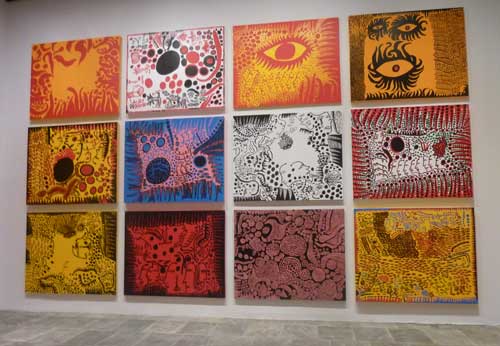 Top left: "Awakening of Love"
Bottom right: "It Tells Everything about the World of People, and Awaits the Arrival of Peace"
All 12 works: Collection of the artist, 2009 or 2010
Photo by Lee Rosenbaum
Kusama's work brings to mind four other veteran women artists who often favored monochromatic and/or biomorphic work, but stayed the course more successfully—Louise Nevelson, Louise Bourgeois, Agnes Martin and Lynda Benglis.
More than her phallic furniture, such as this chair owned by the Whitney…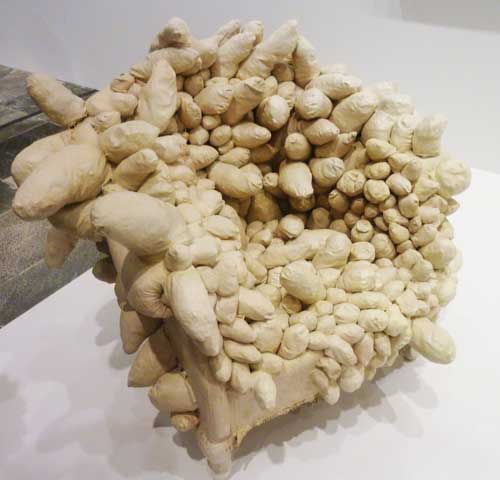 "Accumulation," c. 1963, Whitney Museum
Photo by Lee Rosenbaum
…I admired Kusama's ironing board of sex organs about to be flattened by an iron. This mischievous (or sinister, depending on your gender) reimagining of women's work is currently on view at Storm King Art Center, Mountainville, NY, in a room that evocatively juxtaposes Kusama with two other fellow-provocateurs, Bourgeois and Benglis: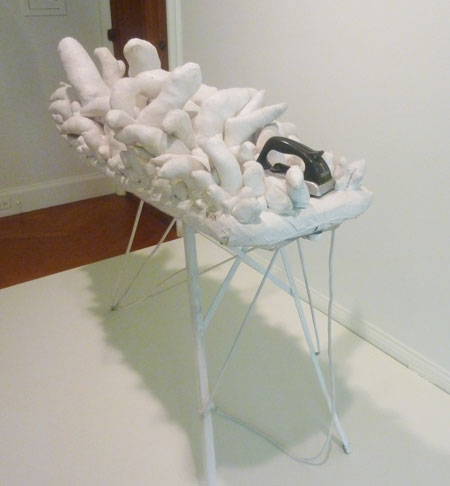 "Ironing Board," 1963, private collection
Photo by Lee Rosenbaum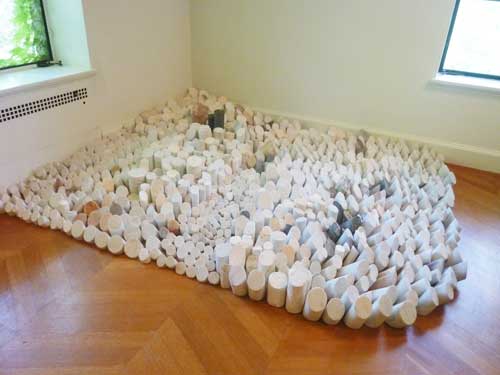 Louise Bourgeois, "Number Seventy-Two (The No March), 1972, Storm King Art Center
Photo by Lee Rosenbaum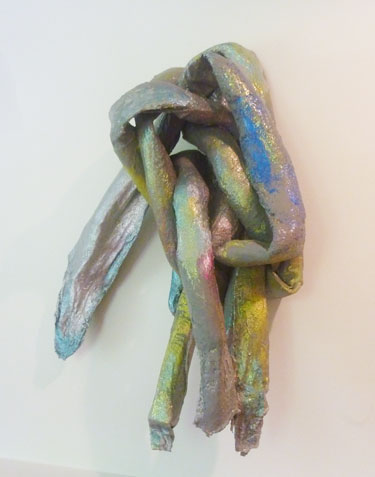 Lynda Benglis, "Nu," 1974, Storm King Art Center
Photo by Lee Rosenbaum
But back to the Whitney: What I do love in Kusama's oeuvre are her "Infinity Net" paintings. Surprisingly (as you will hear in the CultureGrrl Video, below), curator David Kiehl, who installed the show at the Whitney, said he was unfamiliar with those absorbing Minimalist works, even though a great example is owned by the nearby Museum of Modern Art.
MoMA's painting can now be seen at the Whitney, in the room devoted to the "nets." (As with many subtle, understated works, my photo cannot begin to do it justice.)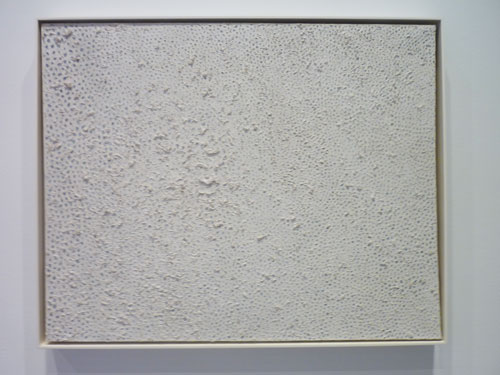 "No. F," 1959, Museum of Modern ArtPhoto by Lee Rosenbaum
An important, envelope-pushing part of Kusama's New York work—her taboo-busting performances and "happenings"—are inadequately explored at the Whitney via photographs and documents. Were the videos (at least one of which I believe I've previously seen at the Whitney) deemed too risqué for display?
At the Kusama show's press preview, which was very well attended (especially since the artworld flees Manhattan in summer), Whitney officials imparted their take on the show: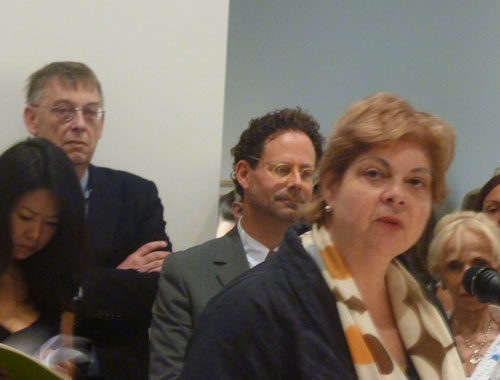 Left to right, David Kiehl, curator; Adam Weinberg, director; Donna De Salvo, chief curator (sporting an appropriately polka-dotted scarf)
Photo by Lee Rosenbaum
Join me now at their press presention, via my CultureGrrl Video:
The show was organized by Frances Morris of the Tate Modern, London, with previous stops at the Reina Sofia, Madrid and the Pompidou Center, Paris. A related outdoor installation is on view at Pier 45, near the construction site of the new Whitney facility in Manhattan's Meatpacking District.