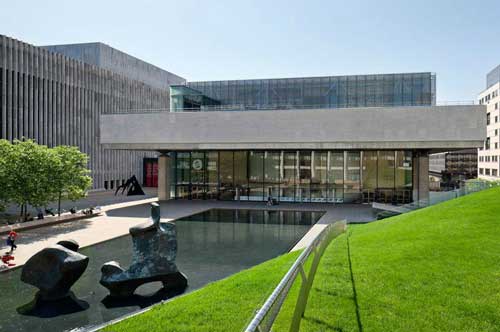 Lincoln Center's new Claire Tow Theater—the small glass box atop the larger Vivian Beaumont Theater, at the end of the reflecting pool (with the Henry Moores). Metropolitan Opera House is on left.
Photo © by Francis Dzikowski / Esto

It shouldn't be big news when the NY Times' architecture critic composes a straightforward architecture review that appraises a signficant new cultural facility in Manhattan.
But Michael Kimmelman's thumbs-up for architect Hugh Hardy's spare, elegantly functional new Claire Tow Theater in Lincoln Center qualifies as a welcome departure from his reconstruction of the architecture critic's beat to emphasize urbanism and societal uplift, at the expense of appraisals of the design merits of individual, architecturally distinguished buildings.
While I applaud Michael's social consciousness and his utopian mission to make a difference to both the urban fabric in New York and disadvantaged communities abroad, his determination to largely ignore the traditional focus of architecture critics has meant that the Paper of Record has eschewed in-depth architectural assessments of these important facilities (to name three): Renzo Piano's addition to the Isabella Stewart Gardner Museum in Boston; Tod Williams' and Billie Tsien's new Philadelphia home for the Barnes Foundation (which received coverage from art critic Roberta Smith, who focused largely on the contents, not the container); Paul Rudolph's endangered Orange County Government Center (which received journalistic coverage from Robin Pogrebin).
The Times needs to assign another reviewer-of-record to fill the gap left by Kimmelman's whims.
The timing of Kimmelman's Tow Theater review is interesting in light of the fascinating piece by the Times' public editor, Arthur Brisbane, in yesterday's Sunday "Review" section— The View from the Critic's Seat. In a largely sympathetic analysis, Brisbane discusses the role of Times reviewers, as seen by the critics themselves and by Jonathan Landman, culture editor.
Here's what Brisbane (who is about to be replaced) says about Kimmelman:
Perhaps the widest latitude [is] given to…the Times's recently minted [my link, not Birsbane's] architecture critic.
Mr. Kimmelman has used the free rein of his job to drastically redefine it. Instead of reviewing splashy new buildings by the star architects of the planet, as many architecture critics have done, he writes about the intersection of human beings and how they use the built environment.

An innovative kindergarten in a poor neighborhood of Bogotá, Colombia; a modest addition to a Le Corbusier landmark in France; a retrofitted housing project in a poor suburb of Paris; a new housing complex in the South Bronx—these, not the latest Frank Gehry project, are what he has been writing about. He sees the role as "a public policy position, urban affairs position that coincides with architectural criticism."
But back to the subject of Kimmelman's latest review—the Tow Theater at Lincoln Center. It is the new home for Lincoln Center Theater's LCT3, which aims to provide opportunities for "the next generation of playwrights, directors and designers."
As it happened, I was in the Tow's audience two nights ago to see the new building and view the first play being performed its 112-seat space, which brings a welcome off-off-Broadway intimacy to this agglomeration of monumental performing-arts palaces. The Tow is part of a two-story, 23,000-square-foot glass box, discreetly perched atop the Vivian Beaumont Theater.
Greg Pierce's "Slowgirl" was a safe choice as the Tow's inaugural presentation (to July 29, in an extended run). Not particularly avant garde or experimental, it's a well-constructed, taut, psychologically intense study of the self-knowledge that results from the sympathetic vibration between two lost souls—a 17-year-old girl from the U.S. in deep trouble, and her mysterious uncle, a recluse expatriate in Costa Rica with whom the teenager reconnects during a brief, cathartic visit.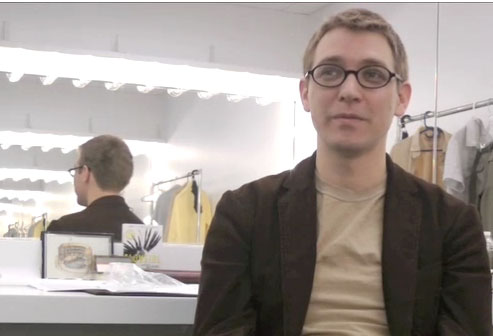 Greg Pierce in the Tow Theater's dressing room.
Screenshot from Lincoln Center Theater's website interview with the playwright
This sensitively acted two-hander by the nephew of actor David Hyde Pierce (not in the show's cast) has an ingenious two-scene set designed by Rachel Hauck: The uncle's minimalist wood shelter, nestled in the Costa Rican jungle (suggested by tall green planks) levitates to reveal a manmade outdoor labyrinth that mystically imparts spiritual healing to both angst-ridden characters as they walk its convoluted path.
Hardy's simple but cozy theater, sleek lobby (with refreshments) and spacious outdoor terrace, overlooking Lincoln Center's plaza, struck me as a perfect-pitch setting for its modest but worthy purpose as an incubator for new talent. After the show, I saw the playwright and one of the co-stars, Željko Ivanek, in the lobby and other co-star, the effervescent Sarah Steele, being warmly greeted on the terrace by two friends and/or relatives.
I also got a chance to go behind the scenes to see the inviting rehearsal space (with a dance-friendly, cushioned floor), which exactly replicates the size and proportions of the stage.
Now that Kimmelman has temporarily returned his focus to his home city, we can only hope he may pay some attention to a planned skyscraper that received a brief mention in yesterday's Times Real Estate Section. Near the end of a long piece about important planned residential megaliths, C.J. Hughes wrote this about the Tower Verre:
It was one of the most eagerly anticipated high-rises of the last
decade, even though the Department of City Planning effectively lopped
off its top [my link, not Hughes']. Part of that excitement stemmed from the fact that the
now-78-story condo was being designed by Jean Nouvel, who also created
100 11th Avenue.

The wedge-shaped skyscraper, which is to be at 53 West 53rd Street, is back on track, according to a spokeswoman for Hines, the developer.
This, of course, art-lings, is the MoMA Monster, contiguous to the Museum of Modern Art and containing space for the museum's next expansion on its lower floors. But when I contacted George Lancaster, spokesperson for Hines, to find out when the groundbreaking will be, he cryptically replied:
She was misquoted. She said "on track" not "back on track."
No new information to be released but we will contact you when we are
ready to talk to the press.
Also no news yet from the Museum of Modern Art (which I also contacted) about whether it has yet decided whether to renovate or demolish the adjoining ex-American Folk Art Museum property, which it purchased last July. It would have been bad timing to call attention to the Williams' and Tsien's debacle as architects of that beleaguered museum building when they were anticipating a Barnes triumph.