Dept. of Damage Control—Has anyone noticed the unfortunate similarity in these two logos? Let the sunshine in!
My second Huffington Post opinion piece (here's the first) on the "Hide/Seek" controversy—"Don't Ask, Don't Tell": A Useful Policy for the "Hide/Seek" Show at National Portrait Gallery—argues that over-the-top words and actions of the defenders of David Wojnarovicz's (curator-altered) video make sense only if they want to
provoke an equal and opposite reaction, touching off a full-blown Culture
War.
What I didn't say in my latest HuffPost column is that, unlike many observers (including the show's curators and, it also appears, the National Portrait Gallery's director), I believe that Smithsonian Secretary G. Wayne Clough made a politically astute, if unpopular, decision in trying to defuse Congressional opposition efficiently and expeditiously, before the situation exploded.
But Clough's own staff and the NPG's outspoken guest curator, Jonathan Katz, seem determined not to let the Smithsonian pull off its retreat-to-victory strategy. The activists' Pyrrhic victory in winning this battle for liberal-minded public opinion may cause them to lose the Culture War. Paradoxically, in trying to defend freedom of expression, they are likely to cause it to be curtailed in a conservative backlash. I hope I'm wrong.
Why the Warhol and Mapplethorpe foundations would withdraw all support from the institution that green-lighted this landmark show, because of the removal of one hot-button video that isn't even the artist's original work is beyond me. Why artist AA Bronson wants to remove his well known and truly crucial work from the exhibition, to protest the removal of another work, defies reason. (Here's the Smithsonian's statement explaining its refusal to grant Bronson's request to take down "Felix, June 5, 1994," on loan to the show from the National Gallery of Canada.)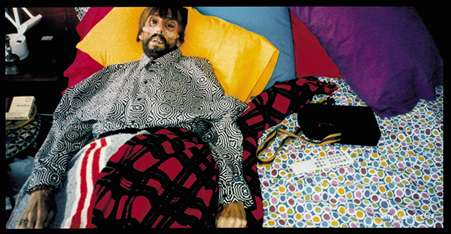 AA Bronson, "Felix, June 5, 1994," National Gallery of Canada
Everyone will have a chance to vent and rend garments on Jan. 29, when the National Portrait Gallery hosts a symposium on "Hide/Seek" (details to be announced). As it happens, I have longstanding plans to be in D.C. that day. I'll see if I can manage to steal away from my more pleasant activities to take in some of the contentious NPG doings.
Meanwhile, those sunny logos at the top of this post have reminded me to extend my radiant thanks to CultureGrrl Repeat Donor 152 from glorious Astoria, Queens.