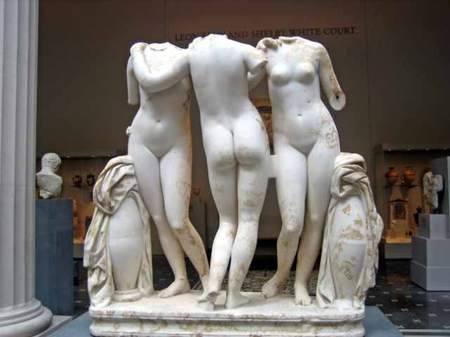 "The Three Graces," Roman, Imperial period, 2nd century A.D., copy of Greek work from 2nd century B.C., displayed in the Metropolitan Museum's Greek and Roman sculpture court
The Metropolitan Museum months ago finalized a major antiquities acquisition, but you wouldn't know it from the museum's press announcements, nor from the marble sculpture's label in the galleries.
Christopher Lightfoot, associate curator of Greek and Roman art, mentioned to me at the Metropolitan Museum's press gathering on Monday that "The Three Graces"—on loan to the museum since 1992 and a highlight of the Leon Levy and Shelby White Sculpture Court that opened three years ago—was purchased by the museum in December, thanks to a number of donors who made the acquisition possible. This information, he told me, is now disclosed on the "Graces" new label.
For months I had been keeping an eye on that label, because I knew that the purchase was in the works. So I scurried down to have a look after the press lunch, only to discover that the text hadn't changed: It was still, as of Monday, described as an "anonymous loan."
How important is the "Graces"? According to the label, the "carefully calculated, frieze-like composition…soon became the canonic formula for representing the Graces, who appeared in every medium and on every kind of object, from mirrors to sacrophagi."
Nice to know that the jaunty trio are not just loitering, but will now be staying.
UPDATE: This just in from Met spokesperson Elyse Topalian, in response to my query:
We are still finalizing the purchase, which we look forward to announcing at the right time.