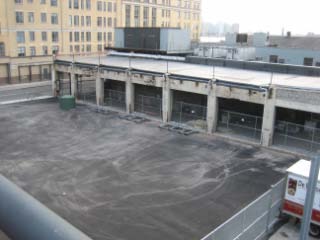 Part of the site for the planned Downtown Whitney, as seen from the High Line
Getting back to my New York roots after my Southern sojourn, I need to keep my prior promise to take on art critic Roberta Smith's recent Whitney screed, which followed close upon another negative bit of prominently placed NY Times coverage by Carol Vogel and Kate Taylor that raised doubts about some Whitney board members' (most notably, Leonard Lauder's) support of the museum's downtown expansion.
Together, these slaps came across as a problematic campaign to erode confidence in a desperately needed project that has an equally desperate need to raise more cash. The Times has just made that task harder, without making a good case for why public misgivings might be warranted.
Roberta's intemperate arguments made no sense to me: She suggested that the Whitney's chosen site is a mistake because nearby Chelsea already has a large concentration of galleries where you can view art for free. This ignores the fact that New York has a long history of mutually beneficial synergy between art galleries and museums in close proximity. Whether it's the Met and uptown galleries, or MoMA and 57th Street galleries, public and private art spaces have traditionally been complementary, not competitive. The Downtown Whitney's location at an entrance to the popular High Line is another factor in its favor.
And the Whitney's chosen site has an advantage known to almost no one who wants to build anywhere in Manhattan: The neighbors actually want it there. There was much praise and virtually no opposition during the public approval process.
At the conclusion of her piece, Roberta completely lost me by making what she herself acknowledged to be a "shocking" suggestion: The Whitney should "hire Larry Gagosian as a consultant." (Couldn't the megabucks dealer just donate his time?) Roberta wants Larry to help guide the Whitney because his recent exhibition of four Calder sculptures showed that he knows how to "make art look good."
Far from supporting her point, the photo of Gagosian's four very spaciously installed pieces that accompanied Smith's article clearly demonstrated how impractical it would be for an object-rich museum to let so few works consume so much space.
Roberta was also severely critical of the Whitney's current
uptown quarters:
Its 1966 Marcel Breuer building
has all the disadvantages of starchitecture and few if any of the
rewards. Even in a country where museums are rarely designed with art in
mind, it stands out as relentlessly unforgiving to works of all styles
and periods. If the stone floor doesn't kill, the oppressive overhead
concrete structure almost undoubtedly will.
It's true that even the Whitney's director Adam Weinberg has taken jabs at his
own building, despite the fact that he agreed not to sell it (for an undisclosed period), in exchange for chairman emeritus Leonard Lauder's $131-million gift: In comments
he made at a City Planning Commission hearing, Adam criticized the
building's darkness and its moat which, he quipped, can evoke fear of
alligators!
Roberta wasn't content to put her considerable clout in opposition
to the Whitney's old and new facilities. For good measure, she took swipes at other
recent museum expansion projects:
The New Museum's galleries
[by newly
anointed Pritzker Prize winners Ryue Nishizawa and Kazuyo
Sejima of SANAA] are generally viewed as horribly proportioned
and oppressive in their lack of windows. [That wasn't what Martin Filler or Times architecture critic Nicolai Ouroussoff had said, let alone the Pritzker jurors.] The Modern's new building is,
simply put, one of the great cultural tragedies of 21st-century New
York….[Renzo Piano's] atrium at the Morgan Library and Museum,
while beautiful as a space unto itself, is of the event variety; it has
diminished, not improved, that museum's gallery spaces and their
layout.
Neither Roberta nor the other Times critics were
talking that talk when those new spaces opened. Indeed, back in 2004, Smith wrote about "the tender delicacy of Mr. [Yoshio] Taniguchi's ambitious transformation of the
museum in which Modernism is made so exquisitely self-aware as to almost
be understatedly Post-Modernist."
By contrast, I was
an early critic of the initially well received Taniguchi-designed MoMA
expansion and the highly praised Morgan
expansion. One of the most effusive boosters of the expansion that (to
my mind) marginalized J.P. Morgan at the Morgan was Smith
herself:
Widely hailed as a triumph, Mr. Piano's
design may ultimately qualify as a classic itself….A box of glass and
steel set on an expansive plane of oak, it centers the Morgan's three
existing buildings on a setting that feels, for all its crisp urban
geometry, as natural as a forest clearing. This structure's affirmation
of light, space and solid ground is a bracing prelude to almost any kind
of art.
I've certainly been critical of Piano's additions to existing U.S. museums (the High Art Museum in Atlanta; the Los Angeles County Museum; the Art Institute of Chicago). But as I've previously
noted, I believe Piano's most brilliant museum work occurred when he had free rein to design a freestanding building (Menil, Beyeler, Klee, Nasher), rather than an add-on to an existing institution. The Downtown Whitney, if it ever happens, could mark a return to form.
Meanwhile, the Whitney recently announced
that it "will launch a series of large-scale, commissioned works on
the site of its future downtown building [emphasis added]."
Does
that imply that the building is indeed going to be built? Or did they really
mean to say "its planned downtown building"? By 2013—when they have to fish
or
cut bait, in face of the deadline for closing on the purchase of the
city-owned downtown site—we'll know for sure.
But by
casting so much doubt upon this laudable project based on flimsy evidence and arguments, the Times has made the job of selling its merits to potential donors in a
tough economic climate all the more difficult.
If this effort fails, New York, not just the Whitney, will be the poorer.